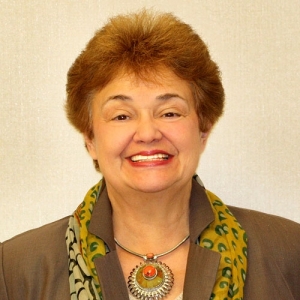 LUMINA FELLOW
Margarita Benítez
Margarita Benítez's lifelong involvement with higher education began at the University of Puerto Rico (UPR). At UPR, she was a professor of Literature and Humanities, as well as president of UPR's Cayey Campus (1985 to 1994), and acting president of the Humacao Campus (1989-1990). She held various senior positions at the Office of Postsecondary Education in the U.S. Dept. of Education from 1998 to 2003. She was responsible for the launching of the GEAR UP and the Title V Institutional Development for Hispanic-Serving Institutions programs, as well as for all other development programs related to minority-serving institutions of higher education under Title III of the Higher Education Act. She also headed the Upward Bound, Talent Search, and Educational Opportunity programs in TRIO.
From 2004 to 2007, Margarita Benítez was a senior associate at the Institute for Higher Education Policy (IHEP), where she directed the BEAMS Project (Building Engagement and Attainment for Minority Students), and the National Articulation and Transfer Network. She was also one of three main consultants for the Kellogg Fellows Program at IHEP, a leadership development program for educators and administrators at minority-serving institutions. At the Puerto Rico Federal Affairs Administration in Washington, DC, she directed the Office of Federal Grants, and served as representative of the University of Puerto Rico before federal agencies, higher education associations, and Puerto Rican communities in the United States. Since 2006, she is a senior associate at Excelencia in Education, an organization focused on research and policy around Latino student success in higher education.
From October 2007 to May 2010, Benítez was director of higher education for The Education Trust. At present, she is an independent consultant on education and public policy topics, and acting director of the American Council on Education's Emerging Leaders Programs, which includes the renowned ACE Fellows Program. In the international arena, she serves as co-director of Women's Knowledge International: The Missing Piece for Peace, a network of universities and feminist organizations across the world, dedicated to promoting and acknowledging the contributions women make to the construction of cultures of peace. She also coordinates the Diaspora Advisory Council, made up by Latino leaders in the United States, for the Sila M. Calderón Foundation.
Dr. Benítez holds degrees from Vassar College (BA), Middlebury College (MA), and Columbia University (PhD).