Marketing Academy Webinars
Join us for this five-topic series, where we will focus on how to reach prospective students more effectively by strengthening your strategic brand and marketing efforts in meaningful and measurable ways. Working in concert with each other, these sessions will provide clear next steps for community colleges that can adapt to fit the college's strategic plan and objectives. Join us for all sessions or select individual topics most relevant to your college's needs.
Target Audience: Those who want to understand how to improve their brand and marketing efforts to
increase community appeal to prospective students and strengthen their college's reputation.
Note: Each session will only be offered live. A recording will not be made available to registrants. However, each
workshop in the Marketing Academy series will be offered twice.
Session 5: Omni Channel Planning
Tuesday, April 18 , 2023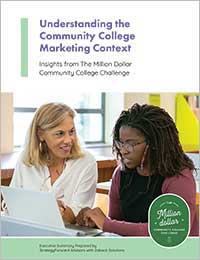 Understanding the Community College Marketing Context
Insights from The Million Dollar Community College Challenge
Download PDF