Lumina Foundation announces new board chair-elect
Lumina Foundation for Education today announced Dr. Marie V. McDemmond as the Foundation's board chair-elect. She will assume the role of Chair of the Board at the annual meeting of the directors in March 2010.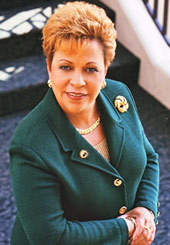 Throughout her career in higher education, she has served in high-level college administrative positions including vice president for finance at Florida Atlantic University where she also served as chief operating officer. She also held finance positions at Atlanta University, University of Massachusetts/Amherst, Emory University and the community college system in Massachusetts. Previously, McDemmond taught in Wellesley and Bryn Mawr Colleges' Project HERS.
"Marie's extensive experience in higher education, from serving as President of a leading Historically Black University to her role as chief financial officer at several top colleges, will serve the Foundation exceptionally well," said the Foundation's Chairman John M. Mutz. "Her great depth and knowledge of higher education issues will be of great value to her Board leadership role as we strive to ensure that 60 percent of Americans hold high-quality college degrees and credentials by 2025."
"Marie embraces Lumina's commitment to increasing college attainment rates as a key to both individual prosperity and promoting social stability in an increasingly competitive global environment," added Jamie P. Merisotis, Lumina's president and chief executive officer. "As a founding Lumina board member, she also brings extensive experience to her task of leading the Board at a critical time of growth and change at the Foundation," he continued.
McDemmond earned her bachelor's degree from Xavier University of Louisiana, her master's degree from the University of New Orleans and her doctoral degree from the University of Massachusetts at Amherst. She has served on numerous boards including as a board member of the National Association of College and University Business Officers and the New England Minority Women Administrators.
Of the many honors she has received, McDemmond was appointed to the President's Board of Advisors on Historically Black Colleges and Universities. The American Association of State Colleges and Universities' leadership lecture is named in her honor and Norfolk State's research center also bears her name.
See a complete list of the Foundation's board of directors.