Outcomes-based funding
Outcomes-based funding uses public money to encourage colleges and universities to increase the numbers and percentages of students who earn high-quality degrees, certificates and other credentials. It funds colleges and universities based on how well they perform on key metrics. The increases in numbers of students who earn degrees at public colleges and universities should lead to a national increase in education attainment. Learn more in our Outcomes-based funding FAQ.
---
Research
Outcomes-based Funding Issue Papers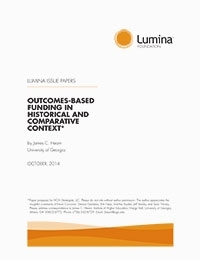 Full report
November 3, 2015
A detailed review of four different outcomes-based funding models leads to some central conclusions for policymakers in this arena.
Continue Reading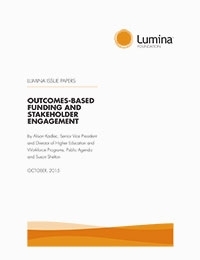 Full report
November 3, 2015
Paper recommends specific strategies for effective stakeholder engagement based on work in multiple states and leading research in the field of outcomes-based funding.
Continue Reading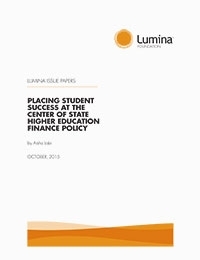 Full report
November 3, 2015
An examination of higher ed funding models as applied to real-life students, many of whom are racial and ethnic minorities, from low-income families, or the first in their families to enroll in higher education.
Continue Reading