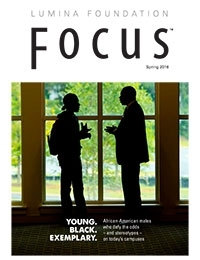 Focus magazine, Spring 2016: YOUNG. BLACK. EXEMPLARY.
African-American males who defy the odds – and stereotypes – on today's campuses
Posted: May 2, 2016
Organizations: Lumina Foundation SAAB My Brother's Keeper Alliance
This issue of Lumina Foundation Focus looks closely at real-life success stories of three African-American males:
Evan Snelling, a high school basketball star who saw his Division I dreams shattered by injury, and then rebounded to find an even more satisfying role as a mentor to other young black males at Georgia Highlands College.
Kevin Lee, a 22-year-old who's compiled a stellar academic record at Paul Quinn College in Dallas — and earned national accolades for his entrepreneurial skills — despite the fact that he's homeless.
Terrance Range — who, in his teens and early 20s was an admittedly unfocused student interested only in "wildin' out" — but is now a dedicated scholar, a second-year doctoral student at Michigan State University with plans to become a college president.
Read issue online with web-exclusive bonus content