About Lumina Foundation
Lumina Foundation is an independent, private foundation committed to increasing the proportion of Americans with degrees, certificates and other high-quality credentials to 60 percent by 2025. Lumina's outcomes-based approach focuses on helping to design and build an equitable, accessible, responsive and accountable higher education system while fostering a national sense of urgency for action to achieve Goal 2025.
Based in Indianapolis, the Foundation employs roughly 55 staff members and has an endowment in excess of $1 billion.
Lumina Foundation is the nation's largest private foundation focused solely on increasing Americans' success in higher education.
For more information about Lumina Foundation, please see the FAQ section or the Lumina Fact Sheet below.
---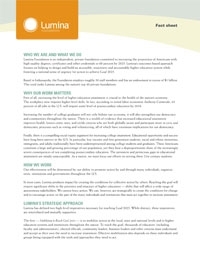 There is a wealth of evidence that increased educational attainment improves health, lowers crime rates, and yields citizens who are both globally aware and participate more in civic and democratic processes such as voting and volunteering, all of which have enormous implications for our democracy.