Grantseeker Feedback
Lumina uses GrantAdvisor to collect anonymous reviews from organizations seeking grants. Please create an account and leave a review on our GrantAdvisor profile.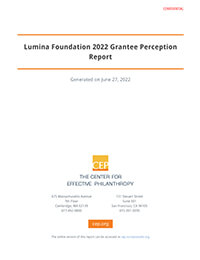 Grantee Perception Report
Grantee Perception Report
Lumina Foundation participates in a confidential survey process through the Center for Effective Philanthropy and shares these findings in our Grantee Perception Report. This report is a tool that collects feedback from Lumina Foundation's grantees and provides comparative context to our peer foundations. The Grantee Perception Report allows us to comprehensively assess the experiences of Lumina Foundation's grant partners and informs our grantmaking process.
Learn More