Videos
Meet a few of the workers and employers participating in tuition reimbursement programs in the workplace.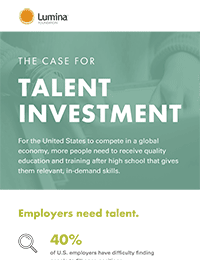 The Case for Talent Investment
By the numbers: View findings from our research.
Employees gain skills and opportunities for career advancement. Employers build more qualified workforces and boost their bottom lines.
Learn More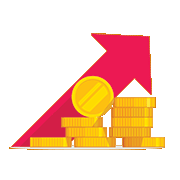 What We Learned
Businesses save money.
The companies global consulting firm Accenture studied with Lumina funding saved millions through increased worker retention as a result of internal promotions and transfers.
Discover Financial Services saved $2.44 for each dollar invested in tuition reimbursement. Participating employees experienced wage gains 41 percent to 50 percent higher than peers who did not use the benefit.
Health insurer Cigna saved $2.29 for each dollar invested—and participating employees saw wage gains from 43 percent to 57 percent.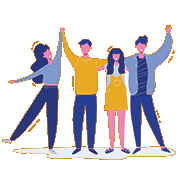 Employees do better.
Besides earning credentials and gaining job experience, workers said the use of tuition assistance to advance their education led to increased:
Motivation and Confidence
Knowledge and Skills
Recognition and Support from Managers and Colleagues
Sense of Personal Achievement
REVIEW THE STUDIES
Talent Investment Pays Off
Studies show time and time again that investing in employee higher education results in cost savings.
Studies show that investing in higher education for employees generates cost savings.
Lumina worked with global professional services company Accenture to uncover evidence that tuition programs help build workers' skills, increase corporate profits, and boost employee involvement in local communities.
Participating companies included Advocate Health Care, Discover Financial Services, Cigna, and an anonymous regional bank.
Read the Reports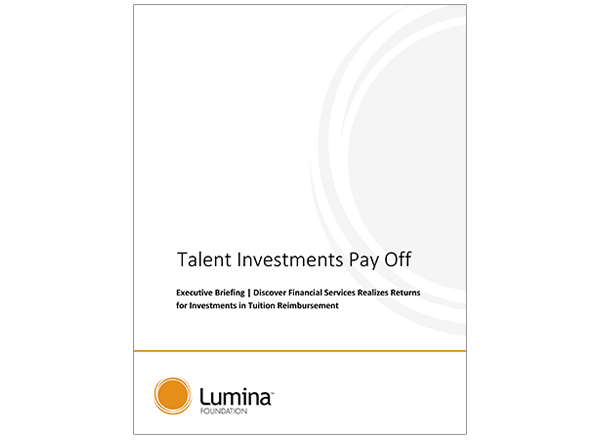 Overview Video
It pays to invest in employees.
Tuition-assistance programs are often considered an employee benefit expense, but research by global consulting firm Accenture shows investing in employee education delivers benefits to businesses and individuals. When employers invest in their workers, they help build skills, improve corporate bottom lines, and increase employees' loyalty, all while helping them access educational and career advancement opportunities.