Applications
When authorized, the Lumina logo may be used in news releases, publications, or on the web, and can be found below.
Grantees may use the foundation's logo, photos, or video after they receive approval from the foundation. Requests are evaluated by circumstance and should be sent to comm@luminafoundation.org.
Generally acceptable uses of the logo include: posting it to a grantee's website and use in promotional and conference materials to cite Lumina's sponsorship.
If grantees download the foundation's logo, photos, or video, they acknowledge the foundation's ownership and agree to maintain the quality of the materials at a level that meets or exceeds standards of quality and performance of similar materials the grantees previously have offered – and be used in compliance with applicable law.
The logo should not be used in grantee announcements.
Logo Lockups
The Lumina logo was built to be presented in either a horizontal or vertical format. Choice of format will be determined by the available space in which it will be placed. Care must be taken to size the logo so that the word "Foundation" remains legible.

Clear Space
Minimum clear space is required so the logo doesn't border too closely to other elements.
The unit of measure "X" equals half the height of the "Lumina sun" (the circle including the swirls). The minimum required clear space is a distance of "X" on each side of the trademark.

Minimum Sizes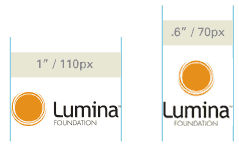 The smallest size at which the horizontal format may be used is 1-inch wide for print or 110-pixels wide (or digital. The smallest smallest size at which the vertical format may be used is 0.6-inch wide for print or 70-pixels wide for digital.
In some instances, such as for promotional or specialty items, the logo may need to appear smaller than the minimum size indicated. When this happens, the word "Foundation" must be legible.
Speciality Use: Large-format uses of the logo — signs, banners, billboards, backdrops, and the like — must be approved in advance by the brand manager. Also, the circle graphic (the "Lumina sun") can be used as a separate element — as a Twitter icon, for example — but ONLY with the brand manager's prior approval.
Name | Color Palette | Fonts