Insights from Noetic Consultants
The bedrock for brand strategy is a well-defined brand positioning statement, which follows a WHO-WHAT-HOW framework. A brand positioning statement is aspirational, authentic, forward-facing, grounded in truth, and easily digestible. It is an internal-facing statement that articulates a community college's core promise to learners and expresses the competitive difference and value it provides. It is the foundation on which all marketing plans should be built.
Need help with crafting your college's brand promise?
This universal brand positioning was developed to give colleges a starting point in articulating their unique brand positioning and should be modified to reflect a college's individual strategic priorities, offerings, and audience.
Universal Brand Positioning
For adult learners with competing life priorities, who need to feel assured they can achieve their personal goals, community college is the preeminent higher education hub that can provide degrees, job training, and student experiences that accommodate varying life circumstances and goals.
When defining or refining brand positioning, a community college should ask these key questions:
Who is our target audience, and what do they need?
In what competitive company do we see ourselves?
What do students need to believe in us?
What tone do we need to take in the marketplace?
---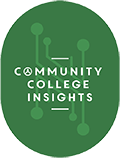 This article is from the Community College Insights Fall 2023 newslettter. Read the full newsletter »
---