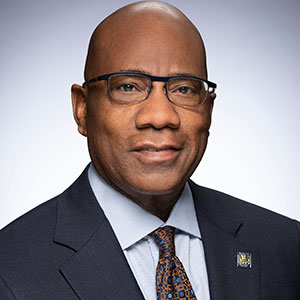 David Wilson
Board Member
David Wilson, president of Morgan State University, has led Maryland's public urban research university since July 2010 and has spent more than 30 years in higher education administration.
He previously served as chancellor of the University of Wisconsin Colleges and the University of Wisconsin-Extension. Before that, among other positions, he was vice president for university outreach and associate provost at Auburn University and was associate provost at Rutgers University.
From 2015-17, Wilson served on the National Institute of Standards and Technology's Visiting Committee on Advanced Technology. He also is president of the HBCU-China Scholarship Network. In addition, he is on the boards of the Maryland Cybersecurity Council, the Maryland Longitudinal Data System Center, the Greater Baltimore Committee, the Association of Public and Land-grant Universities, and the Association of American Colleges & Universities. In February 2010, President Obama appointed Wilson to the President's Board of Advisors on HBCUs. He also serves on the Board of Governors and the D1 Board of Directors of the NCAA.
Wilson holds a bachelor's degree in political science and a master's in education, both from Tuskegee University; a master's in educational planning and administration from Harvard University; and a doctorate in administration, planning, and social policy, also from Harvard.
He grew up with 10 siblings on a tenant farm outside McKinley, Alabama, and was the first person in his family to attend college.