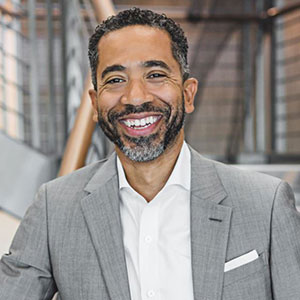 Justin Christian
Board Member
Justin P. Christian is the CEO and Founder of BCforward Corp., a global information technology consulting firm that provides outsourcing, system solutions, and workforce fulfillment services to clients.
Founded in 1998, BCforward is now the largest minority-owned firm in Indiana. Before founding the company, Christian worked as a systems analyst at Eli Lilly & Co.
He is a committee civic leader and philanthropist, having served on the boards of the Indianapolis Children's Museum, Goodwill of Central Indiana, the Indiana Gaming Commission, and the Indianapolis Bond Bank. He also is a past chairman of the Indianapolis 500 Festival Board of Directors. Christian serves on the boards of the Central Indiana Corporate Partnership, AAA Hoosier Motor Club, DePauw University, and First Internet Bancorp, among others. He also is a member of the Business Equity for Indianapolis Taskforce.
In 2020, Ernst & Young named Christian its National Entrepreneur of the Year.
He holds a bachelor's degree in computer science from DePauw University.