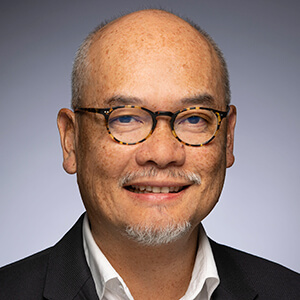 Linh C. Nguyen
Vice President for Equity, Culture, and Talent
Linh C. Nguyen leads racial equity efforts for Lumina Foundation, an independent, private foundation in Indianapolis that is committed to making opportunities for learning beyond high school available to all. He works to embed equity in Lumina's grantmaking and operations and nurtures the foundation's organizational culture to increase diversity, improve inclusion and belonging, and eliminate racial disparities.
Nguyen is a nationally recognized leader in organizational strategy, talent development, and change management with over 30 years of experience in management consulting and organizational leadership across the mission-driven sector. Most recently Linh served as chief operating officer at the W.K. Kellogg Foundation in Battle Creek, Mich. His contributions to the foundation included introducing the networked organizational model to drive continuous collaboration, improvement, and empowerment in partnership with communities; rebuilding the foundation's learning and evaluation function to align with community-driven outcomes; and strengthening its talent and human resources capacity to build a culture firmly grounded in racial equity, diversity, and inclusion. Linh helped to shape and operationalize the foundation's external programs such as the Truth, Racial Healing, and Transformation initiative as well as internal programs to enhance intercultural competency, using the Intercultural Development Inventory among other tools.
Linh started his career with Cambridge Associates, a highly regarded international financial and investment consulting firm based in Boston, Mass., where he specialized in investment measurement and long-range financial modeling. Linh continued his journey at Accenture (formerly Andersen Consulting) where he led major client engagements dealing with complex business transformation, organizational change, and workforce development. As the head of Accenture's U.S. public sector talent and organizational performance service line, Linh was known as a trusted leader, advisor, and coach adept at guiding leaders and teams through authentic change. In recognition of his expertise, Linh was selected in 2008 to serve on the Obama Presidential Transition Team as transition co-lead for the Office of Personnel Management, the U.S. federal government's human resources agency.
Linh holds a bachelor of arts in anthropology from Yale University in New Haven, Conn.