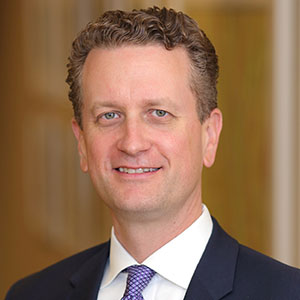 Matthew Breitfelder
Board Member
Matt Breitfelder is partner and global head of human capital at Apollo Global Management, a high-growth, alternative asset management and retirement services firm. He serves as a member of the firm's management committee. Breitfelder is responsible for Apollo's talent management, leadership development, diversity and inclusion, learning, performance management, citizenship, compensation and benefits, and recruiting.
Before joining Apollo, Breitfelder was managing director and chief talent officer for BlackRock, where he also served as a member of the operating committee. Previously, he held talent and strategy roles at MasterCard, PwC, and the Corporate Executive Board. Breitfelder began his career at the U.S. Department of Commerce, where he focused on international trade and economic policy.
Breitfelder serves as chair of the Advisory Group on AI, Analytics, and the Future of Work at Georgetown University and on the Board of Advisors of Georgetown's McDonough School of Business. He also serves on the advisory board of the Aspen Institute's Business and Society Program. He has been recognized as a top chief human resources officer by n2Growth and Stanford Business School and has co-authored a number of Harvard Business School case studies and articles on human resources, leadership, and talent innovation.
Breitfelder holds a bachelor's degree in economics from the University of Southern California, a master's degree from the London School of Economics, and a master's of business administration from Harvard Business School.