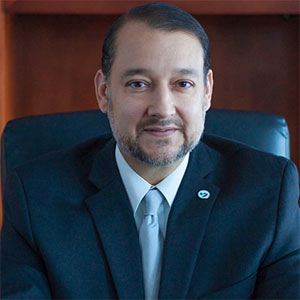 William Serrata
Board Member
William Serrata is president of the El Paso County Community College District, a position he's held since 2012.
Under his leadership the college has seen significant growth in dual credit and early college high school enrollment and has markedly increased student retention and graduation rates, particularly among first-generation and Hispanic and Latino students. In 2015, the college was chosen from among nearly 1,200 institutions as one of 10 national finalists for the Aspen Prize for community college excellence. In 2016, it won the Student Success Award from the American Association of Community Colleges and was named the Western Regional Equity Award winner by the Association of Community College Trustees.
Serrata is an active member of the El Paso community, serving as board chair of the El Paso Collaborative for Academic Excellence. He also serves on the boards of several other local organizations, including Workforce Solutions Borderplex, and the El Paso branch of the Federal Reserve Bank of Dallas.
At the state level, Serrata chairs the Texas Association of Community Colleges and is a member of the association's legislative committee and co-chairs its business advisory council. He also serves on the board of directors for Humanities Texas and is the former chair of the Texas Student Success Council convened by Educate Texas.
Nationally, Serrata is an advisory board member for the Higher Education Research and Development Institute. He also has served as board chair of the American Association of Community Colleges and Excelencia in Education.
Serrata holds a bachelor's degree from Texas A&M University and a master's from the University of Texas at Brownsville, both in English. He also holds a doctorate in educational resource development from Texas A&M.