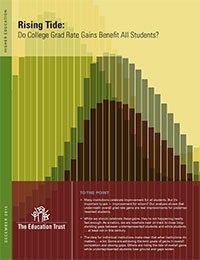 Rising Tide
Do College Grad Rate Gains Benefit All Students?
Posted: December 1, 2015
Organizations: The Education Trust
What institutions do—how they dedicate resources and support students—matters, states a new report from The Education Trust. The study highlights institutions that are achieving twin goals of increasing overall graduation rates while closing gaps through intentional efforts to help underrepresented students arrive, transition, and thrive in college.