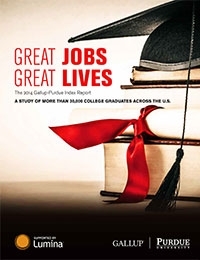 Great Jobs, Great Lives
A study of more than 30,000 college graduates across the U.S.
Posted: October 8, 2014
Organizations: Gallup, Purdue
The inaugural Gallup-Purdue Index (GPI) finds that to meet the talent demands of our nation we need a higher education system that is student- and learning-centered, producing students with good lives and good jobs. The GPI is a new and unique tool that will help institutions improve and accomplish these outcomes. The study also finds that students who were closely engaged with faculty or participated in an internship-type program were more likely to be engaged at work and have high well-being.