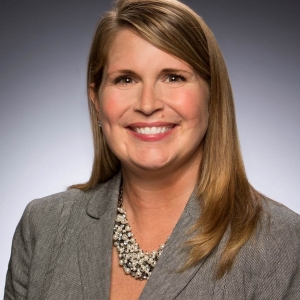 DIRECTOR OF ACCOUNTING AND CONTROLLER
Julie K. Shewmaker
Julie K. Shewmaker, Lumina's director of accounting and controller, is responsible for accounting, especially investment, financial analysis, and budgeting to ensure the Foundation assets are safeguarded.
Prior to her role at Lumina, Julie was employed at Christian Theological Seminary (CTS) as chief operating officer. Julie's main responsibilities included directing business operations; managing the budget and financial operations; monitoring and managing investing activities of the endowment; and directing the facilities and maintenance activities. Julie spent eleven years as controller of the Archdiocese of Indianapolis, Indiana. Major responsibilities included leading the archdiocesan budgeting process for over 30 agencies and 150 parishes; preparing and reporting financial results to management and the Archdiocesan Finance Council; and coordinating the annual external audit process for the combined financial statements. Prior to coming to the Archdiocese of Indianapolis, Julie started her career with the accounting firm PricewaterhouseCoopers, LLC. She was a manager in the assurance and business advisory services practice and focused on manufacturing and not for profit clients.
Julie K. Shewmaker is a certified public accountant and a member of the Indiana CPA Society and American Institute of Certified Public Accountants. She graduated with a bachelor of business administration degree with a concentration in accountancy.
Julie has 3 beautiful children, Jake, Ethan and Ella. She enjoys reading mysteries and going to the movies.