Lumina Foundation Releases Strategic Plan Advocating a New Postsecondary Learning System
Transformative changes are needed to reach Goal 2025 and ensure a majority of Americans achieve the postsecondary learning so important for success in the 21st century. Read news release »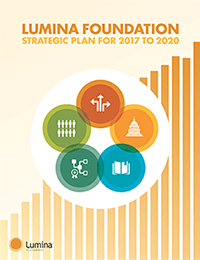 Lumina Foundation is an independent, private foundation in Indianapolis that is committed to making opportunities for learning beyond high school available to all. We envision a system that is easy to navigate, delivers fair results, and meets the nation's need for talent through a broad range of credentials. Our goal is to prepare people for informed citizenship and for success in a global economy.
We must move from a system that is centered on institutions and organized around time, to one that is centered on studentsTweet This
---
"The time has come for the United States to make high-quality postsecondary education a national reality and expectation for all. We are committed to ensuring the nation has the talent it needs to meet future economic, civic and social challenges—and that all Americans have the opportunities they deserve for a better life." – Lumina President Jamie Merisotis
---
Related news:
Lumina Revises Plan for Completion Push | Inside Higher Ed | October 17, 2016
2 Foundations Plan Renewed Focus on More Credentials and Student-Aid Reform | The Chronicle of Higher Education | October 17, 2016
See also:
Lumina's previous strategic plan covering 2013 to 2016.