State College, Pa.- Just before 4 p.m. on a frigid Friday in mid-December, Quanisha Smith boards a Blue Loop bus on Penn State's University Park campus. She's heading to a place she's visited more times than she cares to count: the bursar's office. She's hoping to resolve the hold on her account, which shows an $8,800 balance.
For the past four months, she's been attending classes, earning mostly A's and B's. She's ready for finals. But with her bill unsettled — $3,800 of which she disputes, but $5,000 she definitely owes — her grades will not count, and neither will the 21 credits she's taken this semester.
For the better part of four years, Smith said, she's bounced from the registrar to the bursar to student aid to deal with numerous issues regarding her tuition and housing bills. She started college nearly six years ago, in fall 2009, and she still needs 45 credits to finish her degree. What she also needs is money. She works as much as she can as a cashier at a nearby Wegmans supermarket, lives with her boyfriend an hour from campus to save money on housing, and typically uses the library rather than buy textbooks. Still, she estimates that she's already $48,000 in debt, and she doesn't know where she's going to get the rest of the money to fund her education.
"It's so frustrating," she said, tearing up as she tells her story. "I feel like I've seen so many people whose families are well off, but they don't take it seriously. I feel like I take one step forward and 10 steps back. I never get a break and I'm just racking up all this debt for nothing, because in the end, I still don't have a degree."
Smith's story is all too common in higher education. Numerous studies have found that financial difficulty is among the top reasons that students drop out of college.
"Quanisha began missing assignments in early November, and I'm fairly certain that was a result of her trying to take on more shifts at Wegmans to get enough money to register," said Assistant Professor Chris Fowler, the instructor in Smith's Geography of the Global Economy class. "But she did about three-quarters of the work necessary for the class. It doesn't make any sense to me. She should either be on a plan where she can work and take class, or she should be working. (At) a big institution like this, it feels like students need a realistic plan when they come in here for how it's all going to work."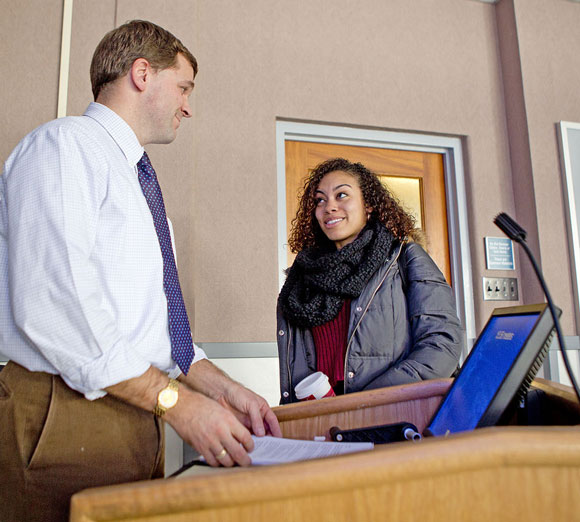 'Cool, I'm going to college'
Smith is a vivacious 24-year-old with a quick laugh and an affinity for math (but not physics). She grew up in the tough Dorchester neighborhood of Boston and was bused to high school in Newton, a wealthy, largely white suburb consistently voted one of the best places to live in the United States. There, she played sports, was active in student government and heard lots of talk about college.
"They were talking about college so early, and that's not something I did back at home," she said. "So I was like, 'Cool, I'm going to college.'"
She talked to her advisers regularly about where to go to college. Less often discussed, she said, was how to pay for college beyond the first year. Of the schools on her list, she wanted to find one that was big — "I just love meeting new people and having so many things I could dabble in" — and not in Massachusetts because, like so many kids, she wanted to put some distance between herself and home. ("I regret that now," she said. "But whatever. Life is living and learning.")
Smith looked into Historically Black Colleges and Universities (and was wait-listed at Howard University), as well as schools both in state and out of state, including Penn State. On the campus tour, she saw the MorningStar Solar Home, a house that actually produces more energy than it consumes. She was fascinated.
Penn State accepted her with the understanding that she attend classes at a branch campus for her first two years. She chose the one in Hazelton, about 100 miles north of Philadelphia, which would put her five to six hours from home and cost her thousands of dollars less each year than the main Penn State campus. Her plan: Spend two years there taking mostly core classes, then transfer to the main campus at University Park, which offered her major — energy business finance — and would set her on a path that led, perhaps, to a career with the federal Department of Energy.
In August 2009, she began her college career with "tons" of scholarships.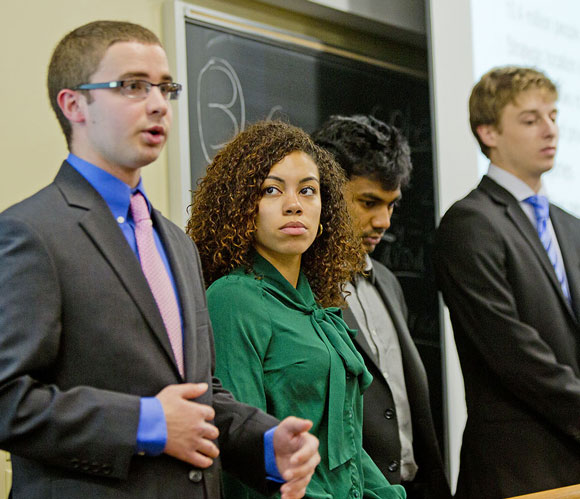 "Freshman year was a breeze," she said. "Coming out of high school, you receive all these great scholarships. Advisers were helpful making sure you get in. Later, I realized they do such a good job of getting you in but don't do such a good job of keeping you there and helping you get through."
Sophomore year was a bit of a financial struggle, but her mother, who'd lost her job the previous year, had some savings. Smith also took out loans and got some help from her father's sister. She finished her two years at Hazelton with a debt of about $10,000.
When she arrived in Happy Valley, Smith discovered that her tuition had jumped about $10,000. With the help of her aunt, she signed up for a deferred payment plan and was able to get enough in loans to cover the fall semester. But there was no money for the spring, so she went home to Boston and worked as a swimming instructor, a waitress and a toll collector on the Massachusetts Turnpike.
"They do such a good job of getting you in (college) but don't do such a good job of keeping you there and helping you get through."
 —Quanisha Smith, Penn State student
She returned in fall 2012 thinking she was "financially fine," thanks to the deferment plan and loans. But in the middle of the semester, with payments of $4,000 a month hanging over her head, she dropped out. "I was more conscious of my bill and how it was going to get paid," she said. "I was like: 'How do people actually go through school? I don't understand.' "
While quitting classes helped minimize tuition costs, Smith still had a campus housing bill to settle. She made an agreement with Penn State's housing department to make monthly payments until the debt was cleared. And she went home again, returning for summer 2013 with financial aid to try to make up some of what she'd missed.
But that fall of 2013, she was told she'd taken too many credit hours over the summer and owed an extra $6,000 on top of her fall tuition. Since then, it's been a nonstop battle to keep her account current.
The university's perspective
Anna M. Griswold, Penn State's assistant vice president of undergraduate education and executive director for student aid, said Smith has received "significant institutional support."
"When I say 'significant,' that's not to say that there's been enough to pay the full bill," Griswold acknowledged. "But it's been higher than average." Aid has included one-time support to help Smith salvage one of her semesters. "At the same time, we had that conversation with her about whether she could continue and her family could continue at Penn State for the next two years. We would love for her to stay, but should she consider the possibility of transferring to a more affordable school for her?"
Griswold said Penn State tells students and families up front that it's not able to meet their full financial need. The university shows them the numbers — what it's going to take — and what options for financing are available. But with more than 46,000 students just on the main campus, individual guidance for everyone is impossible.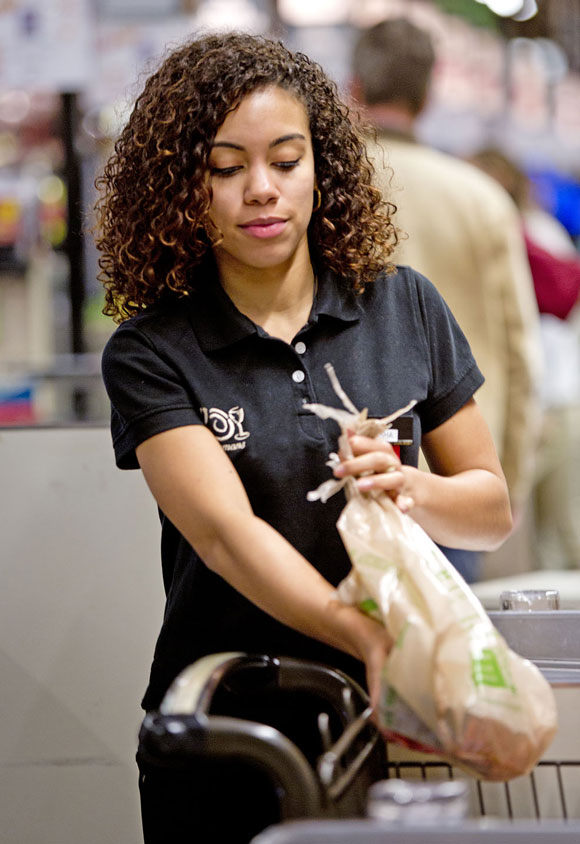 "If we met full need for the first 20 percent of the neediest students, we would be out of money," she said. "Our biggest challenge is (students and families) not wanting to believe that there won't be a scholarship — that 'even if it's on the day that I arrive on campus, someone's gonna save me.' It agonizes us."
George Washington University Professor Sandy Baum, who teaches higher education finance and policy courses, says universities could take several steps to help students like Smith. They could make financial aid simpler and clearer, so that before she even started her freshman year, she would know how much aid to expect all four years. Schools also could show students cost comparisons — in this case, between Penn State and Smith's home institution, the University of Massachusetts — so they could see the difference.
"In this computer age, there could be much better personalized guidance," Baum said, offering the idea that prospective students could look at an online cost comparison between schools while making sure they understand the difference between in-state and out-of- state tuition.
"You need them to understand the implications and make everybody go through something like that," Baum said. "And if they want to make that (more expensive) choice, then that's fine. And maybe it's worth it, and maybe they want to borrow that money. But make sure they know what it means to borrow that money."
Penn State professor Fowler has a similar view. "We support people with learning disabilities, we support people who are student-athletes," he said. "It's definitely non-trivial to try to pay for your college education, and in many cases, people who are working hard to try to pay for their college education may not have the social capital and experience for setting realistic goals about how that goes down."
For her part, Smith said she knew going in that money would be a challenge wherever she went, but she felt Penn State was the right fit. "It's a really great school. I'm just having trouble getting through."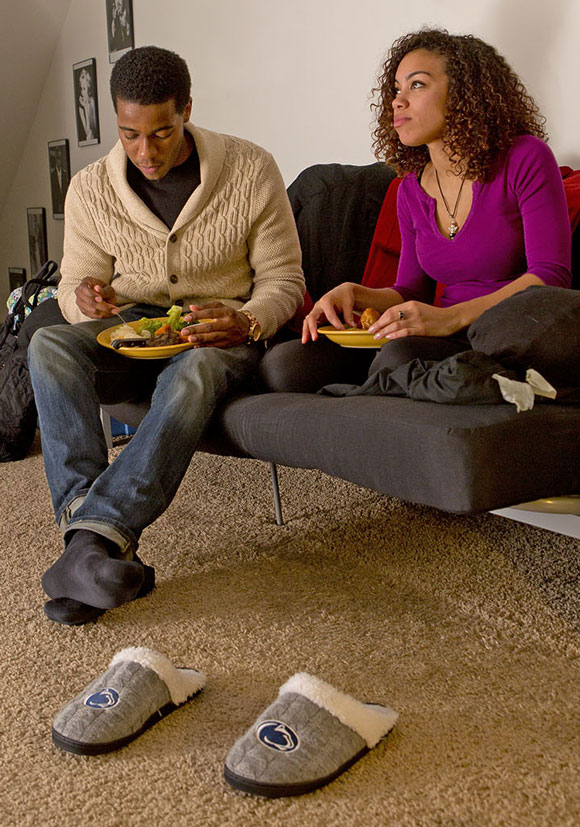 Professors helpful, but…
Going into the fall 2014 semester, Smith spoke with her professors and kept them updated on her problems paying for school. "They've been helpful," she said, "but this hold — and I didn't find this out till a couple of weeks ago — cannot come off my account until the whole housing bill is paid in full."
Fowler said he's had other students in situations similar to Smith's. More common, he said, is that students overload their class schedules to try to earn enough credits to finish school early and save money.
"And they're not learning anything because they can't dedicate the time to it," he said.
Smith would love to have had a lighter course load and have been able to finish school at a more leisurely pace. And throughout this particular December Friday, in between her three classes, she gets signs from the universe that seem to suggest things will work out. Outside the HUB-Robeson Center, students hand out motivational quotes to inspire those about to take finals. "You are unique like a snowflake — or a Nittany Lion" is the one she gets. At lunchtime, a fortune cookie tells her that "failure is the mother of success."
The bursar's office is largely empty when Smith stops in just after 4 p.m. She goes up to the window to speak to a representative who, after a short conversation, delivers the bad news: If she doesn't pay the bill by 5 p.m., her semester will be erased. Seven classes, four months of work, 21 credit hours … wiped out.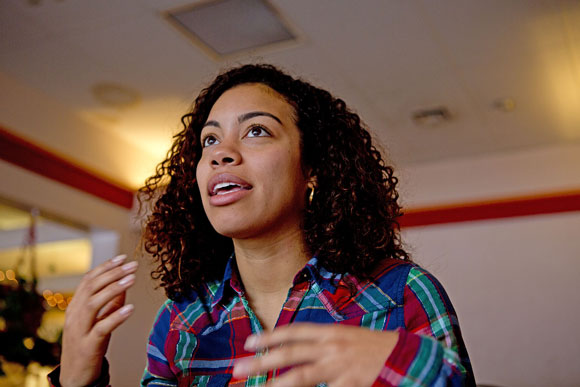 Neither side was blameless in failing to resolve the billing dispute that torpedoed Smith's semester. With earlier, clearer and more thorough communication — from both parties — the disaster might've been avoided. And there still may be a way to reach a resolution and put the pieces back together.
For now, though, Smith is defeated. She walks out of the bursar's office, quiet and dejected. Her last class of the semester begins at 4:45 p.m., but she's skipping. She doesn't plan to take her finals either. Back on the bus, her frustration level rises. "I knew this was going to happen," she said. "I knew it, I knew it, I knew it, I knew it, I knew it. All the work — it's like I did it for fun. And it wasn't fun."
As the bus passes the MorningStar Solar House, which inspired her to study energy business finance, she reflects on what has been another agonizing day.
"I'm doing so well, but I feel like I wasted five years of my life," she said. "I gained the knowledge. I met great people. So? In the real world, what does that get you? Nothing. The field I want to get into, I need that piece of paper that says I got this from this place." ■