DETROIT—It was no different from any other state-mandated review to requalify for the public assistance Teresa Riggins Smith needed to support herself and her 2-year-old son.
At her local branch of a state social services agency, Smith reported on the status of her job searches and her efforts to enroll in a training program.
Then she headed to a presentation where nonprofits and businesses outlined some of the positions open to low-income job seekers in the Detroit area.
Smith, then 21, knew what she didn't want. The prospect of another gig as a security guard filled her with dread, and a fast-food joint held all the appeal of a cold french fry. There was, however, a job that had long piqued her curiosity. Smith had even looked into the cost of studying for a career in the profession at a community college, ultimately deciding it was beyond her means. The job was pharmacy technician.
"I always wondered, 'What do they do back there?'" Smith says, recalling the sensation of watching employees scurrying among shelves stacked with medications. "It seemed kind of exciting."
Call it fate, providence, serendipity. Call it what you will; it happened that day in 2005 when Smith reported to a Michigan Department of Health and Human Services satellite office to extend her public aid.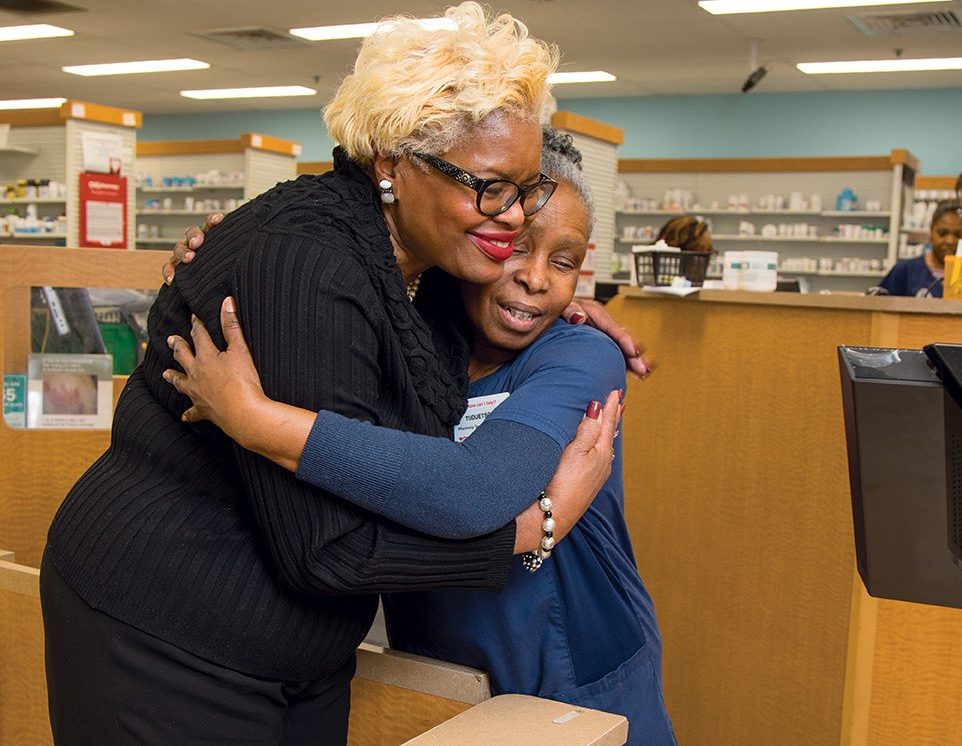 More precisely, it happened when a company recruiter—Lena Barkley—gave a brief presentation on a new apprenticeship program being launched by her employer, CVS Health. The program, now in its 14th year, prepares low-income job seekers for careers as pharmacy technicians—jobs that often lead to management positions in many of the company's nearly 10,000 retail stores.
"Our mission," Barkley says, "is to move people out of poverty."
Now known as the CVS Registered Apprenticeship Program, the start-up introduced to Smith was a public-private initiative funded by the U.S. Department of Labor. In 2005, the career services arm of nonprofit Goodwill Industries served as the facilitator between the government and employers.
CVS Health was among the employers that participated in the rollout. The company saw the program as a way to help fill the 70,000 pharmacy technician jobs it believes it will need to hire to meet the growing demand for medications among aging baby boomers.
Loosely modeled on programs in the skilled trades and other economic sectors, an "earn and learn" apprenticeship gives trainees a "no-cost" opportunity to draw a salary while learning a trade. CVS has since extended the program to include workers who are displaced by realignment, site relocations, or technology. The company in 2017 employed 4,600 apprenticeship-trained pharmacy technicians and management employees in 12 states.
An ironic career choice
Smith joined the first group of Rx techs to move through an orientation program that acquaints students with the CVS corporate ethos, customer service protocols and—above all—the dizzying array of medications a tech might handle on any given day.
It's ironic that drugs are central to Smith's career and thus her future—because they certainly shaped her past. In fact, drugs were the reason Smith found herself in that state agency back in 2005. She and her siblings had spent much of their childhoods shuttling in and out of foster homes, collateral damage caused by their parents' drug abuse.
At age 19, a year after graduating from high school, Smith had her first child and applied for public assistance. The system requires recipients to make a good-faith effort to support themselves and their families—a requirement that often leads to a series of dead-end, low-paying jobs. The cycle is indeed vicious. But it can be disrupted—as it was when Lena Barkley stepped forward to explain the CVS Apprenticeship program to the group that included Smith.
"A lot of people weren't interested," Smith recalls. "But my eyes were glued on her. I listened to everything she had to say … because it was something I already wanted to do."
Smith couldn't wait to approach Barkley after the presentation. She peppered the CVS Workforce Initiatives Manager with questions about the application, the training, and the odds of landing a job—a prospect that, just hours earlier, had seemed hopelessly out of reach.
Before leaving, Smith posed a final query to Barkley, asking: "You're going to remember me, right?"
The path to a pharmacy tech position is essentially the same today as it was when Smith was accepted into the first apprenticeship cohort 13 years ago. It begins with a pre-screening and an invitation to apply. Those accepted into the program undergo intense training to acquaint them with the intricacies of a job in which there is literally no room for error. Apprentices are paid an hourly salary during the four-week training period.
Once training is complete, CVS places the candidates in stores for an 80-hour "externship" that almost always leads to a formal job offer.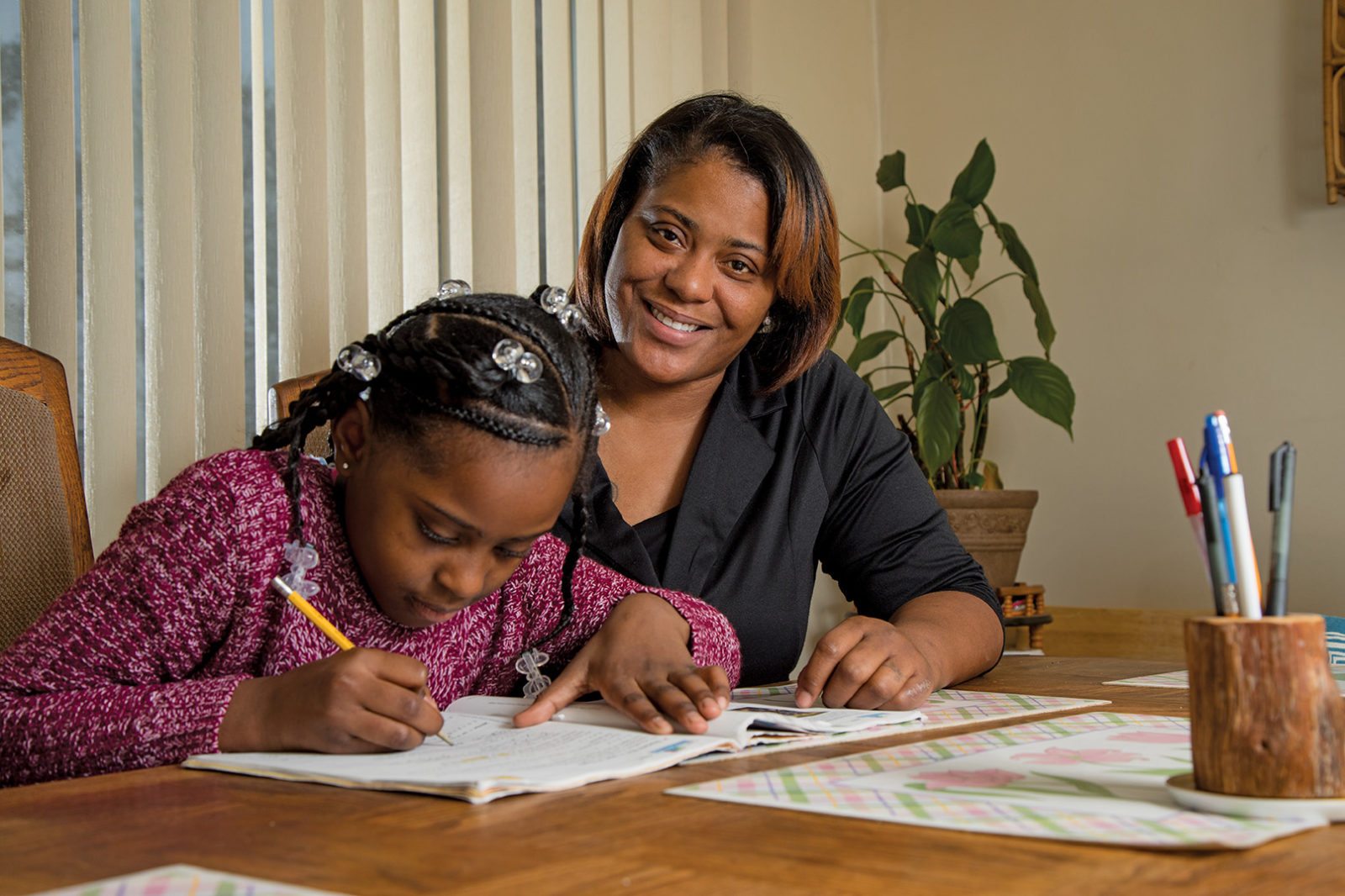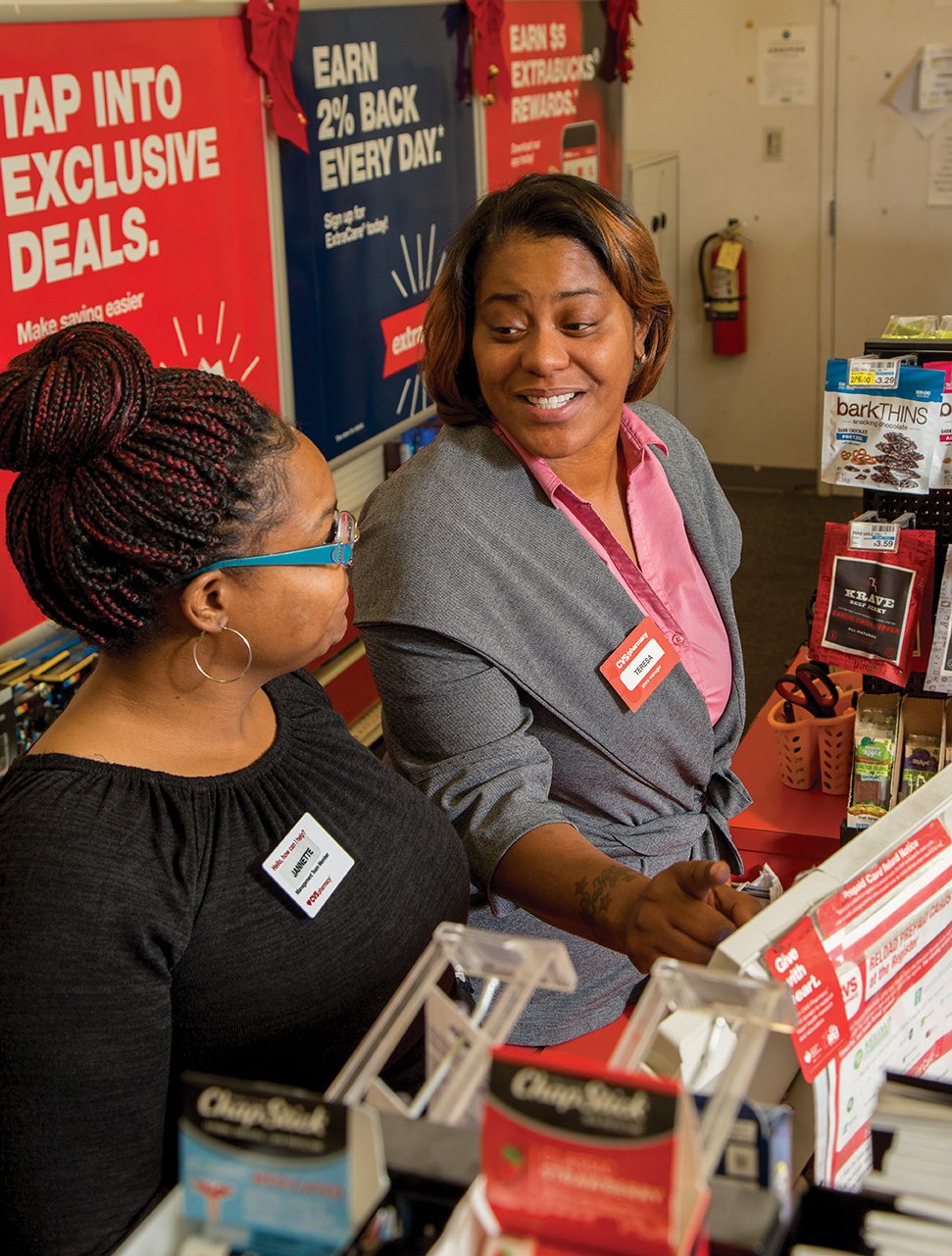 Teresa Smith's first day at CVS is one she'll never forget.
"I was only making minimum wage, $7.50 (an hour)," she says. "But when I took this job it felt as if I was walking into a six-figure salary."
The enthusiasm soon gained the attention of management and, within a year, Smith was promoted to shift supervisor.
"I went in and learned everything I could," she says—a huge understatement. Just three years after Smith began her apprenticeship, CVS tapped her to manage a location in suburban Highland Park. Turns out she didn't just manage the pharmacy; she staved off a possible store closing by working to reorient employees and improve their overall performance.
"She's a mover and a shaker," Barkley says. "She always wants to do what's best for her employees so they, too, can move up."
Smith insists she's only doing what comes naturally, whether it's nudging her employees to up their game or convincing young customers to follow in her footsteps.
"My goal is to bring people like me to CVS, train them and help them to be a success," she says. "Success comes in many different boxes. It doesn't have to mean you're a millionaire. Success can be taking care of your family or making sure your gas and electric aren't cut off. I look for key qualities when I hire. I want to help, so I give them my background and I look for my passion."
Lightning strikes twice
Twelve years after Teresa Smith began her climb, Lena Barkley again found herself at the right place at the right time. She was at a Michigan unemployment office last year when Tuduetso Marang turned up. At the time, Marang had been looking for permanent work for more than six years. She lost a warehouse job in 2010—the job that had helped Marang get six children through high school and into college and careers. Marang, a single mom, is divorced from the former Peace Corps volunteer who brought her to Detroit from her native Botswana.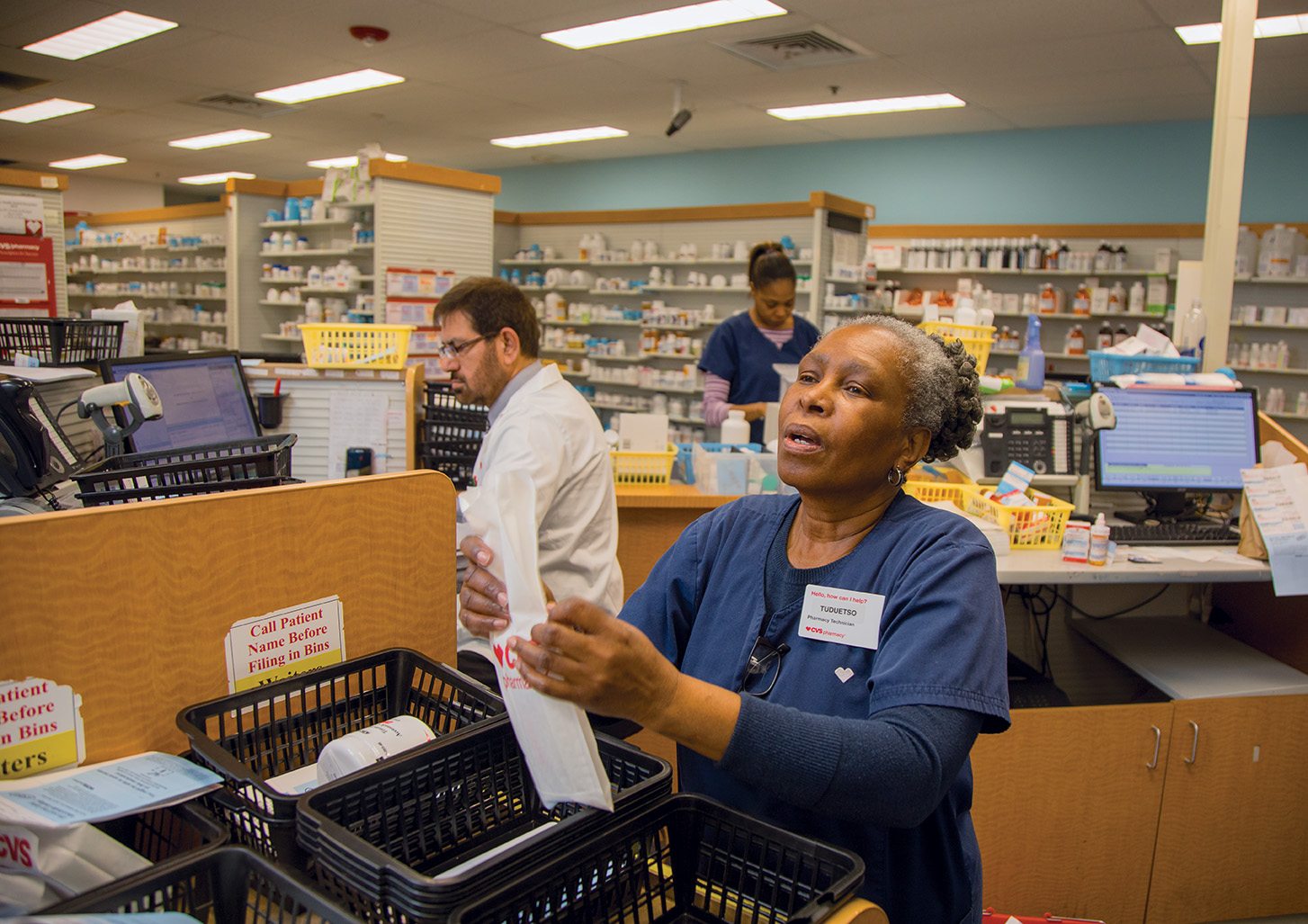 After 2010, when the warehousing firm moved out of state, Marang became a semi-regular at a branch office of Michigan Works, the state employment and retraining agency. Her long job search at one point landed her in a pharmacy tech training program offered by a Detroit-area college. She managed to complete most of the course work, only to be derailed by a bedeviling math requirement.
But Marang didn't give up. She earned the Red Cross certification that qualified her to work as a home health aide and then spent two years in that role, though she always knew she wanted more. That desire kept leading her back to the Michigan Works branch, and she was there one day when Barkley introduced the CVS Apprenticeship to another at-risk group—the unemployed.
Again, call it fate, providence, serendipity—because it happened again.
Determination pays
Marang soon joined the first group of displaced workers to begin the CVS Apprenticeship process. A cohort that began with 25 hopefuls eventually shrunk by half and ultimately placed 10 candidates in the Rx tech pipeline.
"To my surprise, it wasn't the millennials who moved on," Barkley says. "It was the seniors who took the initiative, went from step to step and didn't give up."
Marang, facing longer odds than most, stuck with it, even though the lack of a home computer forced her to do the bulk of her training at the Michigan Works branch—a task that was even tougher because Marang has no car.
Despite it all, 64-year-old Tuduetso Marang last summer became a gainfully employed CVS pharmacy technician.
"It hasn't been easy," she says. "It takes a lot of determination for whatever you want out of life. And this is what I want in life right now: doing something so my children don't have to take care of me."
Barkley calls Marang "a rising star," an employee who's undeterred even though she still struggles with transportation issues. Marang works at a CVS location 15 minutes from her inner-city home—15 minutes by car, that is. For Marang, the commute can take up to two hours on two separate buses.
To cut down on travel time, she often stays with a daughter who lives closer to the CVS location. She's also seeking assistance in buying a car through a Michigan First program that eases transportation costs for displaced employees who are returning to the workforce.
These hurdles notwithstanding, Marang has accomplished what she set out to do when she was laid off.
Teresa Riggins Smith, manager of the CVS outlet in Highland Park, has what she wants, too—and she still feels as if she's earning a six-figure salary.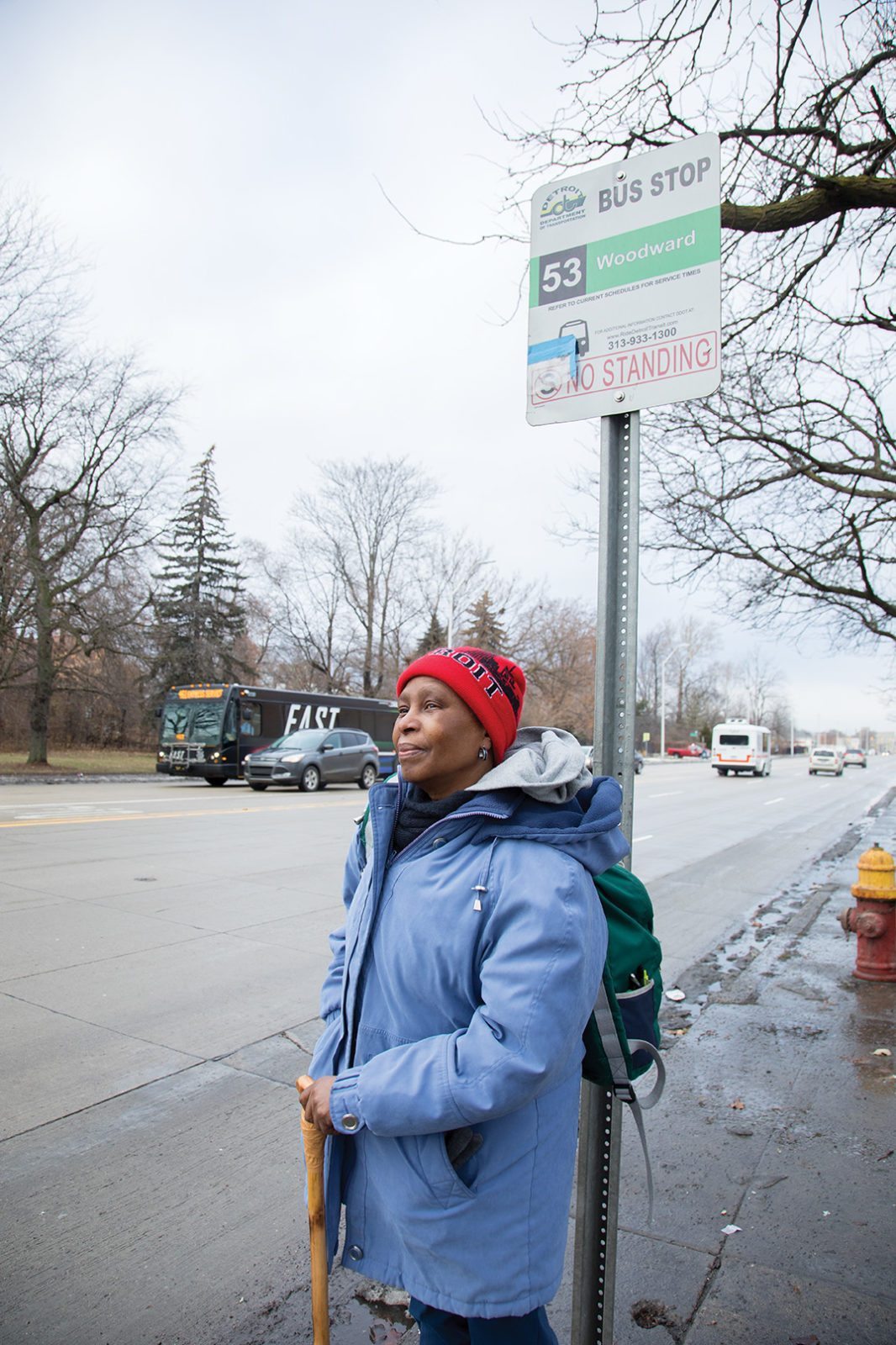 "I don't come to work every day for a paycheck," she says. "I come to work to help others."
The young single mother who couldn't keep her eyes off Lena Barkley has since married, had a second child, purchased a home, and enrolled in college courses. But her anchor is still that fateful meeting, long ago, in a state social services agency.
"I told her: 'You're going to remember me one day,'" Smith says. "Thirteen years later, she's still a great mentor and a great friend. So that is definitely a promise kept."