AUSTIN, Texas—When Melvin Hines Jr. began his freshman year of high school in Albany, Georgia, there were 250 people in his class. As his senior year began, only 120 remained. He's never forgotten the grinding attrition that stranded so many young people without the most fundamental boost into adult life. "I had friends who got pregnant, friends who died, friends who went to jail. By the time graduation came around, there were 68 of us who actually made it," he said.
When he studied economics at the University of Georgia and rolled through law school at Duke University, the gulf between the high-flying scholars around him and the high school dropouts left behind grew even wider. Hines, now 34, took the first step in bridging that gap while still an undergraduate at Georgia, volunteering with Big Brothers/Big Sisters in Athens.
"I thought: 'Somebody ought to do something about this. How can things be so disparate?' I was keeping in touch with my high school friends and knowing what happened to them, and yet I have these college friends who are doing so many amazing things. How do you reconcile those two?"
Hines went on to teach while still in law school, and he joined a business consulting firm. Only 11 years after he become one of those 68 graduates in his high school class, he left consulting and began helping students by the thousands overcome obstacles to graduation—in this case, college graduation.
Upswing, the company he founded in 2013 with Alex Pritchett, now has more than 80 colleges and universities and one virtual high school as clients. They use the firm's software to weave stronger connections and prompt faster responses among students, tutors and advisors. That's a total of 700,000 students who can use Upswing to connect with peers who point them toward academic success.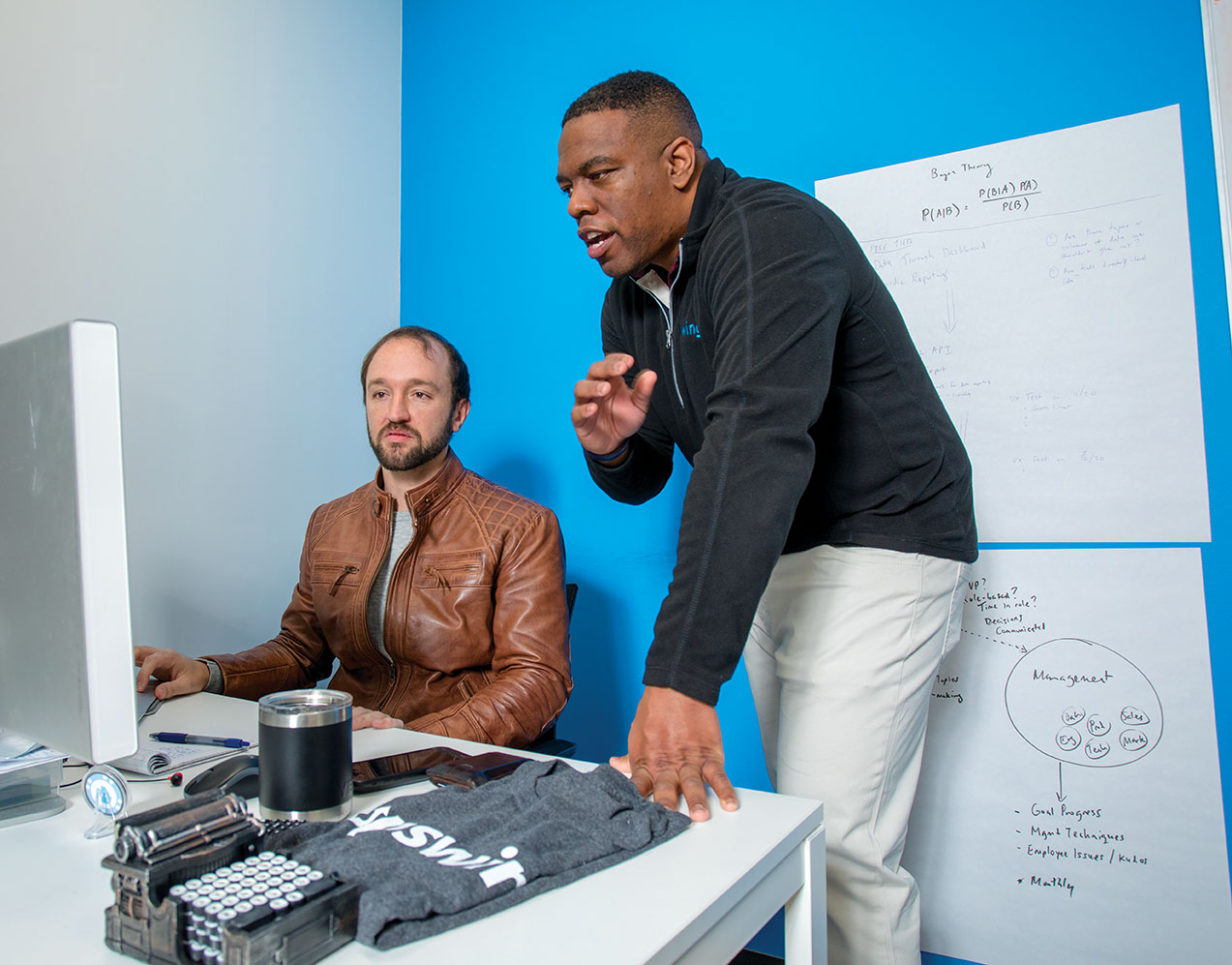 AdviseUp, one of the tools in Upswing's suite of products, is a key to identifying students in need of help. College staff and faculty use it to record specific signs that students are struggling. "For example, three different professors can go in and say there's someone missing too many classes," Hines said. "There's an alert for failing grades on tests. There's even emotional distress alerts or flags that can be created as well."
Counselors can also use AdviseUp as a preventive tool, to identify problems before they grow into insurmountable obstacles. "It's the same thing with an advisor who might want to see all the students who've been missing classes in the last week," Hines said.
Ana is another innovative tool in the Upswing suite. It's a program that uses conversational prompts and responses to assist students—much like an academic version of Apple's Siri. For example, Ana can remind students of upcoming tests, offer help in completing financial aid applications, suggest tutoring sessions, or inform students about counseling services.
Connecting commuters
One of the schools that has embraced Upswing is Kwantlen Polytechnic University, based in Surrey, British Columbia, just southeast of Vancouver. Its 20,000 students attend classes at five campuses around southwest British Columbia, as well as online. There is no campus housing at any of Kwantlen's sites. Every student is a commuter.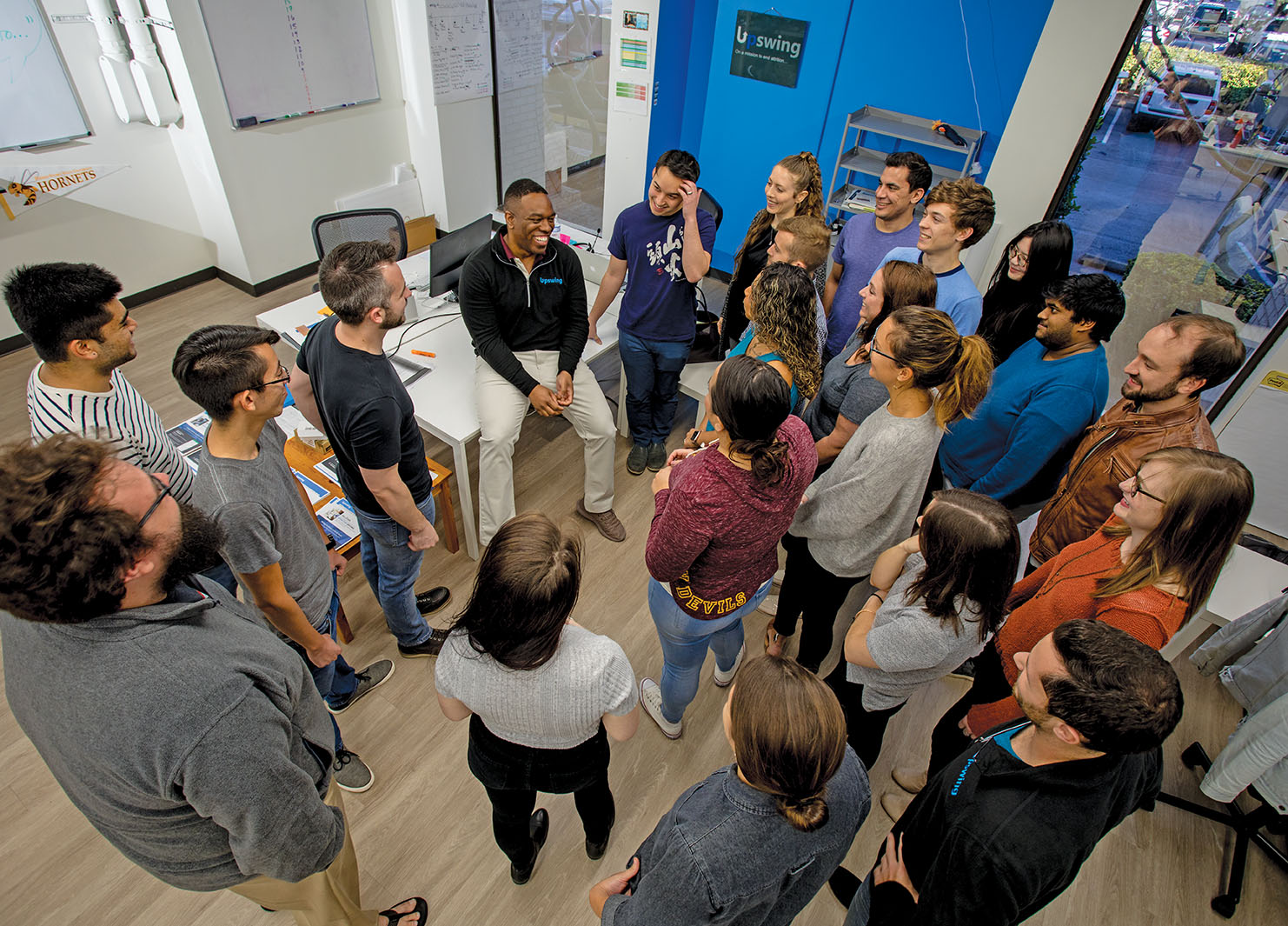 That university uses only AskUp and TutorUp, two Upswing services devoted to tutoring. They are crucial in helping Kwantlen nurture success among its students. With no base of resident students to form a social hub for the university, some faculty and staff struggle to connect with students. "That's why Upswing is a bonus to us," said Lyn Benn, the university's director of student development and success. "Students can access us from anywhere. It's really important that they have that social connection, and that's what Upswing does."
Again, Kwantlen's partnership with Upswing is entirely focused on the company's tutoring software. That's because tutoring is central to the university's efforts to keep students enrolled, help top students excel, and support those who struggle. And here's a difference that makes Upswing even more important: The university's tutoring force is composed entirely of students. There are no graduate programs at Kwantlen; the tutors are all undergraduates helping other undergraduates.
Upswing "has a different interface, like a social-media interface. You can see who the tutors are. You can read their profiles. You can see when they're available," Benn said. She adds that 60 percent of students are immigrants or from immigrant families, so finding a tutor with a shared culture or language helps break barriers and promote better learning. "When people see someone who looks like them and might sound like them, and who are successful students, then that's an incentive to a student to sign up with them," Benn said.
Upswing does more to put students in touch than simply provide a searchable roster of tutors. For example, Christina Page, a learning strategist at Kwantlen's Learning Centre, said some students prefer the messaging function that's built into Upswing's TutorUp platform.
Some students find it daunting to craft an email—too much like writing a letter, Page explained. For them, Upswing includes an option to send messages through a simple chatbox, with no more formality or structure than tapping out a text message on a smartphone.
Upswing's AskUp product allows students who need help with their writing to upload a draft of their work, along with assignment requirements. This "asynchronous writing tutoring" allows a tutor to pull another student's work out of a queue, review it and offer feedback. The intended turnaround time is quick. Tutor Shahina Hakik, 21, says she responds in 30-45 minutes when she does asynchronous tutoring. The limit is 45 minutes, she said.
Hakik is a psychology major, but in a little over a year as a tutor, she has helped only one or two students in psychology. The rest of her work has been in writing. Writing and math are by far the subjects in which students request the most help. Hakik said many of the students she tutors are in their first semester at Kwantlen. A typical plea: "I have no idea how to write an essay," she said.
Two ways to tutor
Page said that providing a single platform for all of the asynchronous writing tutoring is one of Upswing's advantages over programs Kwantlen used before Upswing, which the school adopted three years ago. She also appreciates the way Upswing makes face-to-face tutoring more available during evenings and on weekends. Even students who can't make it to campus during typical tutoring hours can schedule online tutoring via the company's TutorUp video interface.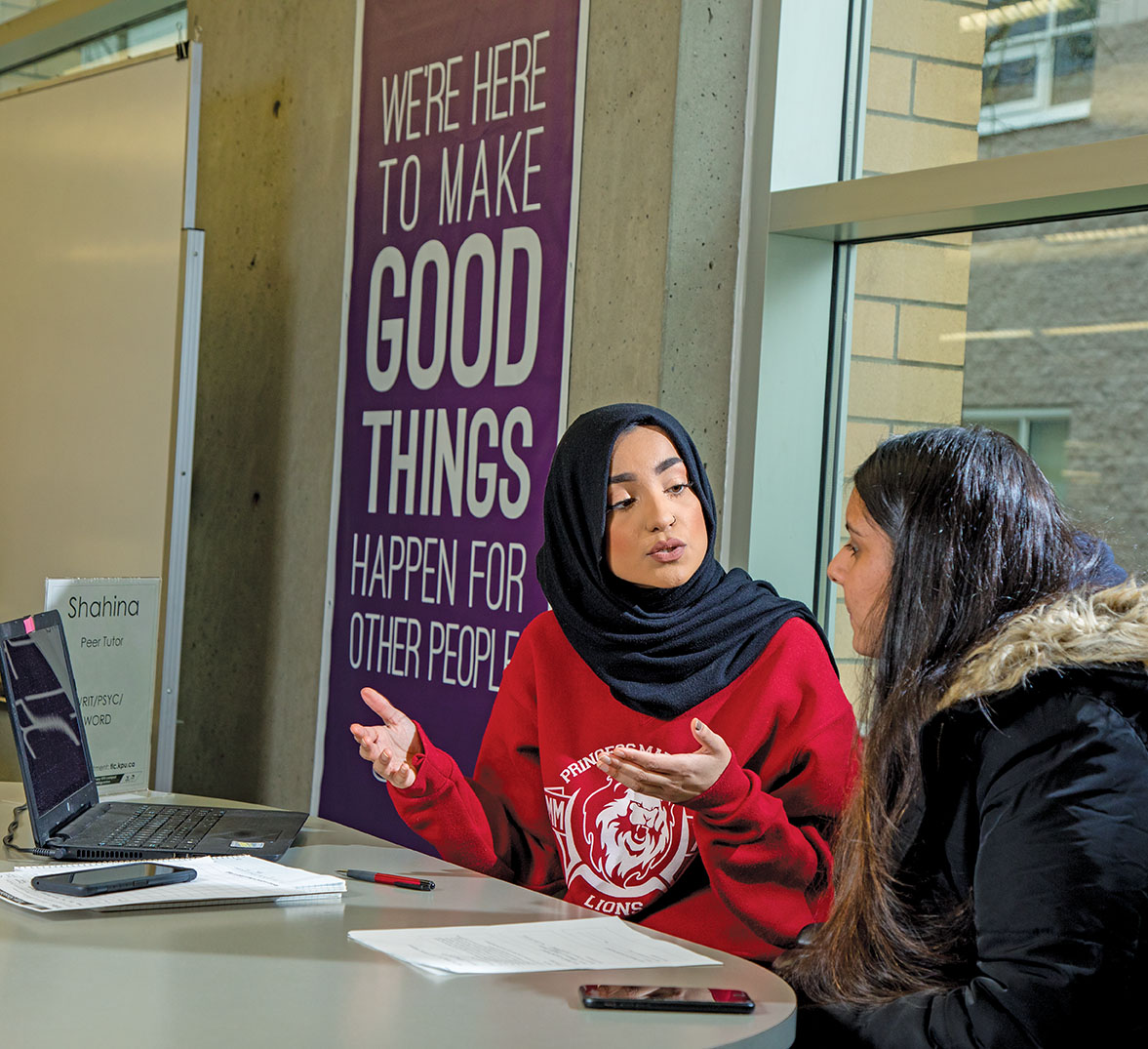 Page also noted that Upswing accommodates the whole range of tutors and subjects across all of Kwantlen's campuses. Because so much of the tutoring involves writing, math, or accounting, students might overlook the help available in other fields, but it's out there. "If it's in our (course) catalog, we tutor it," said Alice Macpherson, another learning strategist at the university. There's no flood of requests for tutoring in fashion design or drafting, but the 60 undergraduate tutors can answer when those calls come—through Upswing scheduling, naturally.
Kwantlen staff, who train a constantly changing cast of student tutors, also see opportunities to improve that training by using Upswing. A great example was initiated by two fourth-year students who are described by staff members as star tutors.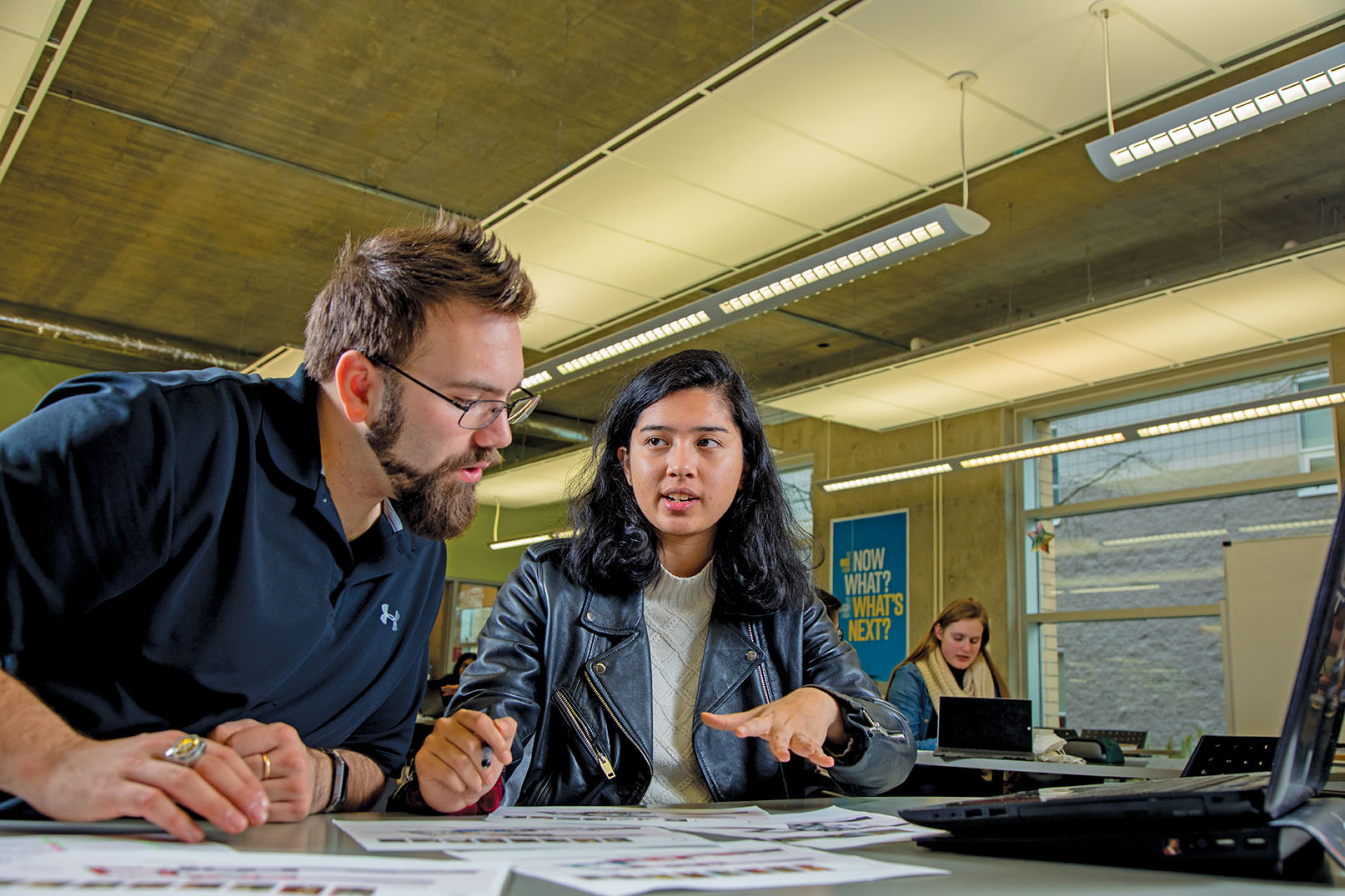 Sweta Shrestha, 23, and Jarren Ralf, 25, both majored in applied mathematics, and both used Upswing's Whiteboard tool for online tutoring. Online tutoring sessions accounted for less than 3 percent of the more than 16,000 tutoring sessions at Kwantlen in 2018. Most tutors say they prefer face-to-face sessions, but for some students, online sessions offer the benefits of tutoring without travel to a campus.
In January, Ralf and Shrestha made a six-minute video tour of the functions and capabilities of Upswing's Whiteboard, which is still available on YouTube. The quick introduction shows how this software-aided whiteboard is much more versatile than the wall-mounted version in a typical classroom. Students can sketch on it freehand, switch to a library of equations and mathematical notation, upload documents as .pdf files, or even converse via voice-recognition software. When a session ends, a student can download every screen a tutor has drawn and even save a transcript of the chatbox conversations.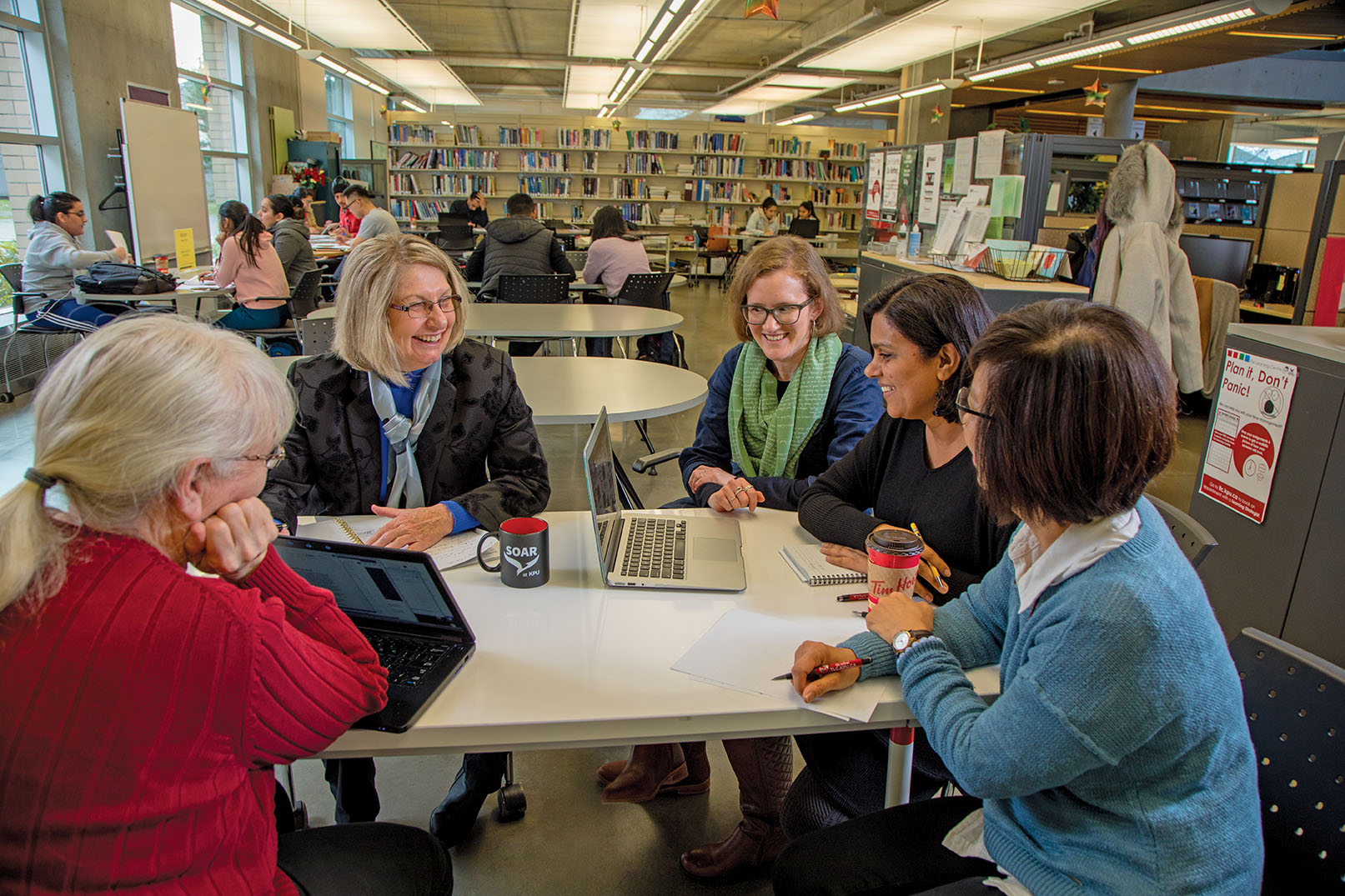 Benn, Page, and other staff members who guide the tutors at Kwantlen hope that students will soon book far more online sessions. "It's only now that we're getting awareness of it with tutors, because we've included it with training," Benn said.
It was a long road—longer than the number of passing years might indicate—that took Hines from that Georgia high school to his Texas-based tech startup.
Majoring in economics at the University of Georgia shaped his thinking about human incentives and motives. "I found out that I'm interested in how people think and what makes people do things or what causes people's life circumstances to change. Economics really spoke to me because it was all about behavior. It could be psychology instead of economics, but economics allows you to put numbers to it," he said.
Hines excelled in law school at Duke University, founding a law review in his second year called "The Forum for Law and Social Change." While still in law school, he was invited to teach a class for first-year law students at nearby North Carolina Central University, a historically black university, to help the students stay in the program.
As much as he enjoyed those side pursuits in law school, Hines wasn't thrilled with actually practicing law. "At the end of the day, it's not awesome work," he said. "You're always trying to get paid by someone, except for the nonprofit piece. There, I thought the work they were doing was pretty admirable, but they were very much hamstrung by government regulations, so they couldn't really do a whole lot. They couldn't file class actions, for example. So very little actually moved forward."
Academic cross-training
Hines had a few friends who were doubling up, pursuing law degrees and MBAs simultaneously, and they persuaded him to try it. The combination—which some might see as a dual nightmare—proved to be great cross-training for him.
"In law school, you focus on one thing and go really deep," he said. "You don't learn how to go outside that little box. Once you go out into the real world, you're really good at telling people why what they did is bad for them, but you're not very good at prescribing, at telling them how to change their lives. In business school, it's the opposite. People come in with millions of ideas. The world is your oyster! But they don't come in with very much depth or the ability to think critically about why a particular idea won't work or what are some of the potential risk factors of going down this route.
"If people doing one would take at least a few classes in the other, I think they would come out much better positioned for the real world."
After he secured both professional degrees, Hines was hired by a business-consulting firm. As it turned out, the most valuable thing he did there for his own career was to meet a co-worker who introduced him to Pritchett, who would become Upswing's co-founder. Both grew up in Georgia. More important, both were intensely interested in improving the circumstances of people who face obstacles in life.
Pritchett, now 30, was working for a software developer, but he already was an experienced nonprofit entrepreneur. One of his nonprofit ventures is a microfinance firm that has so far loaned more than $500,000 to some 1,000 low-income borrowers for specific projects to improve their lives.
Room for brainstorming
In 2012, Hines and Pritchett rented a house together, one large enough that even with other housemates, there was still an empty room. That became their "brainstorming room." Late that year, they agreed it was time to see whether they could build a software product to help kids who might struggle in school.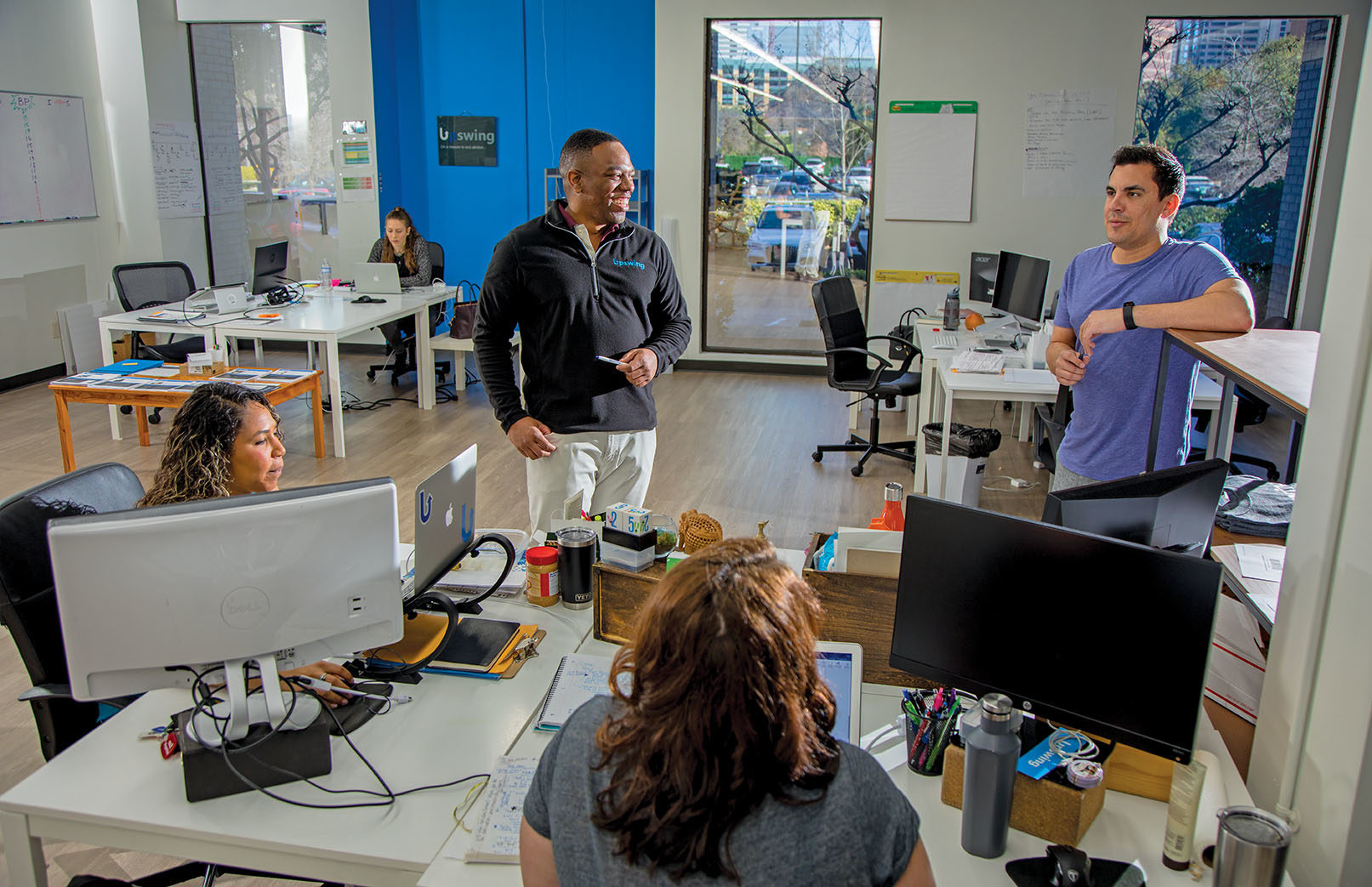 By March 2013, they landed a meeting with a school administrator in Durham, North Carolina, who urged them to pilot their plan by creating a package that would help schedule tutoring. He wanted the pilot to serve 60 high school students, and he agreed to pay $600.
"Six hundred dollars!" Pritchett said. "That felt like real validation!" They scrambled to piece together the first crude version of their TutorUp interface from off-the-rack software components. And some of those racks were in the bargain basement.
"We bought the hosting package off of eBay for, like, $9—and within a week of us starting the program, the host center went down," Hines recalled. "We couldn't access anything. … Then, the morning before we were supposed to start, everything just popped up again. We walked in like there were never any issues in the first place."
They quickly improved their software and web hosting, and later in 2013 they established their first footholds in North Carolina community colleges.
Hines and Pritchett have come a long way from celebrating a $600 contract. By the end of 2017, the company had raised $3 million in venture funding, first from individual angel investors and later from institutional investors, including Lumina Impact Ventures. Connecting with these larger investors has been transformative, Hines said.
"It definitely changes a lot, that's for sure. What it means first and foremost is you can fund-raise less, because the check size is a lot larger. … And for the most part, angel money is just that: money. You still have to figure out everything else on your own. The difference with someone like a Lumina is that they're providing the angel funds but they're also providing all these different networks that you didn't have before," Hines said. Strategic partnerships not only provide access to new investors, they also can be a source of business expertise that can help a young company refine its operations, he said.
Upswing now has 25 employees, and though Hines doesn't discuss revenue figures publicly, he said that over the last few years, revenue has increased 40-50 percent per year. Through all the growth and the development of more elaborate products, Hines said, the goal that drove him and Pritchett six years ago remains the same.
"What we're trying to do is say, 'Even if you're starting at a different starting line, it doesn't mean you can't make the race you're running a little faster, a little easier.'"