DETROIT—In 2013, when this city became the largest U.S. municipality ever to file for bankruptcy, it was $18 billion in debt and had half the number of residents it did in 1980. Despite a recovering economy, one of every five working-age residents was unemployed, more than a third of city streetlights were out, and the police response time for emergencies averaged nearly an hour.
Today, it's hard to believe that the Motor City—its central core, at least—is that same place. Downtown is now a lively grid of renovated buildings, sports arenas, a light-rail system, pop-up boutiques, and beer gardens.
In June 2018, officials announced that Ford Motor Co. would buy and restore the most notorious monument to the city's decrepitude—the crumbling Michigan Central Station. It was a move celebrated nationwide, one that local leaders call transformative.
It also revealed a huge challenge. To realize its dream of returning to its roots as an economic powerhouse, Detroit needs a massive boost in local talent. At the same time, as shown by the empty lots and abandoned homes that still mar the rim neighborhoods, the poverty rate in Detroit is 34.5 percent, double the national average. And although unemployment has fallen to 7.4 percent, it doesn't reflect that nearly half of all working-age Detroiters—the vast majority of whom are African-American—aren't even looking for jobs. That is the lowest workforce-participation rate in the nation.
"In one respect the story is positive," says Sandy Baruah, president and CEO of the Detroit Regional Chamber. "Among our peers in North America, we have a built-in capacity. We have among the highest concentration of engineers and percentage of Ph.D.s. We have a strong higher education system. We have natural attributes—we're an outdoorsy state, we have lots of water, and a comparatively low cost of living. But on the negative side, we don't have the skills available to match the demand. And unless we move quickly and boldly, that gap will widen."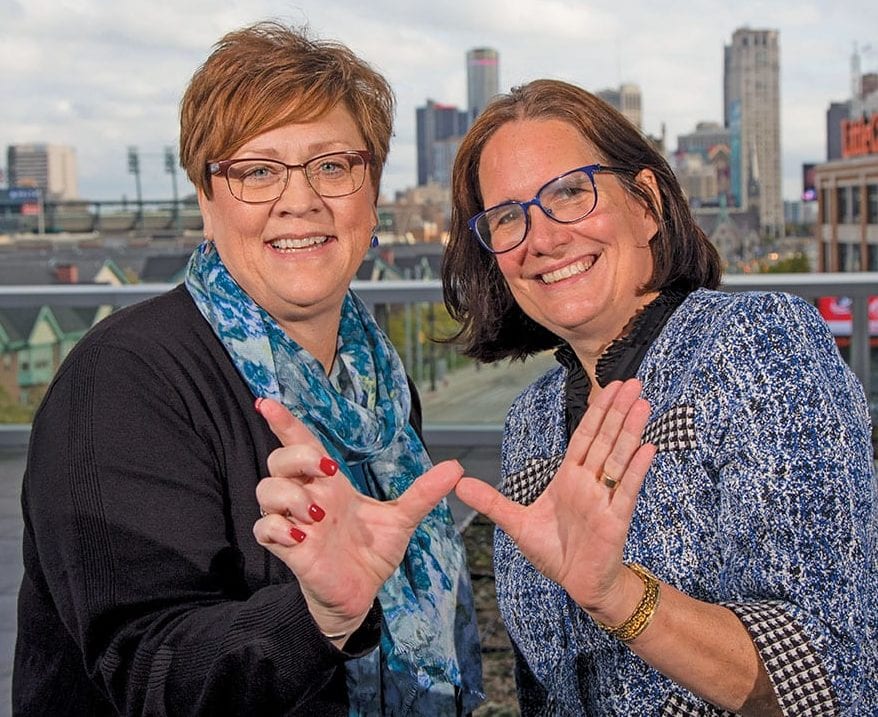 The needs are great—and varied. The automotive industry of the future requires tech-savvy workers, those with degrees that might not even exist yet Ð not just in electrical engineering, for instance, but in a combination of electrical and software engineering. Industry also is hungry for workers with basic skills such as numeracy and literacy and so-called soft skills such as how to conduct oneself in a job interview. Unskilled employees, meanwhile, are seeking entry-level positions with clear pathways, and they lack the means and training to earn certificates that lead to better-paying, family-sustaining jobs. They also need reliable child care and transportation.
Embracing a holistic approach
After years of trying, and largely failing, to solve these challenges, city leaders now realize that they must take a more holistic, regional approach. To repair the mismatch between employers' demands and the needs of the under- and unemployed, the region is building on a strong collaboration among business, education, and community groups. The goal is to capitalize on the city's earned reputation as a Talent Hub, a place where local entities work tirelessly—and together—to ensure residents have the knowledge and skills they need to succeed. (See accompanying story.)
In particular, the Detroit Talent Hub is focused on a specific group of area residents: adults who have some college experience but no degree. These so-called stop-outs—those who have left school for a raft of reasons, personal, academic, and financial—are a large and promising bunch: some 690,000 Detroit-area residents in all.
Building on an existing compact among 10 regional postsecondary institutions, the Talent Hub partners are working to track and improve results for these stop-out adults. They're creating a dashboard to publicly share data (broken down by race and income) on previous experience, employment status and the like. They're also making a broad, collaborative effort to prevent students from stopping out in the first place—by making curricular changes and offering more robust advising, for instance.
But before the institutions can help these students complete their degrees, they have to find them. Using records from the past 15 years housed at the National Student Clearinghouse, Wayne State University and Macomb Community College have already identified nearly 53,000 "comebackers" for whom the schools have contacts. The institutions are reaching out on social media and working with business and community groups. They've placed stories in newspapers and on television, and they plan to post ads on buses. Working with the Episcopal Church's local Black Ministries organization, they even bought 5,000 paper fans to slip into church pews.
This academic year, Wayne State is offering comebackers perhaps its biggest carrot yet—a debt-forgiveness program called Warrior Way Back. The program waives past-due balances of up to $1,500 for all students seeking to complete their degrees. For full-time students, the first $500 will be waived the first semester, the second $500 the next semester, and so on. The ultimate goal is to eliminate students' outstanding debt as they make academic progress.
Such debt often stops students in their tracks. Traditionally, students with unpaid balances are prohibited from registering for classes, and their requests for transcripts—vital for transfer to another school—are denied.
"We have been holding transcripts hostage," says Dawn Medley, Wayne State's associate vice president for enrollment management, "because it's the only leverage we have."
Putting an end to that practice is not only good for students—especially students of color, who are disproportionately affected—it's also good for the health of the university, Medley says. As with many institutions, Wayne State, a public research institution with about 27,000 students, has seen its enrollment drop with recent population trends. Attracting stop-outs is one logical way to help bring those numbers up. "It can be hard to get this idea past the COOs," Medley says, "but by offering this $500 scholarship (the initial debt-forgiveness amount), we bring in $13,000 in tuition revenue."
'It was a bad decision'
Timothy Jones, a 39-year-old divorced father of one, took his first crack at college 18 years ago, pursuing a degree for just one semester before leaving in favor of a full-time job. "It was a bad decision," he says, "but my family needed the money."
Over the years, Jones has worked in restaurants and in the health care industry, most recently as a financial counselor at Detroit Medical Center. Last year, a vicious, untreatable infection from a spider bite caused him to lose a leg. That trauma, along with his desire to serve as a role model for his daughter, was a catalyst for Jones to finish his degree. At an information session for Warrior Way Back last summer, even physical pain couldn't keep him from standing in line for more than three hours to apply.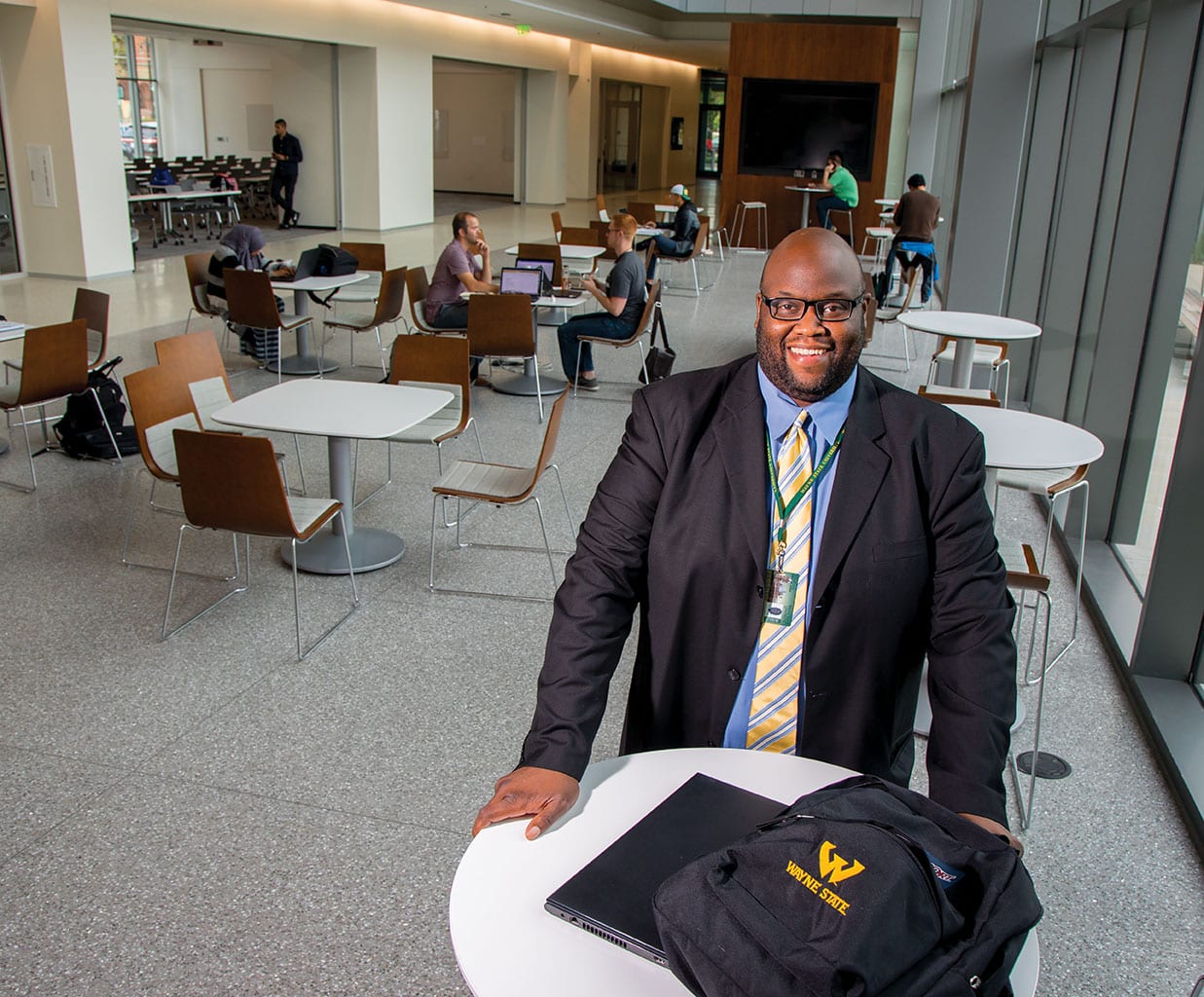 Jones, who left Wayne State with an unpaid balance of $1,500, admits he didn't distinguish himself academically during his first go-round at college. In fact, his low GPA threatened to keep him from qualifying for Warrior Way Back. Exceptions were made, though, and with the advice of counselors, he is starting slowly in his business management program. He's signed up for just nine credits, with classes in general business, Microsoft Excel, and the required "Introduction to Wayne State."
His advisors helped him create a schedule that allows him to continue to work full time at Detroit Medical Center so that he can manage the tuition with loans and financial aid. "At this time last year, I didn't know where my life was going," Jones says. "Now I've got my foot in the door and my behind on the line."
Louanne Romano, 52, first attended Wayne State in 2010, after receiving an associate degree from Macomb and being laid off from her job as a para-professional in a public school. But her plans to earn a bachelor's degree went off track when she took a full-time development job at a private high school. She switched to a part-time schedule at Wayne State, but even that course load proved too heavy with her job, a death in the family, and the financial strain of having her own children in college.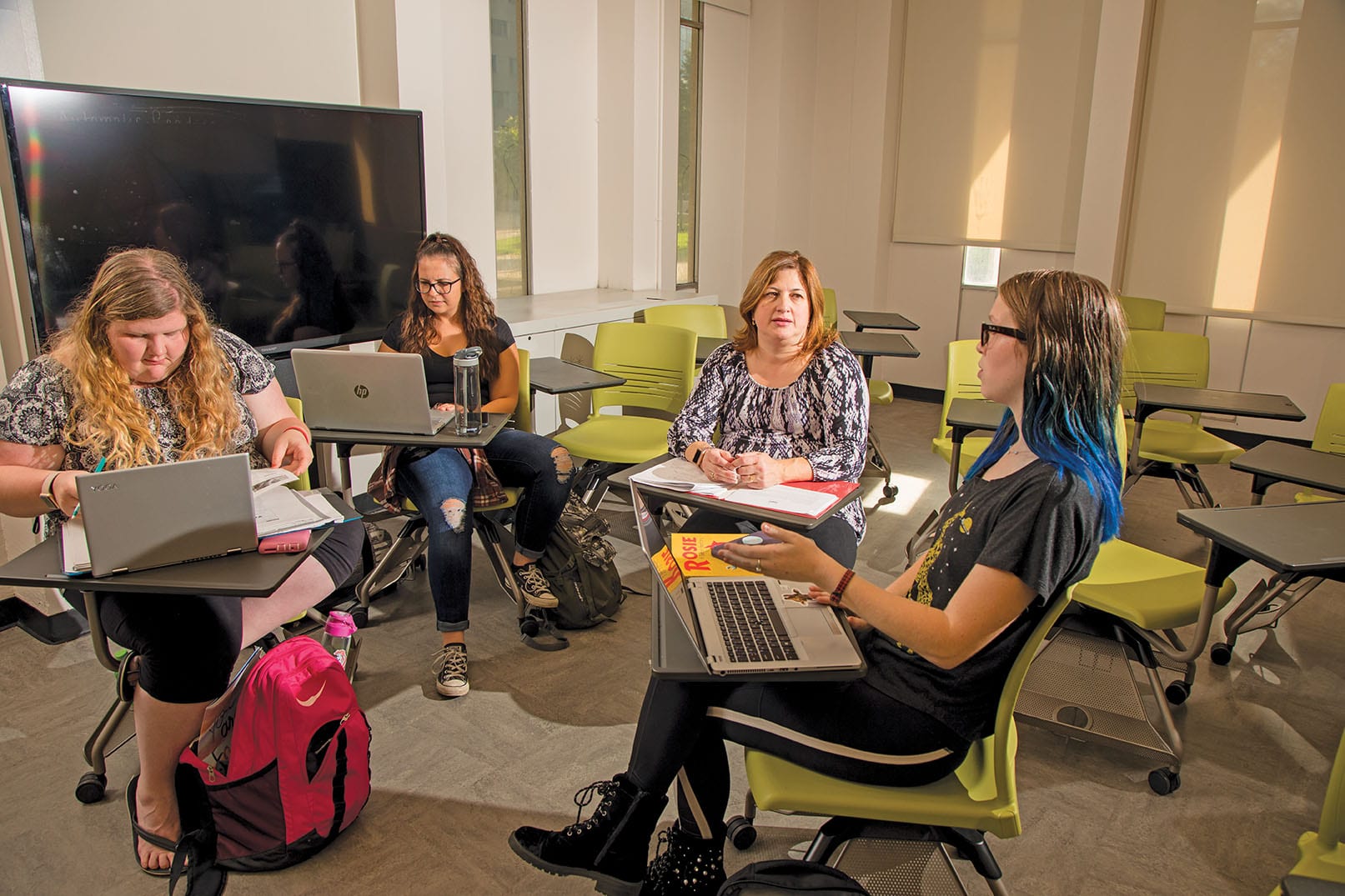 "It was just too much at the time, financially and emotionally," Romano says. So, she left Wayne State, leaving an unpaid balance of $1,485—just under the limit to qualify for Warrior Way Back. This time around, she is finding a larger, more vibrant, and more diverse university—with more older students like her—in a city that's on the way up. "I'm an educator," she says, "so I like being in the classroom." Majoring in elementary education, she expects to graduate in December 2019.
'They are so responsive'
Among the first expected graduates under the debt-forgiveness program is 46-year-old Johnathan Williams, who was in his second year of work toward an accounting degree when he left Wayne State in 1991. Dealing with a heavy course load and the death of his father, Williams says he simply burned out and needed a break. Then, as he says, "life happened." He married, started a family, and took a job in information technology. He took evening courses here and there, but went back to Wayne State full time only after learning about Warrior Way Back.
Though skeptical at first, Williams is now delighted with Wayne State's commitment to his success. "What makes this so achievable is my support team; they are so responsive," he says. "Before I felt like I was just another student ID number. Now I feel like I have a whole team assigned specifically to me." Williams plans to graduate in December with his bachelor's degree in information management systems.
Wayne State's aggressive outreach to stop-outs builds on its longtime efforts to boost completion rates and improve outcomes. Those efforts have helped earn the university a national reputation as an institution passionately committed to student success. In recent years, Wayne State has hired 45 new academic advisors, added programs, enhanced institutional learning, and changed its financial aid policies in an effort to meet students' needs.
"We're in the middle of a complete transformation of our undergraduate experience," says Monica Brockmeyer, associate provost for student success. "We have gone from being a transactional campus to being a relational campus." The results look promising: In just the past six years, the university's six-year graduation rate has nearly doubled, from 26 percent to 47 percent.
Medley envisions a day when Wayne State will forgive debts of former students even if they re-enroll elsewhere —underscoring the point that boosting college completion is a goal that requires a regional approach. The university could enter a compact with a community college, for instance, based on the former Wayne State students taking a minimum number of credits at the community college.
Wayne State also hopes to inspire institutions nationwide to duplicate its efforts. The ultimate aim is that all colleges and universities will agree to release credits and transcripts for all transfers, regardless of student debts.
Meanwhile, students who have transferred to Wayne State from Macomb Community College or other participating institutions, and who left before receiving an associate degree, can earn that degree retroactively, while still working toward the bachelor's.
Under the arrangement, known as "reverse transfer," Wayne State transfers the credits—at least 30—back to the community college, which officially grants the associate degree. That credential has multiple benefits:  It shows employers that these students are committed to finishing what they start, it provides better job opportunities for students still in school, and it improves the chances they will earn bachelor's degrees.
So far, that track record is not good. Less than 14 percent of Detroit's residents, and just 29 percent of those living in the Detroit metro area, hold bachelor's degrees. This is true even though having a college degree reduces the likelihood of unemployment from 35 percent to just 11 percent.
Non-academic barriers
Beyond Detroit's notoriously underperforming public schools, some surprising factors have hampered college completion and employment in the city, and local businesses are working with the community to address those factors.
One has been the state's much-reviled driver responsibility fees, under which drivers can lose their licenses if they fail to pay fines of up to $2,000 for certain offenses. Not surprisingly, the laws have disproportionately affected poor people: Without a license, and given the city's dearth of transportation options, it's hard for residents to get to work and school. According to Jeffrey Donofrio, the city's executive director of workforce development, about 76,000 Detroiters had outstanding debt from these fees, which is why the Chamber worked to get them abolished.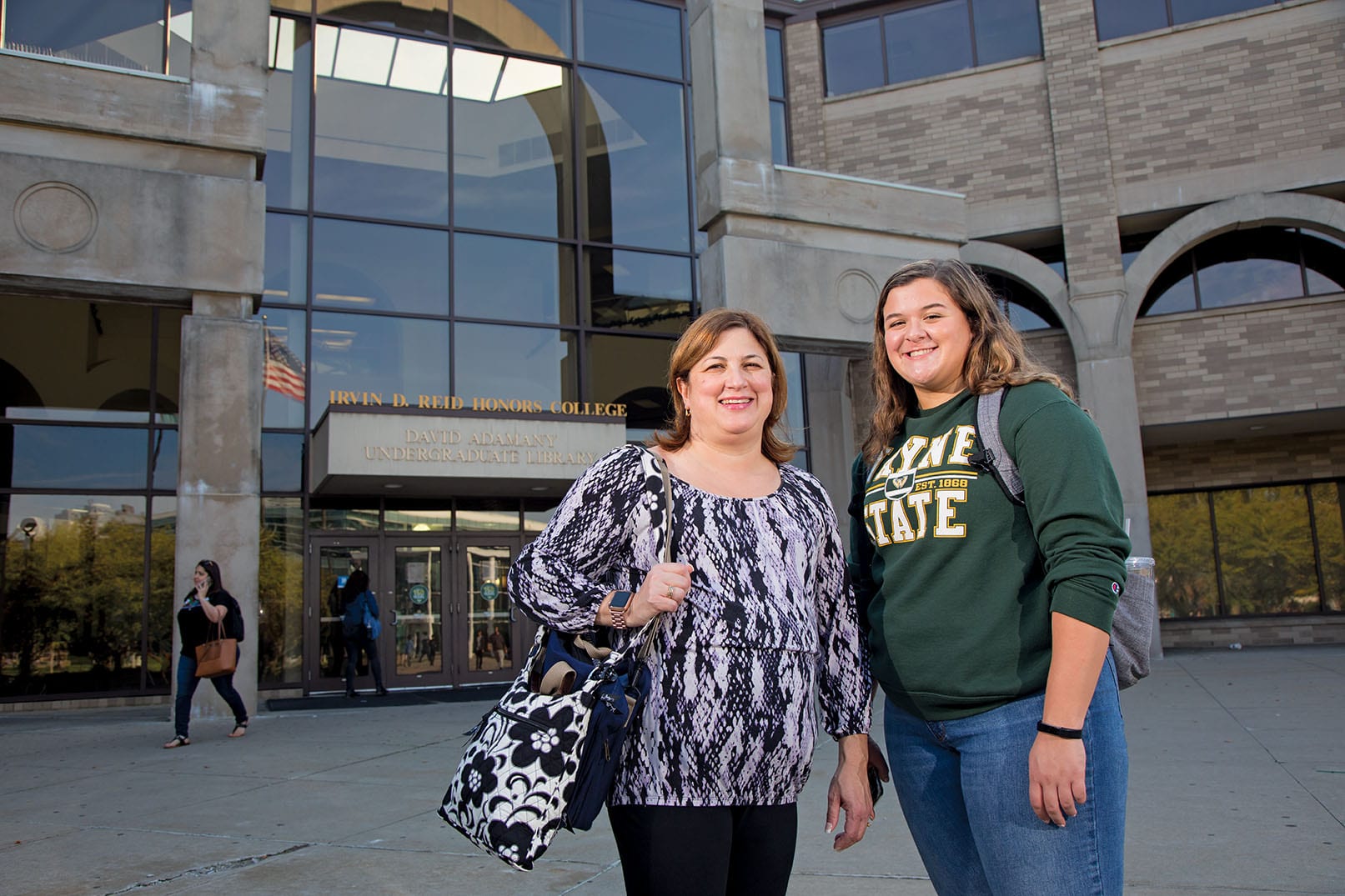 Another barrier that Donofrio and the Chamber identified: the archaic record-keeping of Detroit Public Schools. After developing a program to train and certify nurses' aides and other health-care technicians, the workforce department found that employers routinely rejected applicants because it took weeks to simply verify that a job candidate had graduated from DPS.
It turns out that the student transcripts were all on paper, stuffed in a vast warehouse, and there was a backlog of requests. So, with a boost from the Chamber, about 500 volunteers from Quicken Loans and other firms worked for hours to sort and digitize the records.
This sort of community cooperation, a widespread willingness to pitch in, is the hallmark of the Detroit Talent Hub. Problems with transportation, child care, debt, housing—all are significant barriers to educational success and gainful employment. But by deploying all sectors together, Detroit has shifted into high gear to help its residents plow through those barriers.