College students and others trying to plan their lives and careers face a range of choices but should be guided by their passion, members of a group pondering the future of work say.
"Sometimes we don't give ourselves permission to pursue what we really want to do," Bernita Bradley, a Roadtrip Nation "road-tripper," told students at Indiana University-Purdue University Indianapolis this week.
"We're so caught up in what people tell us to do and we guilt ourselves out of our journey."
Bradley recently joined a Navy veteran and a horse trainer from California in one of Roadtrip Nation's green RVs for a cross-country learning trip. During the trek, funded by Lumina Foundation, the road-trippers interviewed inspiring leaders about the future of work and found ideas for their own lives and careers. Roadtrip Nation has been organizing similar tours of discovery for 15 years.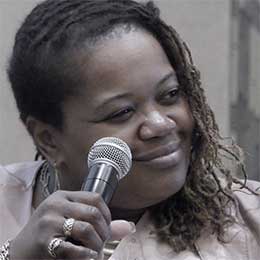 "We've made it our mission to talk with professionals of every kind and ask the questions that no one is asking—honest questions about their struggles, successes, and how they figured out the age-old dilemma, 'What should I do with my life?'" the group says.
The future of work journey included interviews with leaders from LinkedIn and IBM, a software engineer from JPMorgan Chase and residents from West Virginia's coal country who are helping their communities adjust to new economic conditions.
More details about the trip are here, and a documentary produced from the journey, "Rerouting," will be shown on public television in the fall. Viewers will see emotional moments as the road-trippers—each well beyond the age of "traditional" college students—adjust to life on the road and explore their hopes and fears about the future.
"I've always been a person who's not scared to try new things, but we all have our inhibitions," Bradley said. "We have to learn to let go and set out on our own path."
Bradley appeared on a panel with Kris Schuster, an IUPUI career advisor, and Ben Sienko and Nicole Woodworth of Roadtrip Nation.
Sienko told the students he started college as a chemistry major but changed course and graduated with a job as a computer programmer.
"Sometimes the coolest things in your life you don't expect—they just come around the corner," he said. "And those experiences are more likely when you are open to them, and when you get out to events and meet people."
Schuster said her turning point was a chance meeting with a career advisor early in her college experience. The advice she got then stuck—and she repeats it often:
"Focus on what you really care about—the things that light you up, and make you want to go to class," she said.
"You might be surprised how that works out. You might go in a completely different direction. But be open to the adventure and see where it goes."
Jordan Sager, a junior communication studies major, came to the session after Sienko visited his class. He's thinking about a career in marketing, public relations, or human resources.
"I don't know exactly what I want to be, but I know you have to find a passion for something," he said. "That's the biggest issue I have in making a decision, I love so many different things."
Jaelynn Crook, a junior majoring in medical humanities and health studies, came seeking advice on finding her path. She thinks students today should focus on networking and getting solid job experience while still in school.
"I'm a little nervous about what I'm going to do when I graduate," she said. "But I'm very grateful for college because there are so many opportunities to figure out what you want to do."