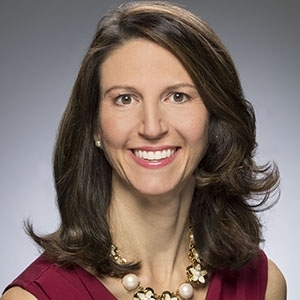 Courtney Brown, Ph.D., is vice president of impact and planning for Lumina Foundation, an independent, private foundation in Indianapolis that is committed to making opportunities for learning beyond high school available to all. Brown oversees the foundation's efforts in strategic planning, learning, impact, and effectiveness. She also leads Lumina's international engagement.
She joined the foundation in 2011 with a strong background in performance measurement, research, and evaluation. Before 2011, Brown was a senior research associate at the Center for Evaluation and Education Policy at Indiana University. There, she led studies and evaluations focused on education and post-high school programs within the United States and across Europe.
Brown is a frequent speaker and panelist in the United States and other countries regarding postsecondary strategy, student success, data-driven decision making, and evidence-based practices. She has developed and shared manuals, working papers, articles, and books related to undergraduate research, performance measurement, randomized-control trials, and other evaluation methods, as well as conducted webinars and workshops on topics such as evaluation, performance measurement, and success in education beyond high school.
Brown serves on the University of Virginia's School of Education and Human Development Board of Directors, on the advisory board for the Center for First-Generation Student Success, and the advisory board for WGU Indiana. She holds a bachelor's degree from James Madison University and earned her master's and doctoral degrees from the University of Virginia.