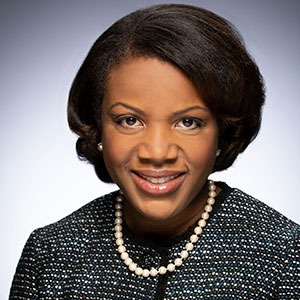 Danette Gerald Howard, Ph.D. served as Lumina's senior vice president and chief policy officer until Dec. 2021 overseeing several of Lumina's key strategies to increase Americans' attainment of high-quality postsecondary degrees and credentials, including strategic work in both state and federal policy and efforts to leverage states as the drivers of credential attainment. She led the Foundation's Equity First efforts to embed racial equity and justice in all aspects of Lumina's strategic work and operations.
Prior to joining Lumina, Howard served as Secretary of Higher Education in Maryland, leading the state's postsecondary education coordinating agency, the Maryland Higher Education Commission.  As secretary, she oversaw Maryland's statewide financial aid program, approved new academic programs and institutions seeking to operate in the state, and advised the governor and legislators on higher education policies and initiatives.
A nationally regarded analyst and thought leader, Howard previously served as director of research and policy analysis at the Maryland Higher Education Commission.  She also held positions as the assistant director of higher education policy at the Education Trust in Washington, D.C., as a researcher at the University of Maryland, College Park, and as a student affairs administrator and admissions counselor at the University of Maryland, Baltimore County.
Howard earned her bachelor's degree, summa cum laude, from Howard University. She also received her master's degree from the Harvard Graduate School of Education, and her Ph.D. in higher education policy from the University of Maryland, College Park. In 2015, she was honored for her outstanding success and national distinction in the fields of education and policy with Howard University's Distinguished Alumni Achievement Award.
Howard currently serves as a member of the Howard University Board of Trustees, and as a trustee of the Ascension St. Vincent Foundation.