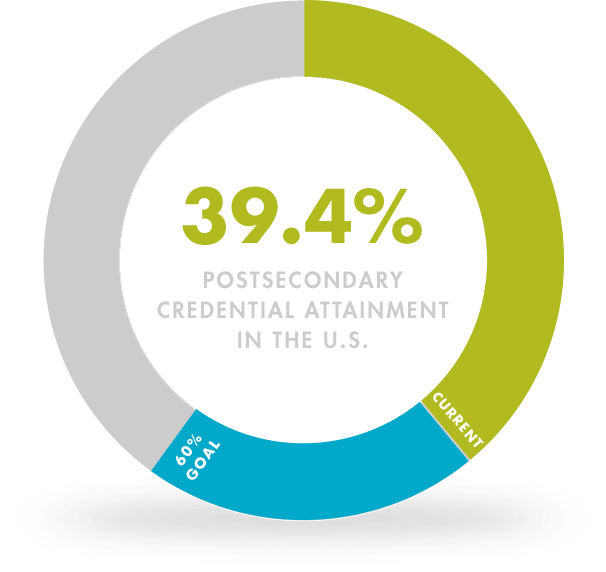 We know that higher education attainment results in greater individual earning power. In fact, a worker with a bachelor's degree earns 84 percent more than a worker without a degree - an average value of $2.8 million over the course of a lifetime. And the value of individual attainment is also key to our national economic prosperity because research shows that more than two-thirds of all U.S. jobs will require a postsecondary degree or credential by 2018.
By providing greater postsecondary access and success for all Americans, we build stronger economies, thriving communities, and a greater quality of life. It's clear that higher education remains the best avenue to prosperity, opportunity and a stronger nation.
Latest Stories
Lumina Foundation believes that attracting, educating and deploying the talent to fuel our 21st century economy and democracy is critical to economic vitality, individuals' well-being, and the nation's future success. A key to that success is creating an environment in which talent can thrive – an environment that is open,...
Continue Reading
LEADERSHIP PERSPECTIVES
Wisconsin Gov. Scott Walker (R) is the latest in a string of high-profile policymakers and employers who have questioned whether a college education is vital to success in America. This conversation is certainly worth having, but it's only going to work if we start to come to grips with the fact that "college" is a very different notion than what many people assume. It's time to start defining college in a new way that accurately reflects the needs of today's students and the realities of the 21st century workforce.
Continue Reading
SPEECHES
Lumina President and CEO Jamie Merisotis speaks to the assessment experts of the Association to Advance the Collegiate Schools of Business (AACSB) on the importance of assessing student learning to help ensure that credentials have real and lasting value. Read his opening keynote address from the International Assessment Conference in Austin, Texas.
Continue Reading