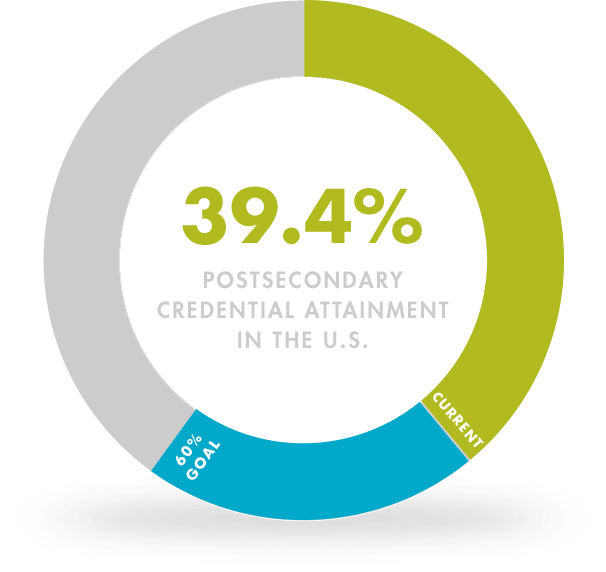 We know that higher education attainment results in greater individual earning power. In fact, a worker with a bachelor's degree earns 84 percent more than a worker without a degree - an average value of $2.8 million over the course of a lifetime. And the value of individual attainment is also key to our national economic prosperity because research shows that more than two-thirds of all U.S. jobs will require a postsecondary degree or credential by 2018.
By providing greater postsecondary access and success for all Americans, we build stronger economies, thriving communities, and a greater quality of life. It's clear that higher education remains the best avenue to prosperity, opportunity and a stronger nation.
Latest Stories
SPEECHES
Lumina President and CEO Jamie Merisotis articulates Lumina's vision for the fundamental redesign needed in higher education to get from a system focused on institutions and based on time, to one focused on students and based on learning, at an annual symposium of the Association of Private Sector Colleges and Universities.
Continue Reading
GRANTEE & PARTNER NEWS
Lumina Foundation announced the final 20 cities in its 75-city community-based attainment network. This work is designed to help communities and regions dramatically increase the number of local residents with postsecondary credentials. Lumina's focus on community-based attainment began because of the Foundation's recognition that community-based networks are well-suited to play a role in institutional planning and can provide the implementation and coordination that is necessary to create impact at state and federal levels in order to improve the nation's higher education system so that it better serves students.
Continue Reading
LEADERSHIP PERSPECTIVES
Lumina President & CEO Jamie Merisotis applauds Governor Kasich's latest budget proposal and challenges the state to adopt an attainment goal to meet the growing demand for talent in Ohio. Read his op-ed in the Cleveland Plain Dealer.
Continue Reading