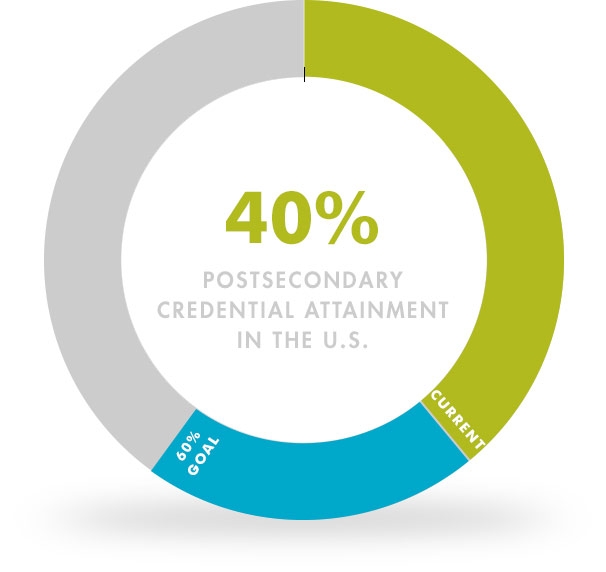 We know that higher education attainment results in greater individual earning power. In fact, a worker with a bachelor's degree earns 84 percent more than a worker without a degree - an average value of $2.8 million over the course of a lifetime. And the value of individual attainment is also key to our national economic prosperity because research shows that more than two-thirds of all U.S. jobs will require a postsecondary degree or credential by 2018.
By providing greater postsecondary access and success for all Americans, we build stronger economies, thriving communities, and a greater quality of life. It's clear that higher education remains the best avenue to prosperity, opportunity and a stronger nation.
Latest Stories
NEWS RELEASES
May 11, 2015
Lumina Foundation has announced the election of Alisa A. Miller and Matthew A. Goldberg to serve on the Foundation's Board of Directors.
Continue Reading
NEWS RELEASES
Apr 16, 2015
An overwhelming majority of Americans continue to believe that having a certificate or degree beyond high school is important to our success as a nation and as individuals. But, according to new results released today from the annual Gallup-Lumina Foundation Poll on Higher Education, Hispanics and African Americans believe most strongly in the power of postsecondary education to help deliver good jobs and a better quality of life.
Continue Reading
NEWS RELEASES
Apr 09, 2015
INDIANAPOLIS – A new report released today by Lumina Foundation reveals real progress has been made in the national effort to increase postsecondary attainment, but current rates won't be enough to meet America's future economic and workforce demands. The annual report, A Stronger Nation through Higher Education, finds that unless actions are taken now to significantly increase postsecondary attainment, the nation will fall short of workforce needs by the end of this decade.
Continue Reading