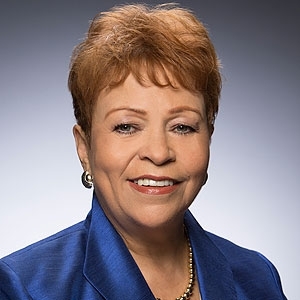 BOARD MEMBER
Marie V. McDemmond
Marie V. McDemmond is a member of the national board of directors of the Leukemia and Lymphoma Society (LLS). She is president emeritus of Norfolk State University (NSU). She served as president of NSU from July 1, 1997 to January 31, 2006. Prior to becoming president of Norfolk State, Dr. McDemmond served as vice president for finance for Florida Atlantic University (FAU) and its seven campuses, where she also served as FAU's chief operating officer, as well as interim dean of education at Florida International University in 2009-2010.
Dr. McDemmond served as vice president for budget and finance at Atlanta University, associate vice chancellor for administration and finance and budget director at the University of Massachusetts at Amherst, assistant vice president for finance at Emory University, and director of finance for the fifteen community colleges in Massachusetts. Adding to her financial and managerial experience, Dr. McDemmond served as acting deputy director for administration and business officer at the Bronx Psychiatric Center, Bronx, New York.
Dr. McDemmond received her bachelor's degree from Xavier University of Louisiana, and her master's degree from the University of New Orleans. She did additional graduate work in public finance and management at the State University of New York at Albany and received her doctoral degree from the University of Massachusetts at Amherst. She is the recipient of two honorary doctoral degrees.
Dr. McDemmond has been president of the Council of Minority Educators in Massachusetts' Public Colleges and Universities, and the Florida Association for Women in Education (FAWE), as well as a board member and president of the Southern Association of College and University Business Officers (SACUBO), and the first African American woman to head any of the National Association of Colleges and University Business Officers (NACUBO) regions, on whose board she served. She is a Diamond Life Member of Delta Sigma Theta National Sorority. Dr. McDemmond was a member of the board of directors for the American Council of Education's Commission on Women in Higher Education, General Douglas MacArthur Foundation, the College Board, the Student Loan Marketing Association (Sallie Mae), the National Association for Equal Opportunity in Higher Education (NAFEO), the United Way of Greater Hampton Roads, and the Urban League of Hampton Roads.
Dr. McDemmond taught for over 15 years in Wellesley and Bryn Mawr Colleges' Project HERS and teaches in AASCU Millennium Leadership Institute (MLI). She is a senior consultant with Academic Search, Inc. and she consults, publishes articles and speaks on topics ranging from financial management to leadership. Dr. McDemmond has testified before Congress on budgeting for the digital divide among HBCUs and the need for student financial aid.
A recipient of many awards and honors, Dr. McDemmond received the Women's Achievement Award of Hampton Roads for 2005. She received Dominion's Strong Men & Women, "Excellence in Leadership" and the YWCA South Hampton Roads Woman of Distinction for 2004. She was awarded the Pioneer Award by the Outstanding Professional Women of Hampton Roads for 2000 and was selected administrator of the year by the National and the Virginia Association of Educational Office Professionals. Dr. McDemmond served as Virginia's Civilian Aide to the United States Secretary of the Army for Virginia. She was appointed by President Bush to the President's Board of Advisors on Historically Black Colleges and Universities. She has been recognized by the American Association of State Colleges and Universities' (AASCU) Millennium Leadership Institute to have its leadership lecture named for her and to have a $32 million state funded research center on Norfolk State's campus named in her honor.