Create New Higher Education Models
Our Aim
To increase educational attainment to 60%, many more students must be served in new and different ways. Traditional delivery systems simply can't be "scaled up" cost-effectively to meet the growing demand. And if these traditional delivery systems are insufficient, so, too, are the institutional business and financial models that are based on those approaches.
What's needed, then, are new and more productive business models – models that are specifically geared to mesh with these new, lower-cost modes of academic delivery. These new models must be supported by public finance and regulatory policies that create incentives and remove barriers to change.
Lumina seeks to create these new models and to encourage their wider acceptance and use among policymakers and institutional leaders.
Our Actions
We have helped develop such models – performance-based models for states, systems and institutions. These new models include strong incentives for affordability and completion; for increasing attainment among underrepresented students; for expanding capacity to deliver high-quality, low-cost programs; for reducing time-to-degree; for addressing specific workforce needs; and for improving productivity. The models also emphasize competency-based education and the important trend of awarding credit for learning obtained outside the classroom.
Efforts to encourage adoption of these and similar models are ongoing.
This work is led by Lumina Strategy Director Kevin Corcoran.
---
Convening
Federally Authorized Experimental Sites for Competency-Based Education
Lumina Foundation and the Bill & Melinda Gates Foundation co-hosted a convening on April 7 and 8, 2015, in Washington, D.C., to help 15 interested colleges and universities that met specific readiness criteria gain a better understanding of the U.S. Department of Education's1 Competency-Based Experiment part of the Experimental Sites2 Initiative (ESI).
Download Executive Summary PDF | 1 page
Download Full Summary Report PDF | 31 pages
---
Research
Outcomes-based Funding Issue Papers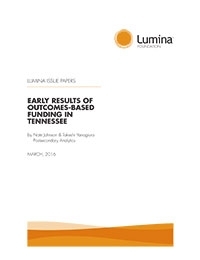 March 10, 2016
No state has done more than Tennessee to shift state higher education funding to reflect outcomes rather than inputs. In other states, most of the core funding for higher education, including tuition and state appropriations, flows to colleges based on student enrollment.
Continue Reading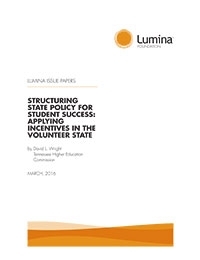 Applying Incentives in the Volunteer State
March 10, 2016
This is a time of great challenge and opportunity for American higher education. The challenges are well-established and widely acknowledged: escalating standards for economic competitiveness, coupled with a severe economic downturn and protracted recovery, require broad access to relevant postsecondary education, training and retooling as never before…
Continue Reading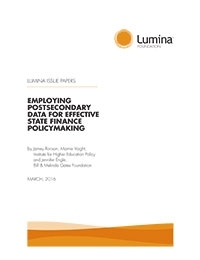 March 10, 2016
Each year, more states are adopting policies to incent and support improvements in postsecondary student success and equitable outcomes through the effective use of quality data. Particularly as the target dates for national higher education attainment goals grow nearer, state economies are in need of more college-educated workers…
Continue Reading