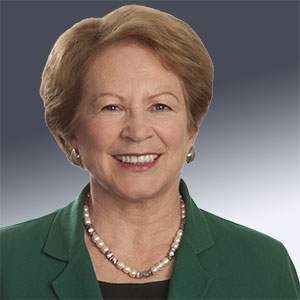 LUMINA FELLOW
Carol Geary Schneider
Carol Geary Schneider is president emerita of the Association of American Colleges and Universities (AAC&U). She is an early modern historian and has worked for the entirety of her career to ensure that all college students, including working adults, receive a broad and empowering liberal education, whatever their career interests or socioeconomic circumstances.
Dr. Schneider served as president of AAC&U from 1998 until June 2016. With member institutions drawn from the entire higher education community, large, small, two-year, four-year, selective and open admission, AAC&U is the leading national organization devoted to advancing and strengthening undergraduate liberal education. During her presidency, the organization doubled in size, from 675 to 1350 institutions, half public and half private.
Before joining AAC&U as its executive vice president in 1987, Carol Schneider worked for a decade at The University of Chicago where, among other roles she led a national initiative on competency-based learning for returning adults and what were then ground-breaking efforts to rethink how graduate students should be prepared as future teachers and academic leaders. Her early experiences working with programs serving working adults significantly influenced her determination to find new ways of connecting broad liberal learning with the professional and career fields in which most college students major.
As executive vice president of AAC&U, she conceived and led the organization's widely influential work on diversity, democracy and liberal learning, as well as several initiatives concerned with the goals of the college major and general education reform. She also launched what became the Preparing Future Faculty initiative, a far-reaching change effort that eventually involved over fifty graduate institutions and more than 250 partner colleges, universities and community colleges.
During Carol Schneider's presidency, AAC&U became widely recognized as a powerful force and voice for strengthening the quality of student learning in college for all students and especially those historically underserved in U.S. higher education. Underscoring these commitments, AAC&U expanded its mission in 2012 to encompass both liberal education and inclusive excellence and especially the relations between them. Schneider also spearheaded a merger between AAC&U and Project Kaleidoscope, a faculty-led STEM reform organization, an action which significantly expanded AAC&U's leadership for reform and renewal both in the way students learn science and in science outreach to underserved groups of students.
Contending that higher education must move away from its legacy of "exclusionary excellence" toward a new determination to "make excellence inclusive," Schneider and her AAC&U colleagues launched and secured funding for multiple national and international initiatives to help higher education identify the component elements of a high quality education and to focus the entirety of the educational experience, across both arts and sciences and career fields, on those learning outcomes and especially on quality learning for underserved students.
A series of research studies conducted for AAC&U during her presidency demonstrated compellingly that—above and beyond students' chosen majors—employers both seek and reward the key elements of a quality liberal education: broad or big picture learning in the arts and sciences; high level inquiry, communication and problem-solving skills; ethical, civic, and intercultural capacities; and applied, integrative projects that make visible what students can do with their learning.
The work Schneider led on liberal learning and inclusive excellence has been supported by virtually all the major higher education foundations, public and private, and by numerous family foundations and individual donors as well. Hundreds of colleges, universities, community colleges and state systems have participated directly in these efforts to reinvent both the goals and practices of college learning for a new era of campus diversity and global interdependence.
The best known of AAC&U's inclusive excellence initiatives, Greater Expectations (2000-2006) and LEAP (2005—), worked with educators and employers to develop and promote a framework for quality learning that addresses both students' career aspirations in an innovation-fueled economy and graduates' development as knowledgeable and engaged citizens in a diverse democracy and an interdependent global community. In partnership with research scholars, Greater Expectations and LEAP further identified the engaged educational practices—now termed "high impact"—that help students both persist in college and demonstrably develop the "essential learning outcomes" they need for success. Numerous national and international projects are now pioneering long-term efforts to build these high impact practices into "guided learning pathways"–from cornerstone to capstone—for contemporary college students.
Because of her leadership on braiding equity and quality together, Lumina Foundation enlisted Carol Schneider in 2010 as part of a small design team to create what became the Degree Qualifications Profile (DQP), a framework for quality learning intended to provide broad guidance on the essential components of college learning across multiple degree levels: the associates degree, the B.A., and the M.A. The DQP, Schneider has noted, goes beyond AAC&U's LEAP initiative by providing practical guidelines to help faculty translate cross-cutting learning outcomes (such as analytic inquiry or ethical reasoning) into integrative designs for revitalized degree and transfer programs.
After broad testing by the higher education community, Lumina Foundation released the first edition of this framework in the fall of 2014 and launched new efforts, with which AAC&U cooperates, to help higher education use the DQP both to guide quality and accountability in established degree programs and to validate additional forms of postsecondary learning—e.g., from work and/or certificate programs—as meaningful strands in DQP-framed degree programs.
Dr. Schneider has published extensively on all the major areas of her educational work. She is the co-editor of Strengthening the College Major (1995) and has been the executive and contributing editor and/or lead author for over three dozen major reports published by AAC&U during her tenure as president (and, from 1988 to 1998) as executive vice president. She also wrote College Learning for a New Global Century, the widely used "LEAP Report.
Recently, she has published several articles on The LEAP Challenge, AAC&U's Centennial "call" to higher education to prepare all students to tackle complex problems that matter to them and to the wider society, and to demonstrate their achievement by completing "signature work" projects which show graduates' readiness both for employment and for further learning. Her most recent essay on "Making Excellence Inclusive: Roots, Branches, Futures," appears in Liberal Education (vol. 102, no. 2, spring 2016).
Dr. Schneider is a graduate of Mount Holyoke College with a bachelor's degree in history (Magna Cum Laude, Phi Beta Kappa). She studied at the University of London's Institute for Historical Research and earned the Ph.D. in history from Harvard University. She has taught at the University of Chicago, DePaul University, Chicago State University and Boston University and has been a visiting scholar at The Getty Institute and the American University of Cairo.
She has received fourteen honorary degrees, was the 2011 recipient of the ACPA's Contribution to Higher Education Award, the 2013 recipient of the NAC&U Ernest L. Boyer Award, the 2014 recipient of the University of Pennsylvania's Zemsky Medal for Innovation in Higher Education, the 2016 President's Medal recipient from the Charles and Stella Guttman Community College, and has been honored as one of Diverse Magazine's "25 Leading Women in Higher Education."