Josiah Stanfill begins his workday as dawn breaks over a gravel pullout at the foot of Buffalo Mountain, seven miles northwest of Oak Ridge, Tenn. He and his co-workers form a caravan and snake their way up the rutted switchback road that leads to their job site, an installation of wind turbines owned and operated by Invenergy Corp. Weather-permitting, 21-year-old Stanfill rides his motorcycle, occasionally navigating the off-road trails that criss- cross rugged terrain harboring elk, bear and rattlesnakes.
The caravan pauses near Buffalo Mountain's 3,330-foot peak, and a crew member unlocks the gate to the site — a collection of 15 high-tech windmills whose combined efforts generate enough electricity to power 4,000 homes a year. Assigned to turbine maintenance, Stanfill is entrusted with the upkeep of the 138-foot-long blades attached to towers that reach 262 feet.
The daily trek up Buffalo Mountain is not the only uphill challenge for Stanfill, a young man the energy business calls a "windmill cowboy" and one whom nearby Pellissippi State Community College (PSCC) is proud to call a full- time student. As recently as 10 years ago, that combination — a person successfully balancing a 40-hour workweek with a full load of PSCC classes — was as rare as an Alabama Crimson Tide banner here in orange-soaked Tennessee Volunteer territory.
The odds began to shift in 2006, when PSCC — serving 12,000 students on five Knoxville-area campuses — introduced an accelerated program in business administration management aimed solely at working adults. Supported by their peers in a cohort learning model, students in the Accelerated Higher Education Associate Degree (AHEAD) program proved so successful that the college has since added an AHEAD general education program and programs in general technology, computer accounting, culinary arts, teaching, communications, and industrial maintenance.
AHEAD accommodates working adults and their families by compressing courses and offering them in a prescribed, structured sequence — a protocol that allows many participants to pack two years of study into just four semesters. For example, a typical general education cohort will take five weeks of English, followed by five weeks of Western Civilization, followed by five weeks of American Government — all in the time it takes students in a traditional 15-week semester to complete one course.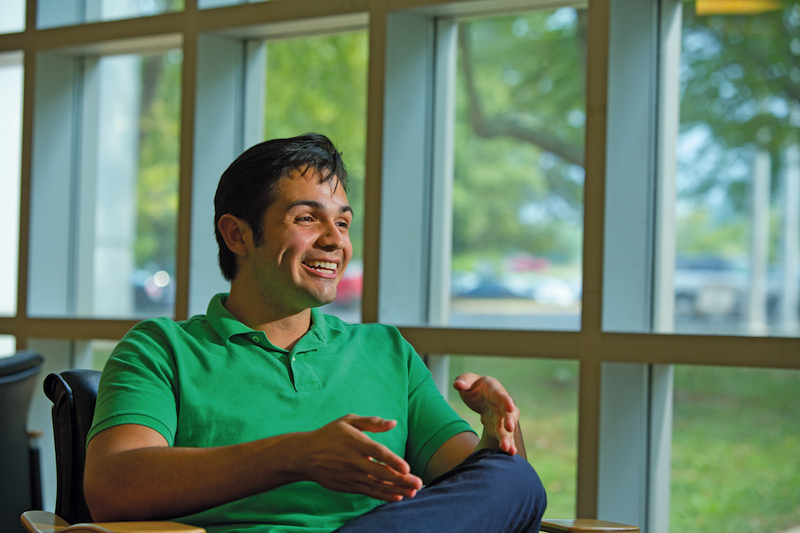 "It's not for the weak-minded, that's for sure," says Joey Rodriguez, who earned a general education degree in May. "My mind had to be 20 places at once; it was insane. I had to concentrate on four classes, plus a full-time job."
Rodriguez, 25, is continuing his studies, pursuing a bachelor's degree in business at the branch of King University located near PSCC's Hardin Valley campus on Knoxville's western edge. (Pellissippi State takes its moniker from the Native American name for the river now known as the Clinch River.)
"If you are dedicated to the program, sacrificing the time is the only way to get it done." – Josiah Stanfill, Windmill cowboy
The pace of such an accelerated program is akin to running wind sprints; AHEAD students barely catch their breath at the conclusion of one course before the first lecture of the next class is upon them.
Stanfill began his sprint as the summer of 2012 ended. Admittedly "green as grass" after graduating from Oak Ridge High School, Stanfill moved through a series of odd jobs until a family friend recruited him to join the Buffalo Mountain Wind Energy crew. It didn't take long for Stanfill to realize he wouldn't get far in the energy business without, at the bare minimum, an associate degree. The hitch was finding the time to pursue a degree and the money to pay for it. Exploring his options, Stanfill decided the GI Bill was the way to go. He was in the process of enlisting in the Air Force when he heard about Pellissippi's AHEAD program in industrial maintenance.
"Being able to work every day and go to school at night was a huge push for me," he says. "It just made sense to go that route." The 2013 fall schedule brought Stanfill to the Hardin Valley campus twice a week. His course load included a grueling four-hour physics class on Thursday nights. He spends non-school evenings studying and comparing course notes with classmates via text and e-mail. "I have no personal life. My personal life is out the door," Stanfill admits. "If you are dedicated to the program, sacrificing the time is the only way to get it done."
Barbara Jenkins, coordinator of the AHEAD teacher education program, says compartmentalization is essential to balancing the demands of work, family and academics. "There has to be a lot of creative juggling," Jenkins says.
Industrial maintenance major Anthony Mitchell is becoming an accomplished juggler. He begins his day at 6 a.m., punching the clock at JTEKT Automotive in Morristown, where he works as a maintenance technician. He pulls four 10-hour shifts each week, making sure the production lines keep running, turning out steering mechanisms for Toyota and other manufacturers.
When his shift ends on Tuesday and Thursday afternoons, Mitchell drives an hour to the Hardin Valley campus, where he joins the industrial maintenance cohort in courses such as Industrial Electricity, Machine Elements, and the dreaded Non-Calculus-Based Physics. Some nights his instructors dismiss class on time — 9:30 p.m. Some nights they don't. Not that it matters: Mitchell, who lives more than 60 minutes from campus, rarely gets home before 11.
Mitchell never envisioned himself a college student. His ambition was to enroll in a program to learn Harley- Davidson motorcycle repair. When that didn't pan out, he accepted the job with JTEKT, which offered to pay for the education that would help him rise through the ranks. He calls college fulfilling yet arduous.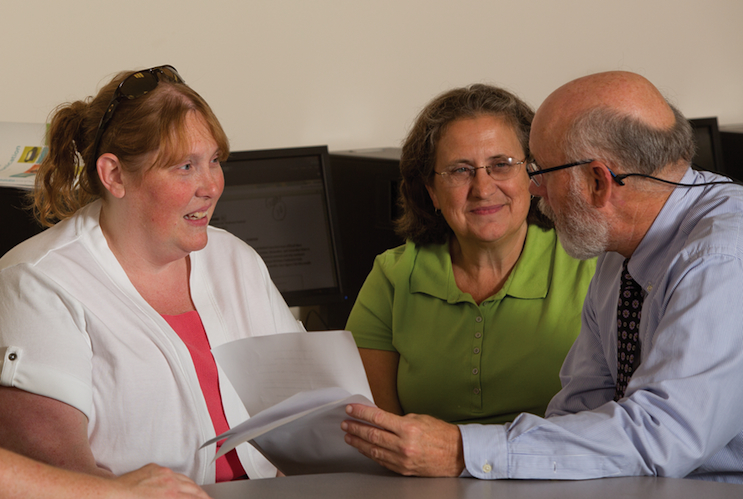 "Accelerated learning is tough on everybody," he says. "It's tough on the students, it's tough on the instructors. But the rewards come quicker."
That expedited delivery of a degree suits Laura Moody just fine — perhaps because college was something she put on hold for 20 years. She and college were not a good fit the first time around. Moody admits that, after graduating from an Ohio high school, she overextended herself by enrolling in too many classes at the local community college. "I got burned out and decided I liked making money more than school," she reflects.
Moody eventually chose a career in which she helps other people earn money; she's a stockbroker. She now manages a Scottrade branch office on the outskirts of Knoxville, where she resides with her husband and two dogs. Contemplating a return to college after a two-decade hiatus, it became apparent to Moody that her job — which keeps her in the office up to 65 hours some weeks — left little time to earn even an associate degree.
"I did the research and realized there was no way I could do a traditional schedule," she says. "It would take me five years" Moody's research ultimately brought her to AHEAD's structured-pathway approach, and the opportunity to learn with like-minded professionals sealed the deal.
"The cohort helps with the camaraderie — people who understand what it's like to go to school while working full time," she says.
Moody dismisses a suggestion that an accelerated program shortchanges students' learning by wedging 16 weeks of material into four- to five-week segments. "I think they're cutting out the B.S., to be honest," she says. "We have to lose something. But we're not losing as much as you might think we are."
Jenkins phrases it bit more delicately: "In a traditional classroom, you teach to the amount of time you have. But in an accelerated classroom, there is less time so you want to keep to the essential concepts." Still, there's little doubt that maintaining quality while slashing the number of classroom hours is the largest hurdle facing schools who adopt the structured-pathway approach.
"It's a complete paradigm shift. You have to think differently," says Jenkins, part of the team that reconfigured the curriculum for PSCC's Associate of Science in Teaching (AST) program. "When you go from the traditional, full-semester model to five weeks, it can be pretty overwhelming," she acknowledges. "The big thing is, you don't want to sacrifice quality when you compact things."
"When you sit down with a plan, you know where you're going from start to finish" – Terri Hagwood, First-time college student
From a data perspective, nothing slips past Evans. "If we lose a student, we know exactly why," she says. By the same token, she knows the precise reason every student enrolled in the AHEAD program in the first place. Prior to admission, she interviews each one individually. The one-on-one experience is the first step in a process that ideally leads to a Pellissippi State degree.
The path Evans laid out for Terri Hagwood in 2012 took into account the first-time college student's obligations as a grandmother, wife, employee, and active member of her church.
"When you sit down with a plan, you know where you're going from start to finish," says Hagwood, who earned an associate degree in general education a year after enrollment. "It's not like the 16-week classes," she says. "We know what we have to get done, and we know we have six weeks to get it finished."
Evans takes care in every interview to identify and address the potential traps that stand between a student and that degree. And she doesn't shy away from pointing out the demands of the program. For her, and for her students, clarity is key; ambiguity, perilous. "They need to know upfront that, when you're only sitting in a class five times in a single semester, you can't miss a single class," Evans says emphatically.
The students who agree to Evans' terms arrive at PSCC with a distinct advantage over adult learners of yesteryear — technology. A quarter-century ago, not even the most forward-looking policymaker could have guessed that learning would be enabled by devices that fit in a backpack or, even more improbably, a student's pocket. Andrea Pappas remembers the unconnected era of the early 1990s — and she can attest to the difficulties of combining work, family, and college in those days.
"I took night classes, and I can tell you it was impossible," says Pappas. "There was no Internet." Today, Pappas readily avails herself of the Web and all it has to offer — including Facebook, instant messaging, and texting — en route to the associate degree in general education she earned earlier this year. Pappas says her pre-enrollment interview with Evans helped put her on her current road — the one leading her toward a bachelor's degree from Tusculum College in Greeneville, about an hour east of Knoxville. She also credits the help she got from her Web-connected peers, the members of her AHEAD cohort.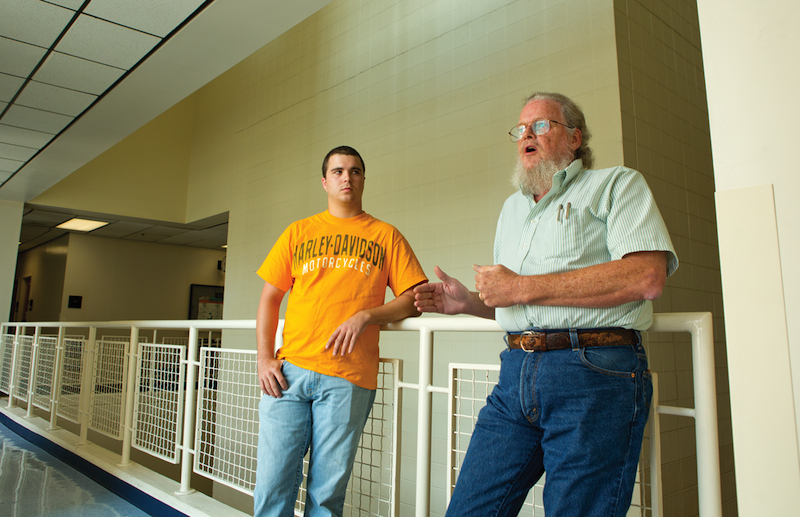 For some, the rise of cohort-based learning has been almost as much of a surprise as the digital revolution in higher education. Norman "Pat" Riddle, a longtime engineering professor and administrator at PSCC, laughs while retelling the story of an idea floated by then-President Allen Edwards at a 2009 meeting in which officials were discussing the creation of the AHEAD program in industrial maintenance. "The president asked if we'd be able to teach it in a cohort delivery system," Riddle remembers. "And I said: 'I'll let you know just as soon as I can get back to my office to find out what that means.' "
Suzann Swiney needed no such introduction. Her first exposure to cohort learning came 10 years ago when, at age 50, she enrolled in a master's education program at the University of Tennessee. Three decades removed from a college campus, Swiney came to the Tennessee program unsure whether her interim years as a parent, a PTA organizer and a Sunday school teacher had eroded her learning skills. Those fears eased when she realized she'd have a support group helping her every step of the way. "If I hadn't been in a cohort, I wouldn't be here," Swiney says.
Now an adjunct professor in the AST program, Swiney's first order of business is emphasizing the role of peer support. Item 2 on the agenda is making sure the students have not only their classmates' e-mail addresses and cell phone numbers, but Swiney's as well. Camaraderie, she says, is key. "It is essential to the cohort. Getting to know everyone establishes the community."
As a result, she adds, "I'm more involved than just a teacher at a podium. I learn from them. I use examples from their lives so I can relate to their lives. It makes us better teachers if we can step up to their needs."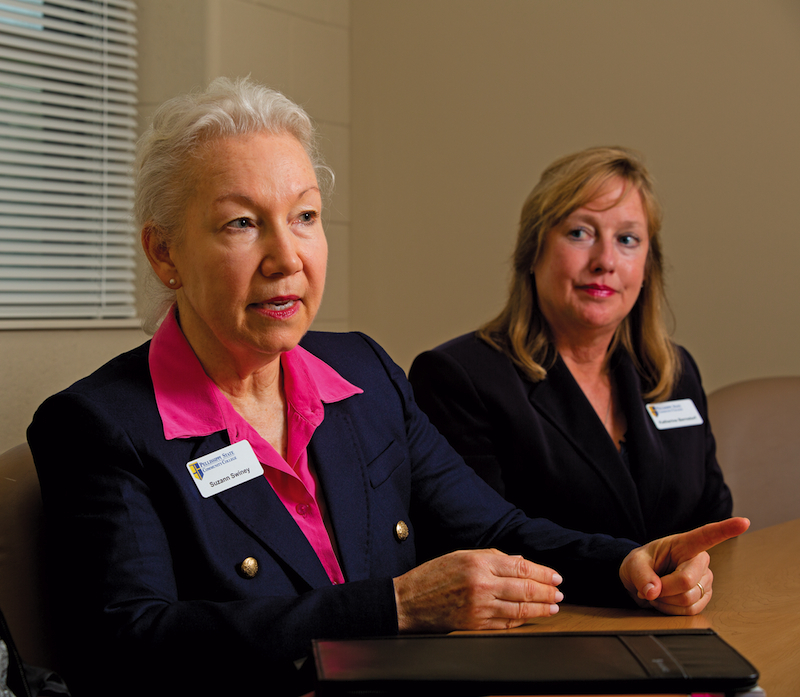 "Getting a degree makes me feel more confident," he says. "I know what I'm doing, and I know I can do it."