In their final year of high school, while future-focused classmates filled out college applications and financial aid forms, Indianapolis teenagers Savannah Crilly and Derrick Johnson were forced to take things day by day. Crilly desperately needed to escape a troubled home. Johnson required something more basic.
Ashamed and embarrassed, he told no one last October when the local utility acted on a delinquent bill by shutting off the electricity to the family apartment.
It wasn't long before dusk became the enemy of homework. "Studying after dark was a little hard," Johnson says softly. Then it got cold — so cold that layers of blankets offered little comfort through the long nights of a brutal Indiana winter. Arsenal Technical High School was both a place to learn and a temporary haven from the chill. That Christmas passed without gifts or a holiday meal. "All we did that day was stay under the covers to try to stay warm," Johnson recalls.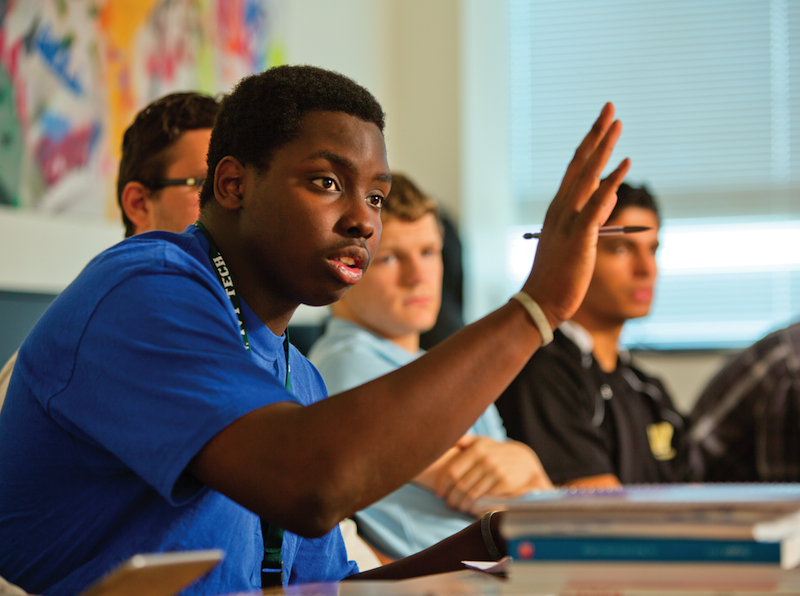 The cold, the hunger, and the worry suffered during that final year of high school have now taken their place in Johnson's memory bank. He tries not to dwell on the past, or on a daily existence still touched by hardship. But the past remains a reservoir of motivation now that he finds himself moving toward a more prosperous future in an environment he once thought hopelessly out of reach: college.
Johnson and Crilly are in the postsecondary fold because of the Associate Accelerated Program (ASAP), an Ivy Tech Community College initiative that compresses the course work for an associate degree — a process that normally takes two years or more — into 11 months.
ASAP is more than a clever acronym to Johnson, who reported to an Ivy Tech classroom the morning after receiving his high school diploma. He's been working, essentially nonstop, ever since — and that's the norm for ASAP students.
"It's intense. I don't think I could do it," says Meredith Cummings, an ASAP English instructor on Ivy Tech's Indianapolis campus. "But if (students) treat it like a job and treat it seriously, they can do it." She and other Ivy Tech officials call that commitment transformative.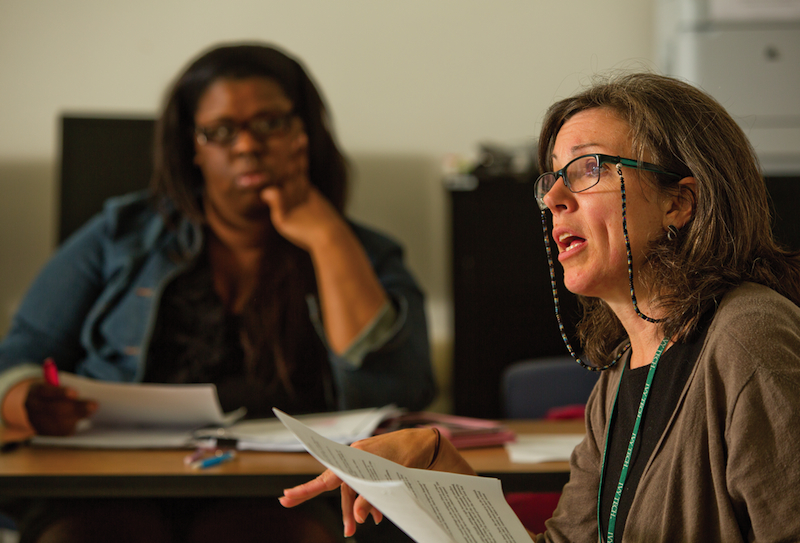 "The students gain a lot of confidence here," says Paula Birt, the system-wide ASAP director. "If you can (earn a two-year degree in 11 months) you can do anything. It's a win-win. It means they can do college work."
Introduced on the Indianapolis and Fort Wayne campuses in 2010, ASAP has since expanded to two other sites and will be offered across the Ivy Tech system beginning in 2016. Organized into cohorts that support one another in and out of class, ASAP students learn, study, and strive together before emerging triumphant, associate degrees in hand, 11 months later.
The structured pathway that students follow is rigorous, regimented, and — because most ASAP enrollees are the first in their families to attend college — required. "Low-income, first-generation college students arrive at college with little knowledge of how college works," points out Mina Dadgar, a policy research associate with San Francisco- based WestEd. "The structure helps to reduce the confusion."
Just as important, she adds, the highly structured program puts support services directly in the path of these students, who are traditionally reluctant to seek help if problems arise with enrollment, scheduling, or academic performance. Ivy Tech has made access to services a central feature of the program, setting aside an entire wing of its main building on North Meridian Street for ASAP students to attend class, study and consult with staff.
Mason Voge hasn't the slightest inhibition when it comes to explaining how he wound up in the ASAP wing when the 2013-14 cohort gathered for orientation last June.
"I basically blew off high school," Voge says, admitting that, as a senior, he only attended the ASAP informational sessions offered by his school's guidance office because he "wanted to get out of class." Still, though he may not have known it then, Voge was — like all ASAP students — targeted. Someone at his school — a guidance counselor, teacher, or administrator — identified him as an untapped reservoir of intelligence, curiosity, and grit: a college-capable student, but one flying off course or under the radar.
"I was kind of going about my everyday business in high school, kind of wondering what really was the point in (attending college) anymore," Crilly says. "My counselor pulled me aside and said: 'I found this really cool program. It's right up your alley, and you're a shoo-in to get in.' " Though skeptical, Crilly accepted the counselor's invitation to attend the introductory meetings. Two weeks later, she knew his instincts were right.
At that juncture, the turmoil of living in a conflicted home had depleted any hope of financing a college education straight out of high school.
"These are kids who are on the edge; we understand that" – Paula Birt, director of ASAP program
Desperately searching for an alternative living situation, Crilly, as always, found solace in art. Crilly was 7 when she discovered that her talent as an illustrator exceeded the scrawls of friends and classmates. By 13, she was perfecting the anime characters that have since become her signature in still art as well as self-fashioned cartoons.
"My art is everything about me," she explains. "I do music, too. But if you hand me a piece of paper, it'll have doodles all over it." Rare indeed is the moment that Crilly's head isn't buried in a sketchbook or the tablet where she's stored her computer-generated cartoons. To the delight of classmates and staff, her work also shows up regularly in the corridors and classrooms of the ASAP wing.
The doodles are a rare diversion in a program that allows nothing to distract students from learning. Until this year, ASAP required students (or their parents or guardians) to sign a pledge promising they would neither seek nor accept part-time employment while enrolled in the program. The restriction has since been loosened to allow weekend part-time jobs. (Ivy Tech in 2013 eliminated a $100 weekly stipend that ASAP students had received in the program's first three years.) The elimination of work and other distractions keeps the focus on academics, and on the other element of ASAP that officials view as the key to student success: the cohort.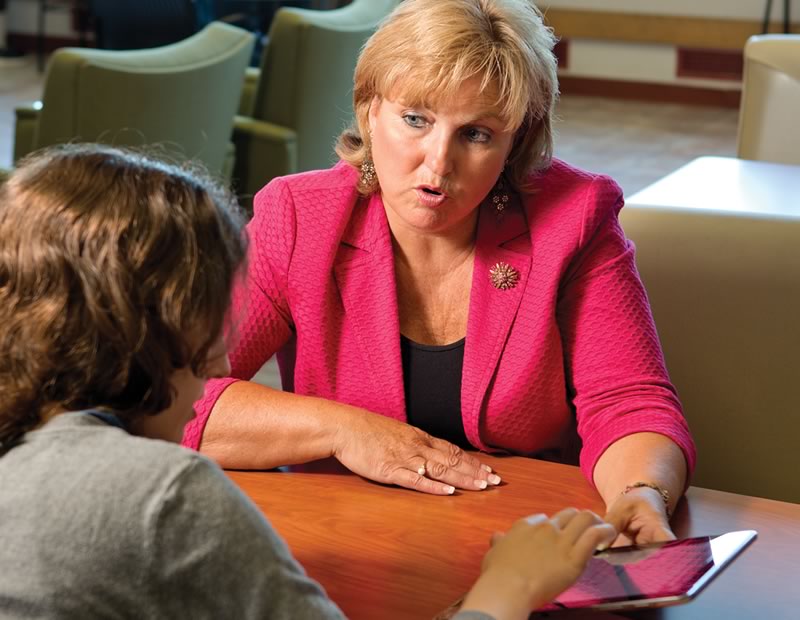 "It's what helps them get through," says Birt, citing follow-up studies in which ASAP graduates have labeled "support from the cohort" as the main reason they were able to earn an associate degree in 11 months. On the flip side, however, Birt notes that four-year institutions are reporting that ASAP transfer students often struggle to adjust in traditional academic models.
For her part, Crilly is a firm believer in cohort education; but she's also realistic, noting that responsibility for learning lies ultimately with the individual. "Programs like this are a stepping stone, and you have to want to do it," Crilly says. "If you don't want to do it, then nothing will change for you. (ASAP) gives you the opportunity to do anything. But it all depends on you taking advantage of that opportunity."
The stories of "hunger, neglect (and) terrible living situations" that students bring to Jourdan's office tell him all he needs to know about why the cohort is such a powerful learning tool. Very similar biographies land on Birt's desk. "These are kids who are on the edge; we understand that," she says.
As a consequence, Ivy Tech designed ASAP so that the classroom lessons are just part of the educational investment made in young people such as Crilly, Johnson and Voge. "Holistic support was not the original intent of the program," Jourdan admits, "but it's morphed into that. We want to eliminate as many barriers as possible."
And that means assembling a faculty dedicated to educating the whole student — one that includes instructors such as Geoffrey Lapin, who teaches an eight-week music appreciation course. Lapin admits he's no pedagogical paragon. In fact, he's an adjunct who confesses, "I never taught a college class in my life" until one morning in late summer 2012, when he stepped in front of an ASAP cohort. Still, his professional resume makes Lapin an ideal candidate to introduce young people to the classical canon; he's been a cellist with the Indianapolis Symphony Orchestra for 43 years.
Hired 48 hours before the start of the 2012-13 academic year, the "woefully unprepared" Lapin strolled into his first class sporting a classic "deer-in-the-headlights look." His early nerves weren't calmed by the student who, during Lapin's introductory lecture, used his laptop to view boxing videos. At the first break that morning, Lapin bolted into Jourdan's office. "I don't think I can do this," he told the program director. Give it a chance, Jourdan advised. Lapin followed Jourdan's counsel and hasn't looked back.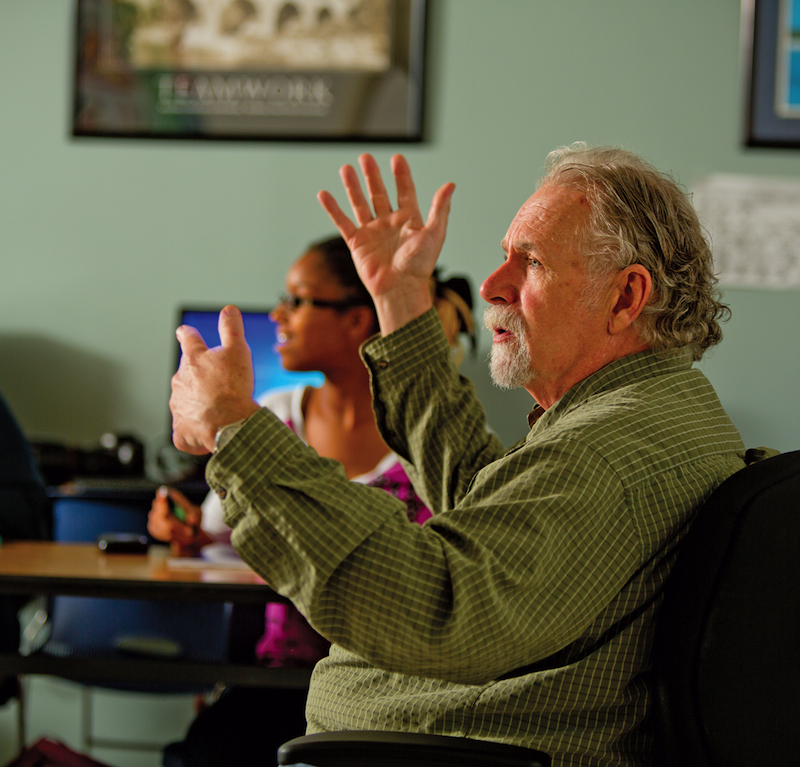 "It's worth it because I'm not sitting home playing video games right now," says Voge. "I'm doing something fun." And to a young man who never took high school seriously, "that is surprising."
Adds Crilly: "I would probably be sitting at home because I hadn't really planned to go college. But because this opportunity threw itself at me, I didn't want to waste it." The comparatively low cost of an ASAP degree figured prominently in Crilly's decision to seize the moment.
She knew she'd have to incur significant debt to continue her schooling, and she "really didn't want to spend $36,000 right off the bat" on a college education. She considered waitressing, thinking it would be a way to earn enough money to enroll in college when the time was right — should that time ever materialize.
The plan began reshaping itself after her Warren Central High School counselor steered Crilly toward ASAP, a program that made postsecondary education possible financially as well as academically. The average Ivy Tech tuition, $6,668, is a bargain compared to the $12,000 average tuition (not including room and board) assessed by Indiana's four-year public universities.
Obtaining an associate degree in an accelerated program brings with it another reward: the opportunity to slice 12 months off the price of a baccalaureate education. As it turned out, Crilly could more than afford to enroll in the program; a financial aid package that includes a Pell Grant is covering all but her living expenses. The majority of ASAP students, including Derrick Johnson, benefit from similar assistance.
Crilly, who has escaped her troubled home and is now living with a friend's family, plans to live on her own and work for a year after graduating from Ivy Tech. After that, she expects to transfer to a four-year institution, earn a bachelor's degree in art or graphic design and pursue a career as an animator.
Meantime, she's so sold on ASAP's transformative potential that she's become a recruiter. She convinced best friend and fellow Warren Central graduate Alma Razo to join the program as well. On an overcast afternoon in late August, Razo sat in a downtown pizzeria, listening intently as Crilly and Johnson told her how ASAP has altered their lives by making them what they thought they might never be: college students.
When it was her turn, Razo spoke not so much about herself as she did her friends: "I hear both of their stories and I think: 'Anyone can get an education if you want it enough.' "