They come from starkly different backgrounds—one a military officer, the other a career academic—but they've reached the same conclusion: Attacking poverty is the right strategy to help students succeed.
Presidents Stanley C. Preczewski (pruh-CHEFF-ski) of Georgia Gwinnett College and Russell Lowery-Hart of Amarillo College both have implemented innovative programs to assist students in ways that go far beyond traditional financial aid. Their schools address housing and transportation issues, child care and food insecurity, unpaid utility bills and book rentals—in short, any financial issue that might throw a student off course on the way to earning a degree.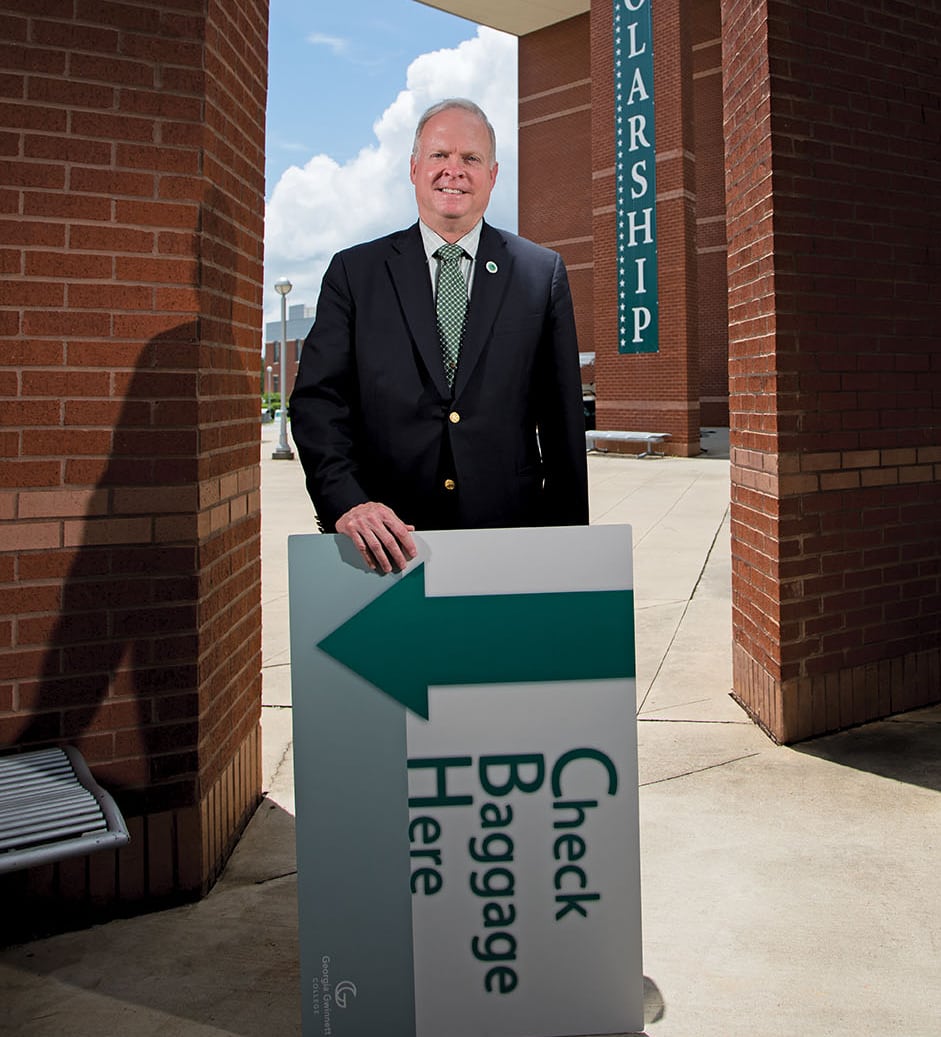 "Our experience in the military shows us that the great equalizer around the world is, in fact, education," said Preczewski, a retired Army colonel, engineer and former faculty member at the U.S. Military Academy at West Point. "Here, the stakes are: 'Are you going to be able to come out of poverty in America?'"
Lowery-Hart said his and other colleges that serve high numbers of first-generation and low-income students must come to terms "with saying the P-word ('poverty') out loud."
"There are different kinds of poverty, but the most debilitating is generational poverty," said Lowery-Hart, a former speech and communications teacher who has worked for years as a college administrator. "Because generational poverty teaches students to wait for things to happen to you. It teaches powerlessness. Generational poverty kills hope.
"So we can't just have a system to solve these problems," he said. "We have to love students through those systems that solve these problems. We have to give them hope."
Georgia Gwinnett is in the early stages of launching its Grizzlies Helping Grizzlies program—an effort that offers students a safety net of services and eventually will include a predictive model that can point to students' future needs.
The college developed the program after a survey showed that about 60 percent of its students had endured at least one of the following: housing insecurity, food insecurity, or homelessness.
At Amarillo College, the No Excuses Poverty Initiative has been seeking for a decade to ease stresses caused by student poverty and thus improve students' chances for success. That's no small task in the Panhandle city of Amarillo, where 14.5 percent of the nearly 200,000 residents live below the poverty line.
At both schools, meeting students' special needs has become a central tenet of the college culture.
"We set out to build a culture of selfless service to others," said Preczewski, who has been at Georgia Gwinnett since its founding in 2006 and became president in 2014. "It's about students who graduate. It's about students who have no role models back home. We need to be those role models."
After becoming president of Amarillo College in 2014, Lowery-Hart commissioned a survey to learn what his students wanted in a college. To his surprise, they wanted a school built on good customer service and strong relationships between students and college personnel.
So Lowery-Hart studied the practices of companies such as Zappos and the Texas-based Happy State Bank, both known for strong customer service. The image of an ivory tower—with aloof administrators, professors and staff—went out the window.
Both presidents give out their cell phone numbers to everyone  — students, parents, and staff. Preczewski also requires instructors to list their cell numbers on each course syllabus.
"Some (faculty) didn't like that on the first day," Preczewski acknowledged. "But I said: 'If I can give it out to 28,000 people, you can give it out to 24.'"
To each year's orientation session for new instructors, Preczewski brings a sign that reads: "Check Baggage Here," a reference to his college's tradition-busting approach. Founded just a dozen years ago, Georgia Gwinnett has a unique structure with no academic departments, a lean staffing profile, and high expectations for relationship-building with students.
"When faculty say, 'Do I need to make myself this available?'  —  well, I say: 'You only have a job because of the students,'" said Preczewski, known all over campus by his nickname, "Stas."
At Amarillo, which was founded in 1929 and now has 10,000 students, the college had "to systematically rebuild a culture around service and love," Lowery-Hart said. 
And, as president, he faced that rebuilding challenge during a time of severe funding cuts from Texas state government. "In order to get the educational goals, you've got to love the students there. That's not a word that higher ed is used to embracing, but it is a word that defines Amarillo College."
At each school, there are signs of success. Georgia Gwinnett has grown rapidly to 13,000 students and, according to Preczewski, is now "the most ethnically and racially diverse college, public or private, in the entire South."
In 2014, Preczewski was invited to tell Georgia Gwinnett's story at the White House College Opportunity Day of Action.
At Amarillo College, the completion rate has risen from the teens to 45 percent during Lowery-Hart's tenure. Lowery-Hart has been asked to testify before the U.S. Senate Committee on Health, Education, Labor and Pensions, and he's been featured in a lengthy article in The Atlantic. In June, more than 30 institutions from 14 states were represented at a conference Lowery-Hart and Amarillo hosted to explain the No Excuses program.
People are paying attention because, like Preczewski, they realize what's really at stake in the fight to pull Americans out of poverty.
"This isn't about conservative or liberal, Democrat or Republican," adds Lowery-Hart. "This is about the economic future of our community and our country. Until we can address poverty as the underlying barrier to education attainment, we're never going to unleash the economic power that exists in our citizens."