In December, the University of Arizona's veterans center moved into a new space of 3,800 square feet. Nicholls, the assistant dean, shows a visitor the computer lab, a lounge and a quiet area where students unwind. He talks about the "vets-tutoring-vets" program and a résumé-writing course. He points toward a display of military patches and nameplates. "In the military, your job defines who you are," he explains.
Undergirding everything at the center is a belief that veterans are most qualified to help veterans. "You can look in a vet's eyes and get a pretty good idea of how they are doing," says Nicholls.
When new student veterans arrive on campus, someone from the center escorts them to their first destinations, which often includes a stop to register their G.I. Bill benefits. This stop is at an office "clear across campus," says Standage, who earned his bachelor's degree in rehabilitation in 2009 and a master's degree in visual impairment in December. "A lot of the vets fresh out of combat say it (the escort) reminds them of going outside the wire (in a combat zone) and having a hand on a buddy's shoulder."
For Randle, helping veterans provides a "sense of purpose." A few years ago he undertook a "mission" to make it easier for veterans to get the classes they need. At a time when many students take six or more years to earn a bachelor's degree, the G.I. Bill's education benefit covers a maximum of 36 months of tuition, plus stipends for books and housing. Users must adhere to an approved education plan or risk losing benefits. Closed classes can cause huge problems.
Veterans "are tightly constrained in how we use our education benefits," Randle says. "The (new) G.I. Bill is the only form of federal education assistance that has specific class requirements tied to it."
Randle and others suggested that the university allow veterans to register for classes before other students, an idea that wasn't immediately embraced by the administration. "Every time we were told 'no,' we called two more people," Randle says. Perseverance prevailed, and now student veterans get a one-week head start on registering for classes — a perk long enjoyed by the university's student athletes.
Efforts to promote the success of student veterans seem to be paying off. The four-year graduation rate at the University of Arizona is 40 percent. For student veterans, it is more than 50 percent. One possible explanation for the disparity is the degree to which on-campus veterans programs, including the veterans center, make it easy for students with military backgrounds to be part of something that has meaning for them. "The more active you are on campus, the more likely you are to persist," Kraus says.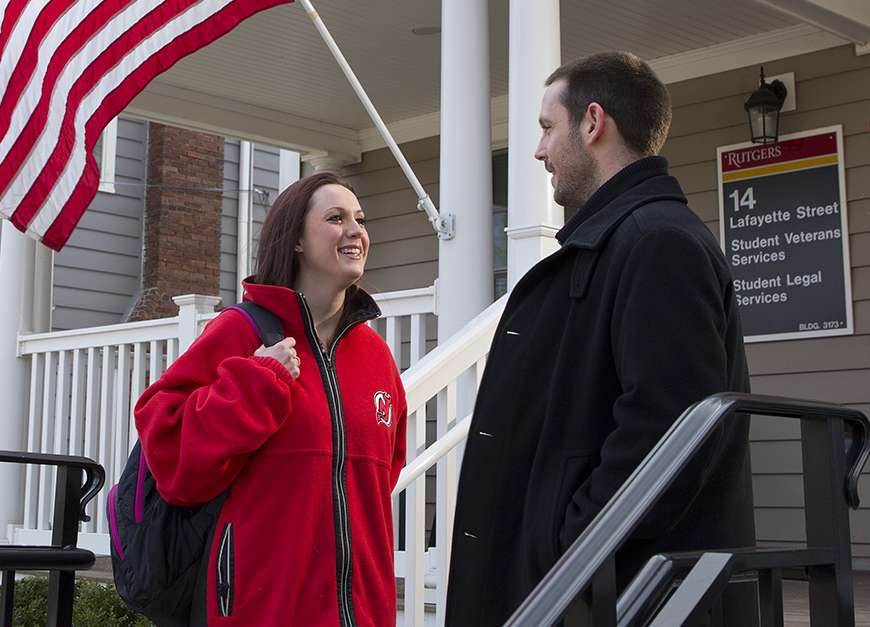 Persistence is also important to Stephen Abel and Rob Bright, veterans who serve their comrades on a campus far from Arizona's. In fact, persistence and precision dominate their days at Rutgers University — right down to their morning coffee routine.
On the second floor of Veterans House on the edge of the Rutgers campus in New Brunswick, N.J., Bright, a former Navy intelligence specialist, carefully selects coffee beans roasted no more than three weeks earlier in nearby Highland Park, just across the Raritan River. He mixes 36 grams of beans (deconstructed in a burr grinder) with 910 grams of water (heated to 195 degrees Fahrenheit), strains the steeped mixture through a Chemex filter to remove bitterness, and pours the simmering liquid into a preheated cup. The result is a smooth brew with a real punch: three times the caffeine in a pedestrian cup of java.
"We love coffee," says Abel, a retired Army colonel who directs the Office of Veterans & Military Programs & Services at Rutgers.
Abel and Bright, the program's assistant director, are a detail-oriented (and well-caffeinated) team. They have to be. Managing a comprehensive program that helps student veterans attain their academic goals is a demanding and endless task.
Before the veterans office was created in the summer of 2010, Rutgers University had no student veterans program to speak of. Since then, Abel and Bright have used their boundless energy and their obsession with detail to build a campus-wide support system for veterans that is among the best in the country.
Relying heavily on a "boots on the ground" strategy, this pair has worked for almost three years to win the hearts and minds of would-be allies. They have established "high-level connections," enlisting campus officials who can do the most to help veterans, Bright says.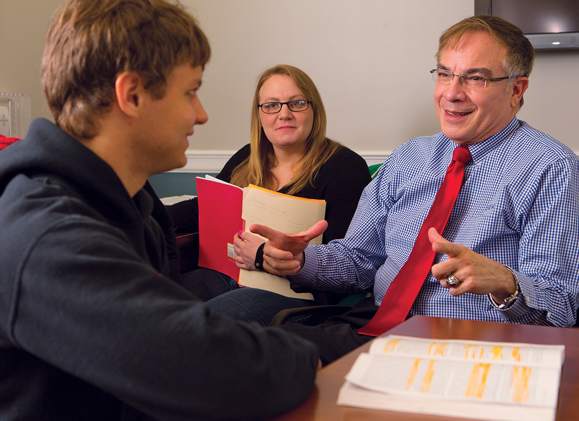 The duo is everywhere. There is no significant board or committee at the university that lacks Abel or Bright as a participant, including the committee to select a new vice chancellor for student affairs. At Rutgers, "the veteran's point of view is always considered," Abel says.
Headquarters is Veterans House, a three-story structure with dormer windows, a gabled entryway and a covered front porch ringed by white-painted railings. An American flag snaps in the breeze, and a visitor half expects to find an apple pie cooling on the window ledge. Nothing about the place suggests the rundown fraternity house that the university bought and refurbished a few years ago.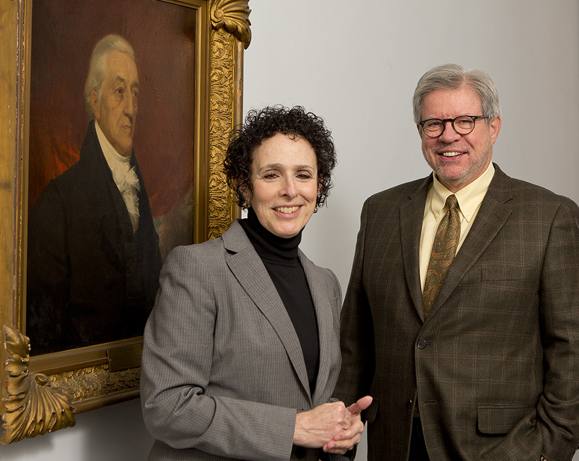 Veterans House serves multiple functions. It is a command center; a place where student veterans gather to study and socialize; and a hub for bringing critical university services to veterans. "It's a place that breaks down the confusion and what can be the harshness of a large university," says Karen Stubaus, vice president for academic affairs and administration. "It produces a comfort level and helps (student veterans) navigate the bureaucracies."
The very existence of Veterans House speaks to the institution's regard for students with military backgrounds. "If you don't have leadership that is committed to (a veterans) program, even having a dedicated staff won't solve the problem" of recruiting veterans who succeed in college, says Dick Edwards, executive vice president for academic affairs. The way Rutgers serves veterans is "perhaps a model for other universities." Indeed, a number of other institutions already have inquired about its veterans programs, including UCLA, Washington State, Indiana and Penn.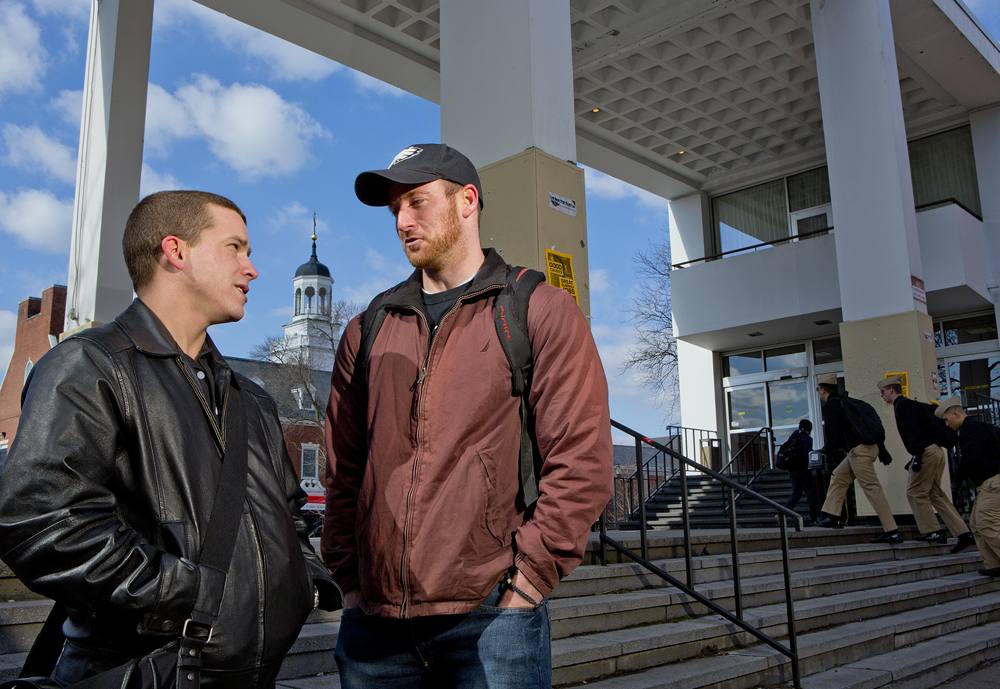 One of the program's first clients was Scott Hakim, a Purple Heart recipient who suffered a traumatic brain injury while serving with the Marine Corps in Musa Kala, Afghanistan. His platoon was trying to seize a hill when a "daisy chain" of hidden IEDs detonated. If not for a hard rain that had compacted the sand and deadened the explosion, the blast — and Hakim's injuries — would have been much worse.
After completing his service and enrolling at Rutgers, Hakim encountered typical difficulties. He arrived on campus knowing no one, and he discovered that he had little in common with younger, traditional undergraduates.
A mediocre student in high school, Hakim had to take developmental courses in math and English before enrolling in for-credit classes at Rutgers. His brain injury makes it difficult to concentrate and retain information, a deficit that he overcomes with Marine-instilled discipline. In other words, he does whatever it takes.
"If I read it and I don't get it, I read it eight more times until I do," Hakim says. "A three-hour lecture is nothing compared to a 12-hour patrol in Afghanistan." Veterans House also introduced him to the university's disability office, which arranged for him to take tests in a "reduced-distraction environment."
Hakim and other student vets grapple with financial issues. The post-9/11 G.I. Bill covers most of his education expenses, but funds disbursed by VA to cover housing costs are "almost always late, and the book stipend is never enough to cover (the cost of) books," says Hakim, who also suffers from post-traumatic stress and Crohn's disease. He covers financial gaps with income earned as a work-study supervisor at Veterans House.
Overall, leaving the Marines to attend Rutgers "was a culture shock," Hakim admits. Still, he has thrived. His grade-point average hovers around 3.8, and he says he wants to attend law school.
Hakim understands that his experience at Rutgers is atypical. Marine Corps buddies who attend other institutions tell him they "are not getting the same support." In fact, he says, "most have nothing like this at all."
Program a boon to enrollment
As Rutgers has earned a reputation as a veteran-friendly institution, its enrollment of vets has surged. In the summer of 2010, Rutgers knew of 446 veterans on campus. Today the office supports about 2,000 men and women who have served in the military.
Patrick Greene grew up in Tampa, Fla. His parents told him and his brother that only one of them could go to college. Patrick enlisted. Generations of men in his family had served in the military, including his grandfather, a Marine.
Greene served in the Marine Corps between 2007 and 2011. He met Hakim at Camp Geiger, North Carolina, during infantry school. They wound up in the same company, the same platoon — even on the same "fire team," the four-man unit that shares a truck. In Iraq, the friends went on patrols together, executed raids, swept for IEDs, and chased after smugglers of military equipment.
Greene's military service is now funding the education that his parents couldn't afford to give him. When the time came to select a college, he opted for Rutgers, urged to come there by Hakim. He knew that he would get the support of a fellow Marine and an institution that had shown its commitment to veterans.
"I knew that going to school on my own — in a state where I didn't know anybody — wouldn't work," he says.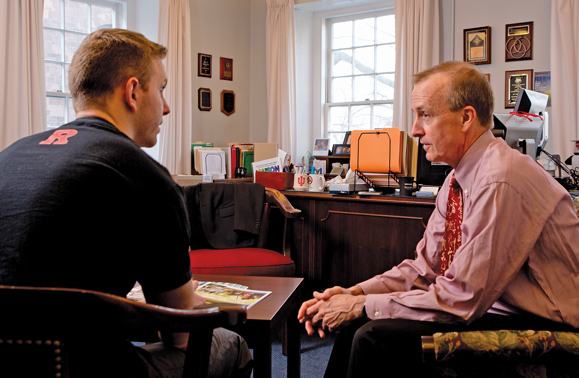 The veterans programs at Rutgers were designed to fix glaring problems. In 2008, two students spoke up at an open forum and told then-President Richard McCormick that the university was not doing enough to recruit and serve student veterans. "They were incredibly eloquent about how sucky we were," recalls Kathryn Loder-Murphy, a disability services coordinator.
Among their grievances, veterans complained about a university policy requiring all new undergraduates to live in freshman dormitories. Veterans as old as 50 found themselves living with kids who were asking the vets to buy them cigarettes.
Since then, modifications to Rutgers' housing policy allow veterans to live in housing for graduate students. "These men and women are more mature and don't fit into an 18-year-old dormitory," Abel says. "Veterans are focused on their academics." (In a recent academic term, only 19 of the approximately 2,000 student veterans at Rutgers received an academic warning.)
Rutgers' steps to aid veterans were also a response to broader concerns, including those voiced in 2010 by Veterans Affairs Secretary Eric Shinseki. He warned then that the low second-year retention rate of the nation's student veterans was wasting public funds and undermining the intent of the post-9/11 G.I. Bill. At Rutgers, where the total cost of a four-year degree tops $200,000, dropping out is costly.
Across the nation, more than 800,000 veterans have already used post-9/11 benefits to attend college. Total outlays could reach $90 billion within 15 years. Precise data about student veterans' persistence and graduation rates are hard to come by; colleges haven't done a good job of collecting and sharing the data.
That may change soon, however, thanks to a recent agreement between the VA and the National Student Clearinghouse. In January, Shinseki announced that the two organizations will share and compare their data on the success rates of service members who use the G.I. Bill at colleges and universities. SVA leader Michael Dakduk, who helped broker the deal, insisted that this new transparency would benefit millions of student veterans.
"Having that information (on graduation rates) is critical," Dakduk said when the deal was announced. He pointed out that reliable data on the success of student vets "is what we need to find out the value of the G.I. Bill and especially to combat stories and speculation that veterans are not succeeding in college."
For the two-man support team at Rutgers, failure is not an option. "This office exists for academic success," Abel says. "Our goal is to have every vet who starts here graduate."
Early on, Abel and Bright realized that helping veterans succeed was largely a matter of smoothing out the transition to an alien environment. They had to make vets feel that they belonged. "Rutgers is a big, bad liberal university," Abel says. "The anxiety was whether they would feel welcome."
Patrick Love, associate vice president for student affairs, likens the experience of a newly arrived veteran on campus to that of international student — except the veteran is far less recognizable.
"When someone comes up to me with a heavy foreign accent, I anticipate that they are on unfamiliar ground," Love says. "When we send students on study-abroad (programs), we prepare them for the culture," he says. But when a veteran arrives in New Brunswick, "staff doesn't recognize that they're talking to someone from a different culture."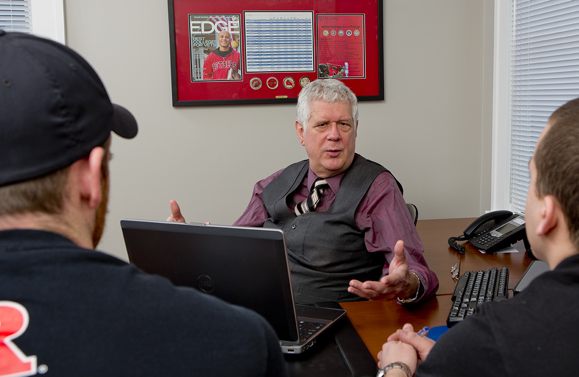 Abel and Bright have persuaded Rutgers staff that veterans deserve the same consideration given to foreign-exchange students. They determined that it was important to bring services directly to veterans, especially academic advising. Mike Beals, vice dean for undergraduate education, volunteered to counsel student veterans himself. He has learned that veterans' varied academic backgrounds preclude a cookie-cutter approach to counseling. He was also struck by the difficulty some student veterans have in shaking off the military mindset. "They are used to being told what to do," says Beals, and so need to be shown that devising an academic plan is more of a "mosaic rather than a linear path."
Elizabeth Rollins, manager of compliance in the university's financial aid office, says that "having a central location for veterans is paramount. … Access is really key when working with veterans."
Much of the work done by Abel's office to support veterans happens before they arrive on campus. Tom Krause completed five years of service in the Marines in Kiev, Ukraine, where he guarded the U.S. Embassy. During his final six months on duty, he corresponded regularly with Abel.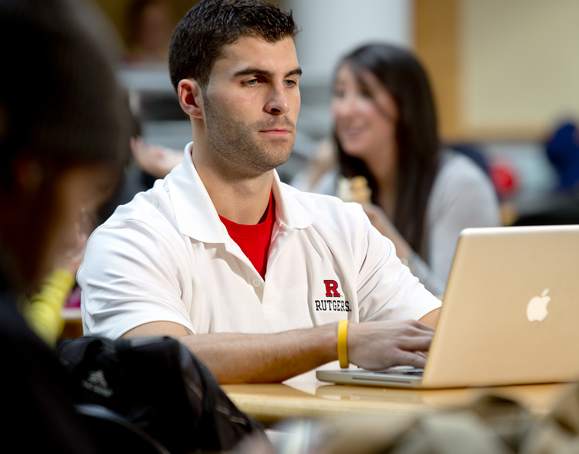 "He gave me that warm-and-fuzzy feeling," says Krause, who at the time was deciding between going to college and staying in the Marines to pursue a career in special operations. Abel's genuineness and grasp of facts "was the turning point" in Krause's decision to seek a bachelor's degree. "Steve knows everybody," Krause says.
Engaging with veterans before they arrive on campus also helps to identify issues that can undermine academic achievement, including social isolation and traumatic brain injuries, "the signature wound of recent conflicts," says Mary Kelly, a mental health counselor at the university.
"We catch a lot of them because of Steve's efforts to connect with them before they even get to campus," she says. Kelly counsels students at Veterans House whose fear of being labeled makes them reluctant to seek help at the university's counseling center. "We can't treat the people who don't show up," she says.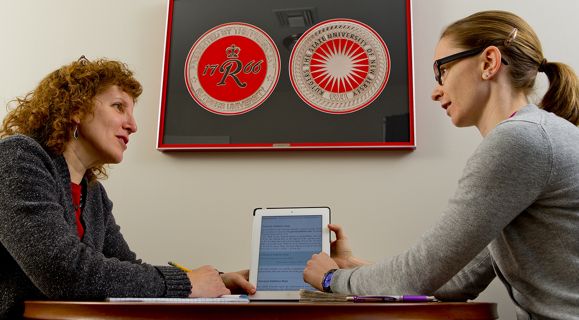 Kathryn Loder-Murphy, the disability services coordinator, also keeps regular office hours at Veterans House. Being close at hand makes it easier to find solutions to veterans' problems. "I'm far more successful being on their turf," she says. She also knows that the human touch isn't the only kind that can help veterans. That's why Rutgers was the first university to have a service dog on campus trained to help sufferers of post-traumatic stress.
Other Articles In This Issue
For legions of military veterans, college is the new front
IIn the winter of 2008, Ricardo (Rico) Pereyda prepared for his final mission with military precision. Behind the walls of his boyhood home, Pereyda placed blankets on the floor of his old bedroom. He wrote a letter of apology to his estranged wife and his parents, June and José. Then he lay on the floor, cocked a 9 mm handgun, placed the barrel of the weapon in his mouth and rested his finger on the trigger.
READ THIS STORY

Community college challenges
Creating veteran-friendly institutions is particularly difficult for community colleges. Two-year institutions enroll the majority of students who have performed military service, yet they frequently lack resources they need to help vets.
READ THIS STORY