DALLAS, Texas—It's Friday morning and the students at Paul Quinn College (PQC)—a small, private Historically Black College and University (HBCU) affiliated with the African Methodist Episcopal Church — have gathered in the campus auditorium for weekly chapel.
This Friday, however, is hardly routine.
It's homecoming weekend, and scores of alumni have returned to campus for a series of festivities, culminating in Saturday's tailgating party followed by the men and women's basketball games.
PQC is Texas' oldest HBCU, founded by the AME Church in Austin in 1872. It relocated to Waco in 1877 and made a second move more than a century later, this one financed by Comer J. Cottrell Jr., a noted black businessman based in Dallas. In 1990, Cottrell, founder of Pro-Line Corp., spent $1.5 million for the 131-acre campus of the defunct Bishop College on Dallas' south side and handed the property over to PQC officials. And his generosity didn't stop there. By the time of his death in 2014, Cottrell had contributed at least $3.2 million to the college.
Despite that largesse, PQC has had its ups and downs. In 2009, the Southern Association of Colleges and Schools revoked the institution's accreditation, citing financial and academic concerns. PQC has since been accredited by Transnational Association of Christian Colleges and Schools. At one point, enrollment dipped below 200.
In recent years, however, the college has enjoyed a slow but steady renaissance under the leadership of President Michael J. Sorrell.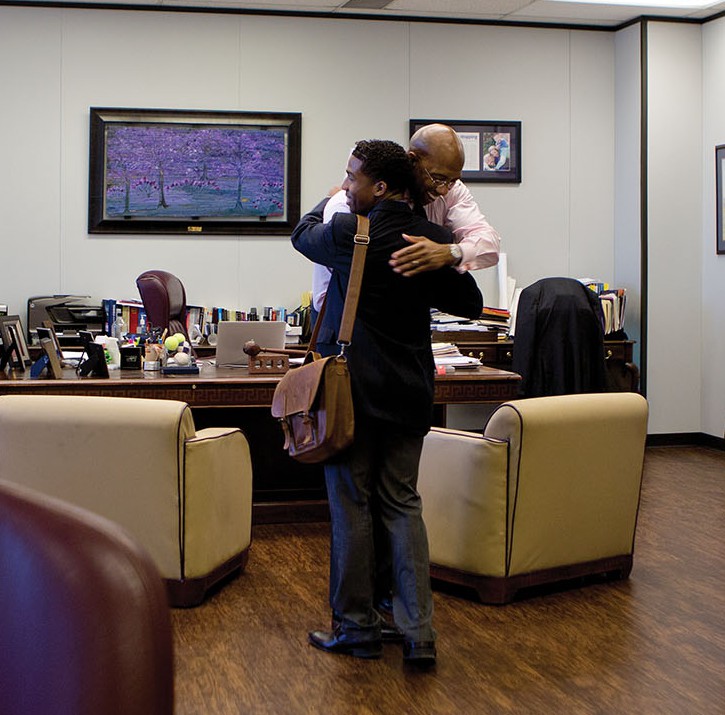 The charismatic and visionary leader initiated a series of bold and controversial changes after he assumed the college presidency in 2007. For example, he implemented a business dress code for students, shut down the school's football team (which was costing the college too much money) and converted the football field into an organic farm.
More important, Sorrell went after some of the nation's best students—those typically drawn to top-tier HBCUs such as Howard University and Morehouse and Spelman colleges. He barnstormed the country, visiting urban centers like Chicago, Philadelphia, Atlanta and New York to directly recruit high school students—particularly black males—urging them to join what he has dubbed the "Quinnite Nation."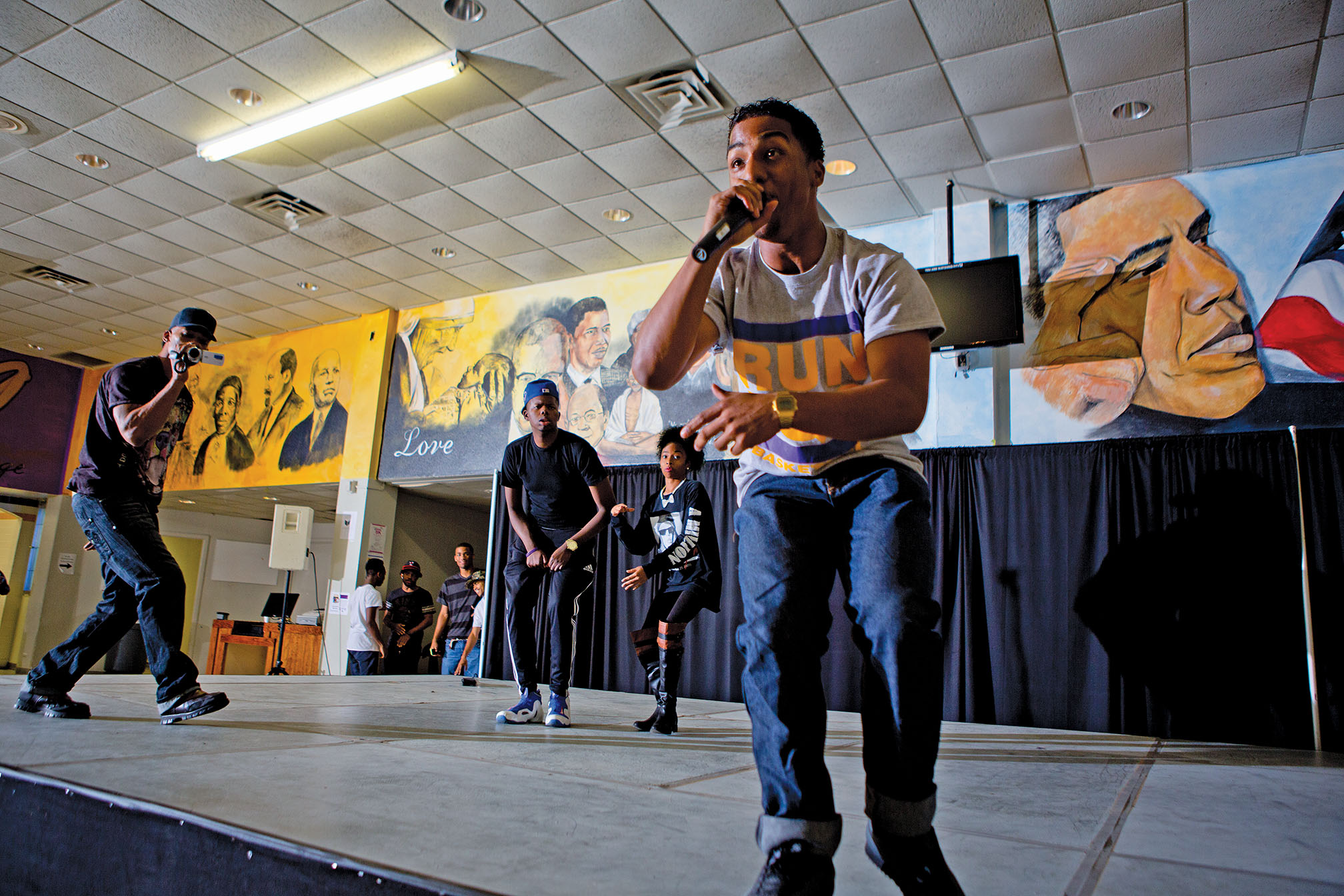 Tough Road to Campus
Kevin Lee, 22, wasn't one of Sorrell's recruits. He arrived on campus after a series of devastating blows that might have caused anyone else to throw in the towel. When Lee was 16, he and his mother had lost their home after the house they rented in Pittsburgh was condemned by the city following a flood. They moved from state to state, eventually finding refuge in a Salvation Army shelter and living out of trash bags.
Determined that her son would get a quality education, Tamara Williams learned about the McKinney-Vento Act, a federal law that requires state education agencies to provide homeless students with equal access to public education.
But even that process proved daunting, as President Sorrell points out: "By the time Kevin's senior year was over, he had attended high schools in two states, fought to preserve his right to be classified as a senior, missed as many months of school as he attended, and was forced to graduate from an alternative high school program in Pittsburgh," said Sorrell. "All of which occurred while he was sleeping either on a friend's couch in Atlanta or in a shelter in Pittsburgh."
Still, Lee graduated from high school as class valedictorian and set his sights on completing college. Knowing very little about PQC, he showed up to campus for a tour with little more than his desire to excel. He was accepted on the spot and has since helped put PQC on the national map.
"As soon as I walked on campus, I was made to feel at home," recalled Lee, as he sat in his dormitory room that is equipped with a bathroom and a full closet of suits, shirts and ties. "I knew that this was the place for me."
In the two years that he's been enrolled at the college, Lee has become something of a celebrity and poster child for all that's good about PQC. For example, he's been elected president of the freshman and sophomore classes; invited to participate in the competitive INROADS business program and tapped as a White House HBCU All-Star—the first in the history of the college.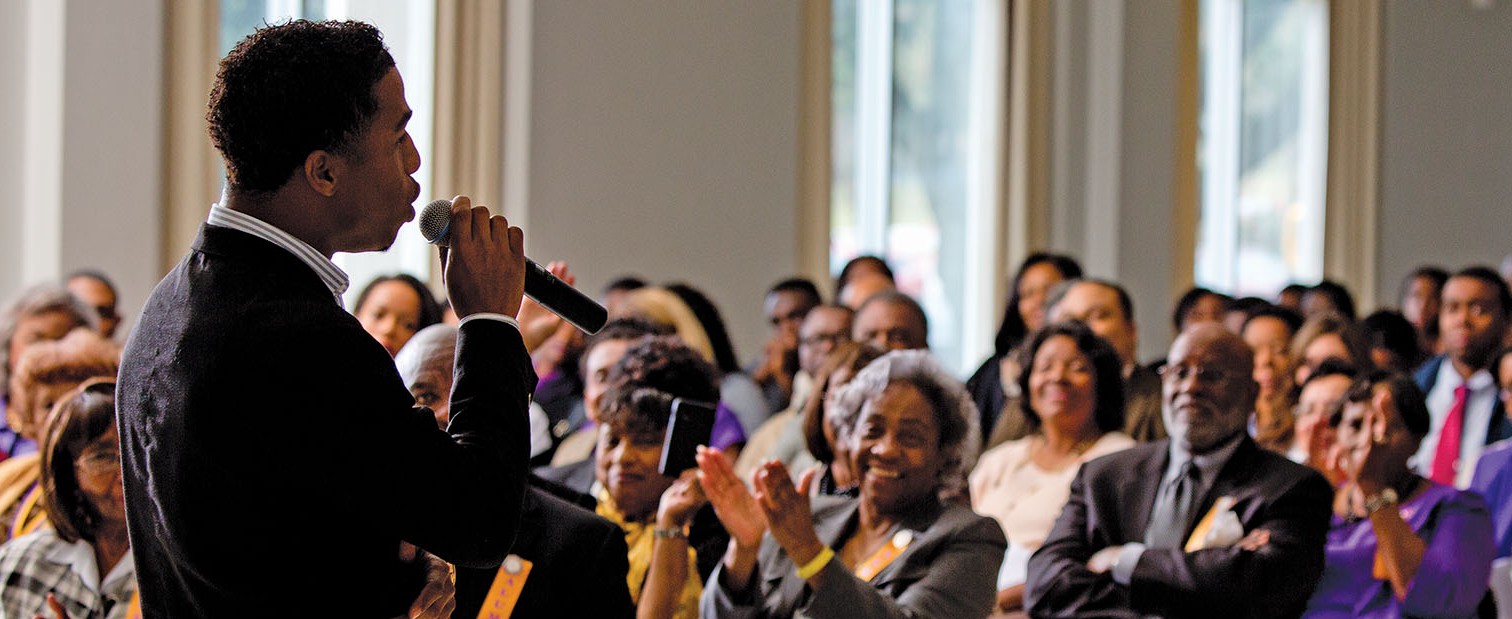 As if that was not enough, with a 3.7 grade-point average, Lee was one of the youngest participants in the Introduction to Diversity in Doctoral Education and Scholarship program hosted by the University of Pennsylvania and the Summer Institute for Emerging Managers & Leaders program held at the University of California. He was hand-picked to participate in an exchange program with Duke University, and is now completing an internship with the insurance firm Chubb Corp.
And this fall, just days before homecoming, hundreds of entrepreneurs and local visionaries converged on the PQC campus and met Lee during the Dallas Social Venture Partners' bigBANG! conference, an annual event that seeks to foster innovation in the nonprofit sector. The year before, Lee had bested competitors twice his age to win the event's "fast-pitch" competition.
"There he is," one local businesswoman whispered to a friend as Lee took to the stage to greet this year's fast-pitch competitors. "I wonder if I can take a picture with him."
What idea made Lee an entrepreneurial rock star? A comprehensive plan to improve the food trucks serving the city by using produce from PQCs' organic farm to create healthy meals. And the prize? A check for $20,000 to bring his vision to reality.
A Family Tragedy
For all of his success and accolades, Lee has had to cope with personal tragedy. After he completed the summer bridge program in 2014, he learned that his only uncle had been gunned down on the streets of Pittsburgh. His killer was never apprehended.
"My uncle was my role model," Lee said. "I decided that I was not going to let his death stop me. And I remember two things that he always told me: 'Stay on point, and stay sucker-free.' That's what I've been doing."
Well-mannered and finely dressed, Lee addresses his elders with "yes, sir" and "no, ma'am." Though he is a mover and shaker on campus and goes to great lengths to defy the stereotypes often assigned to black males, he is also a typical college student who loves to show off his dance moves and rapping skills.
At a late-night talent show in the campus center, "K-Rocz" as his friends tend to call him, has the students on their feet, moving to his rhymes. The performance is so riveting that Lee wins the competition and is awarded a gift card. "He does everything well," said Vincent Owoseni, 19, a junior from Brooklyn and one of Lee's closest friends on campus. The two were roommates last year. "We are like-minded people, so we hit it off right away."
Lee says he's been able to soar in part because of the continued guidance he receives from Sorrell, who has become a father figure. The two talk about everything; no subject is off-limits.
Lee's relationship with his biological father, who lives in Pittsburgh, has long been complicated. But in recent years, the two have become closer.
"He's got a shot to be extraordinary," said Sorrell, who awarded Lee a presidential scholarship that helps to defray his costs of attending PQC. "Our job is to push him past his comfort zone to discomfort, because it's in discomfort that growth occurs."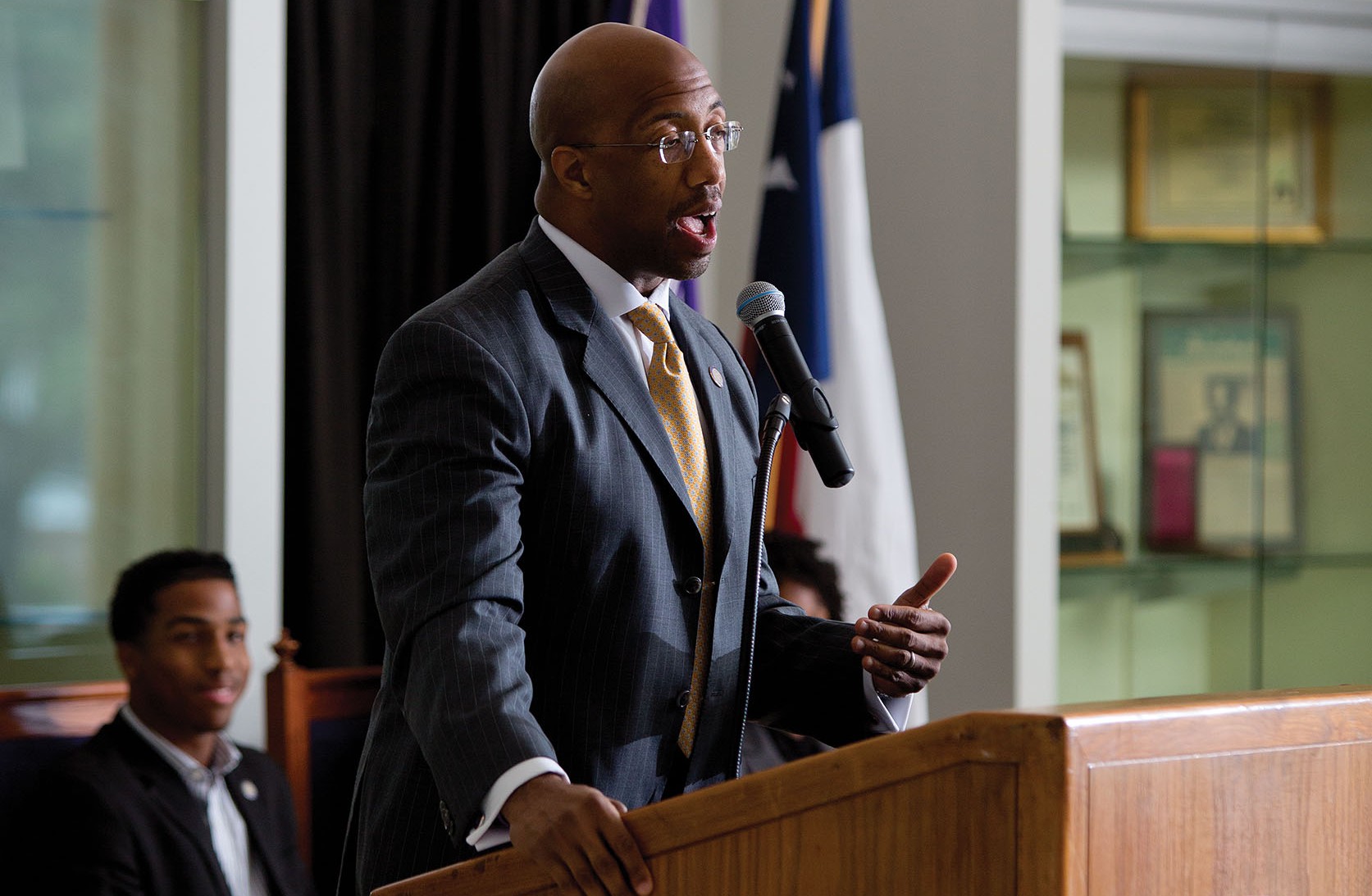 Sorrell, who earned law degree from Duke University and a doctorate in education from the University of Pennsylvania, would love for Lee to consider a JD/MBA program once he graduates from PQC. "He has the temperament for it," Sorrell said. "We will prepare him for it."
But ultimately, it will be up to Lee to determine his career trajectory.
"A master's degree is definitely in the plan," said Lee, who is majoring in business and pre-law, "but I'm open to working on a Ph.D., too."
'My Son Just Has That Fire'
Meanwhile, Lee is still homeless—one of more than 200,000 students in Texas without a permanent home. Thanks to Sorrell, Lee—who is also a resident assistant—lives year-round in a campus dormitory.
And his mother, a longtime government employee, lives in a group homeless facility in nearby Fort Worth. A series of health challenges has made it difficult for her to work, but Lee makes the 45-mile trek from campus to visit her nearly every day.
"I am so proud of Kevin," says Williams. "He's so humble. Most people wouldn't even believe our story, but my son just has that fire and passion in him to want to learn."
On the morning of chapel, Lee showed up to his biology class a few minutes late. He was understandably tired. The night before, he was rapping and dancing into the wee hours of the morning.
But he was asked by Sorrell to deliver the keynote address at chapel, and he takes the assignment quite seriously. Sorrell tells him to speak from his heart, to tell his story, to talk about being a young black man determined to succeed in a society that in many ways has already counted him out of the game.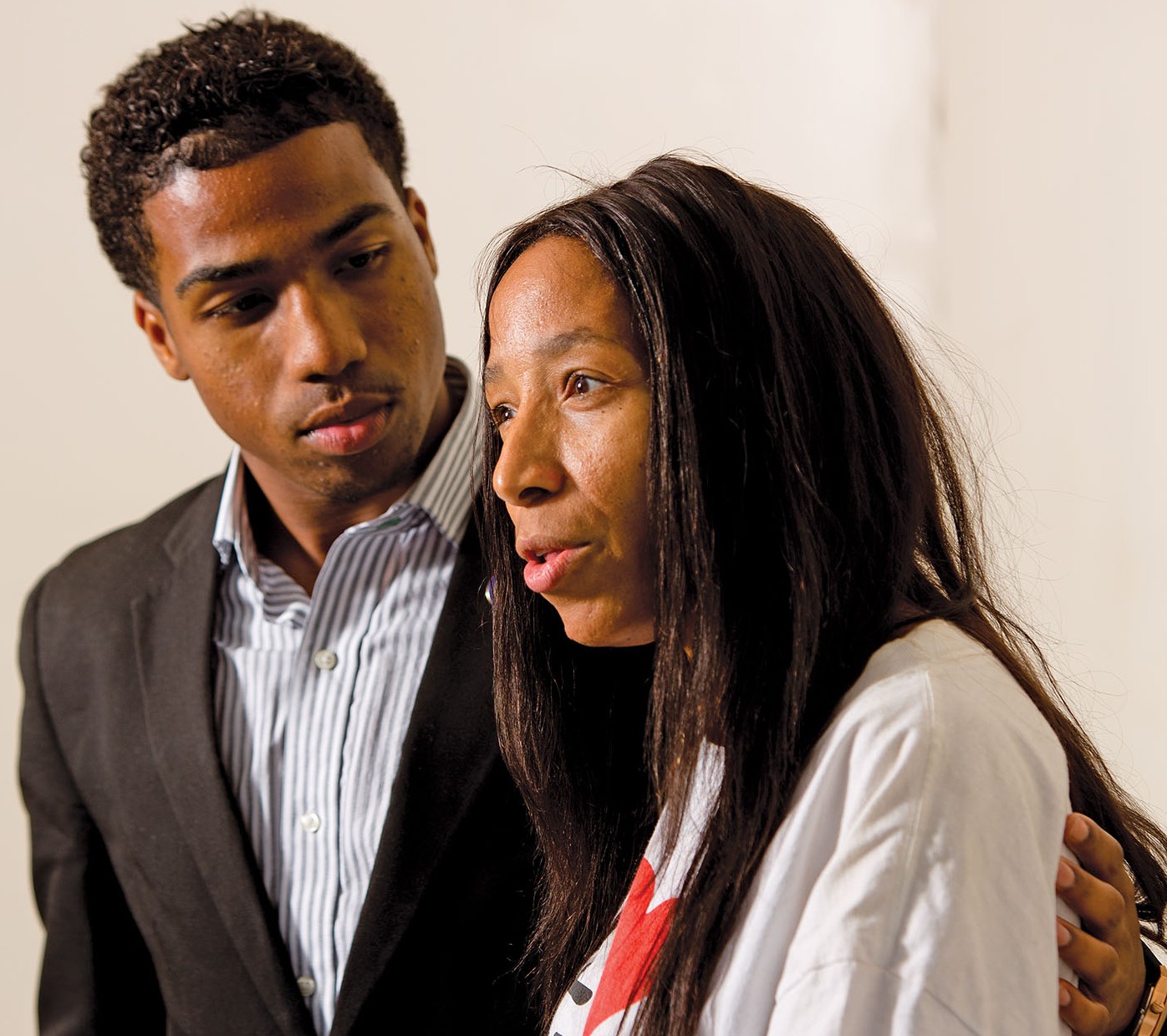 Without notes, Lee approached the podium. His fellow classmates hung on his every word. Some were visibly moved as he described setback after setback but explained how he remained vigilant and committed to his individual goals.
"You can't tell me that God doesn't have a plan and can't change a situation," Lee said.
Amen. Yes! All right, Kevin! the audience shouted back, transforming the college assembly into a praise and worship service. And then Lee summoned another student to the front of the auditorium.
Like Lee, he and his family had lived in a homeless shelter. The staff at the shelter had told the man about how Lee had gone on to become a student at PQC and suggested that he follow suit.
The young man heeded their advice and is now enrolled at the college. "I was in a shelter, but I was there for a reason," said Lee. "If I wasn't there, he wouldn't be here."
The crowd shook their heads in unison. Lee's message was resonating. "You wouldn't look at either of us and say we're homeless," he said. "But God has a plan for us."