CARTERSVILLE, Ga.—Dressed in dark suits and colorful ties, about two dozen young men—most of them black—sat at circular tables inside the student union building at Georgia Highlands College on a recent Saturday morning.
These student representatives from colleges and universities across the Southeast listened attentively as Tyrone Bledsoe, founder and CEO of the Student African American Brotherhood (SAAB), worked the crowd. He spoke of the powerful network he's built that focuses on improving outcomes for black college students and young black men in middle and high schools across the nation.
Bledsoe recounted the origins of SAAB, or Brother2Brother as it's called here at Georgia Highlands. These programs have provided a safe space for black males to gather and talk freely about a wide range of issues, he said.
"Saving lives!" Bledsoe shouted in the call-and-response tradition of the black church in the United States.
"Salvaging dreams!" the students respond in unison.
And then, with little prompting, the young men (there were three whites among the cohort) jumped from their seats and began to embrace each other and exchange contact information.
For more than two decades, long before the Obama administration launched "My Brother's Keeper," Bledsoe has traversed the nation, building SAAB and Brother2Brother.
"It's good to see policy catch up with practice," he said about the president's MBK efforts. "We have a national crisis."
But at a time when scholars disagree over how best to improve the situation for young men of color, Bledsoe's approach of actively engaging the men to ignite their own change has caught the attention of national funders and policymakers. They see the SAAB model as one with staying power.

Still, Bledsoe—a former administrator at the University of Toledo, where he served as vice president for student life and special assistant to the president—knows that the focus on young men of color has become trendy in recent years, with new support and advocacy groups vying for dollars and recognition.
"We've been doing this for 25 years," he said. "Now black males have become a fad. Some (efforts) are genuine, but some are not."
"We are college-going, college-staying, college-graduating."
For his part, Bledsoe is focused on helping black men stay enrolled in college—and graduate. He wants them to form lifelong partnerships and tells these SAAB student leaders that they should sponsor a series of activities to show members how to invest their finances and strategize for long-term success.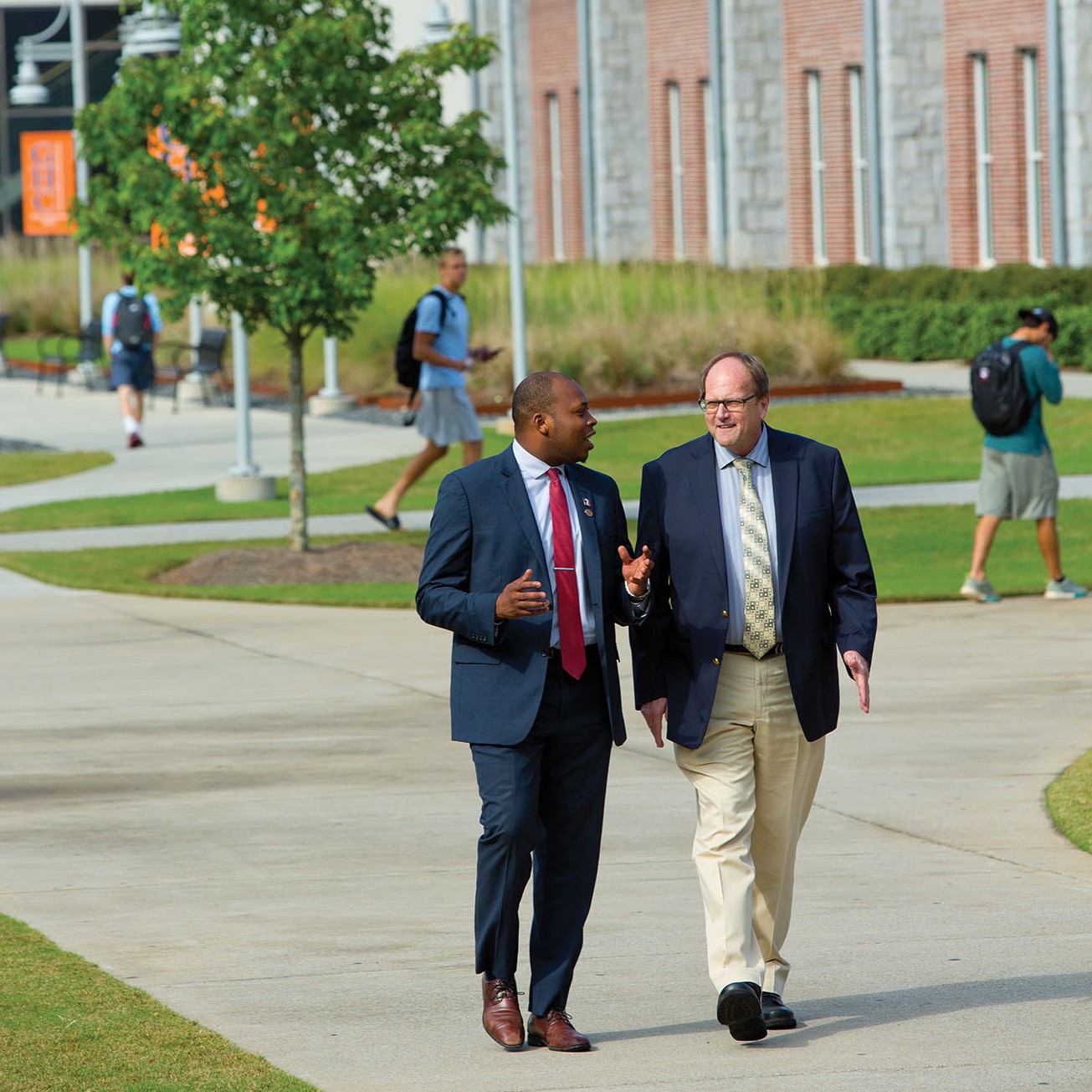 "Many of you have distractions and noises in your life that you need to quiet down," he tells the young men, many of whom affectionately call him "Doc." He urges them to be proactive in helping their brothers who lag behind. "We are college-going, college-staying, college-graduating."
It's that kind of tough talk that Bledsoe knows is needed to transform these young lives.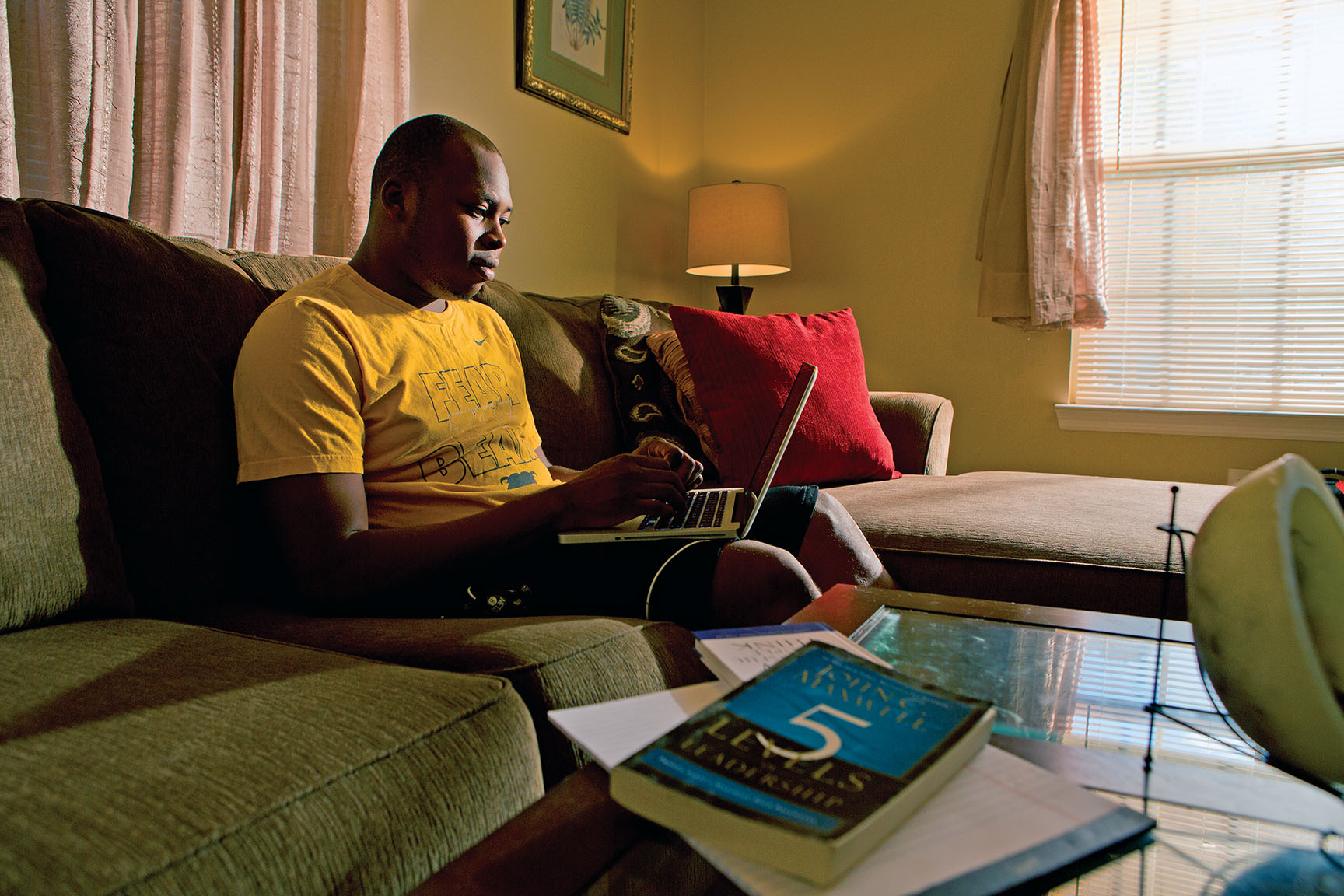 "Brothers want love. Brothers need love," Bledsoe tells the young men, encouraging them to be vulnerable with each other as he doles out hugs. "I've had brothers tell me, 'Man, I don't hug dudes.' But you can't save me if you don't touch me."
Carrying on the Tradition
Evan Snelling was seated in the back of the room, listening to Bledsoe. He's heard the speech before and, on first glance, he's not easily distinguishable from the current college students.
Now age 25, Snelling grew up in the Atlanta area and always planned to attend college. That was the expectation of his mother, who raised Evan and his older sister alone after a divorce when Evan was just 7. His relationship with his father has been distant but cordial over the years.
"Although my mother did not have a college degree herself, she always instilled at a young age that we were going to college," said Snelling, pointing out that his sister went on to earn a master's degree.
Like many young African-American males, Snelling loved basketball. It consumed his life. And given his natural talent, he thought the sport would be his key to a bright future. "Basketball was going to be my ticket," he said matter-of-factly. "I really saw myself playing basketball professionally."
Snelling, who stood 6-foot-3 by age 16, played varsity basketball during his freshman and sophomore years at North Cobb High in Kennesaw, Ga. News of his skill spread quickly, and his game caught the attention of college recruiters nationwide who were interested in signing him. "I was ranked top five in the state of Georgia," he said.
But a tragic accident changed Snelling's life. In January 2008, early in his senior season, he arrived at the high school at 6 a.m. for daily practice. He parked his car and was walking across the street in the winter darkness when, out of nowhere, a car turned the corner and struck him. Snelling flipped through the air and slammed through the car's windshield.
The news was not encouraging. Though he had survived the accident, he would need years of intense rehabilitation, including seven separate surgeries in one year to speed his recovery. He fractured a tibia and fibula, and he broke every bone in his neck but one—a fracture that would have led to paralysis.
"I did have basketball scholarship offers at big-time Division 1 schools," Snelling said, "but after the accident, they were reluctant to say the least." After high school, he enrolled at Emmanuel College in Franklin Springs, Ga., but his mind was elsewhere.
"I was still down about the accident," he said. "That definitely changed my whole trajectory. Going from being a highly sought D1 prospect to being in a wheelchair for six months and on crutches for another six years was tough to handle."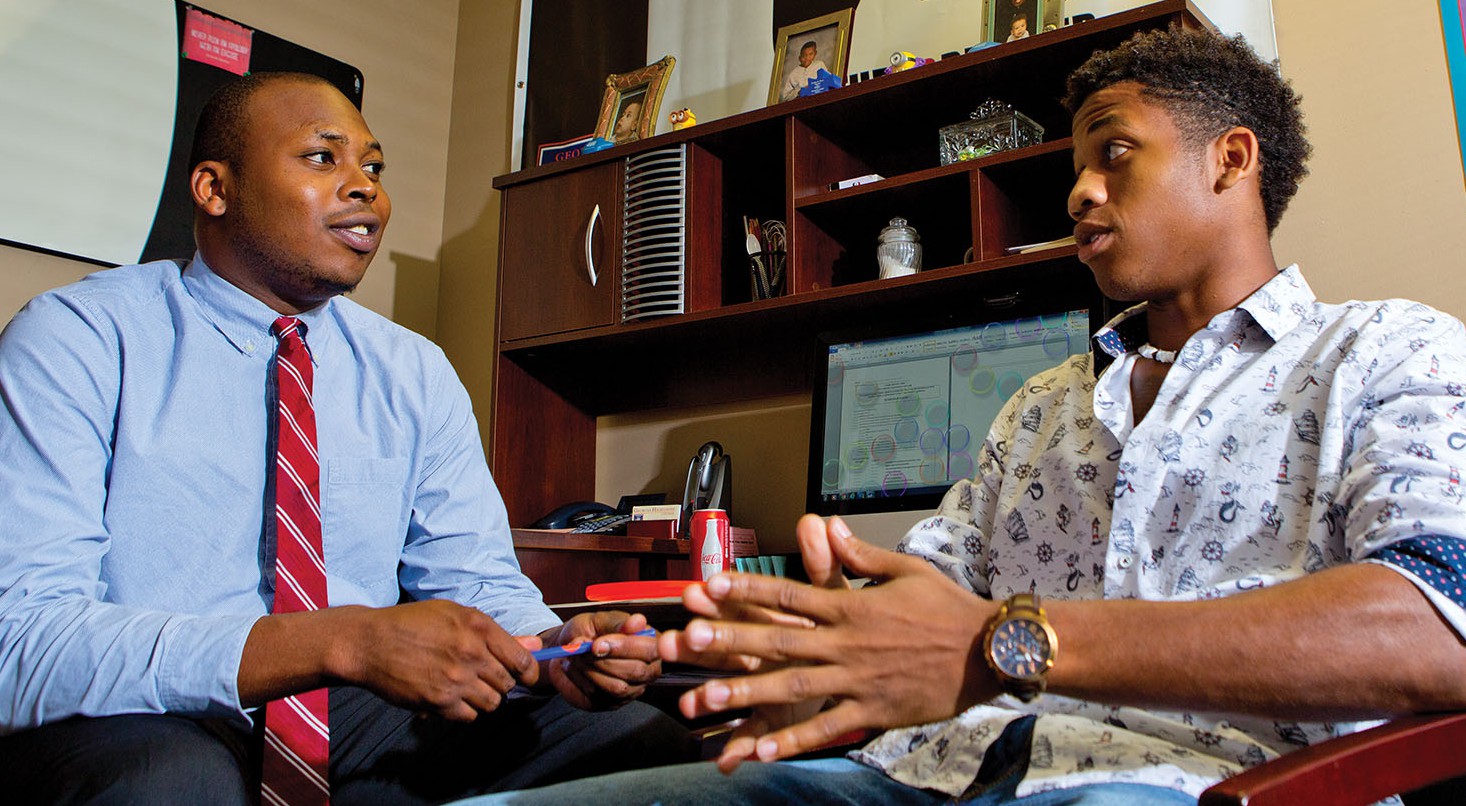 Depressed and unable to focus on academics, Snelling dropped out after one semester.
"To be honest, Emmanuel told me that if I could get healthy, they could give me a scholarship," said Snelling. "That's why I chose that college in particular."
At age 21, Snelling returned home and looked for work. He eventually landed an eye-opening job as a deputy with the Bartow County Sheriff's Office. "I've always been passionate about criminal justice," Snelling said. "I saw an opportunity and I jumped on it."
But the job was short-lived. Snelling worked as a deputy for only about six months before becoming disillusioned by the "disconnect between police officers and younger African American males."
Recognizing his need for a college degree, particularly since his chance of becoming a college athlete had long passed, he enrolled at Georgia Highlands College, a two-year institution with five campuses and a student population of 5,500.
Admittedly, Georgia Highlands was not his first choice. But the tuition was affordable.
"I didn't want to let my mom down," recalled Snelling, who added that his first semester at Georgia Highlands was overwhelming and challenging. "I struggled academically," he said.
At the urging of his mother and sister, Snelling decided to get involved in campus life.
As he walked to and from his classes, he was often approached by Jonathan Hershey, an English professor and the college's dean of humanities. Hershey, who is white, is the longtime director of the Brother2Brother program and has long been interested in improving the retention and overall campus climate for young black males.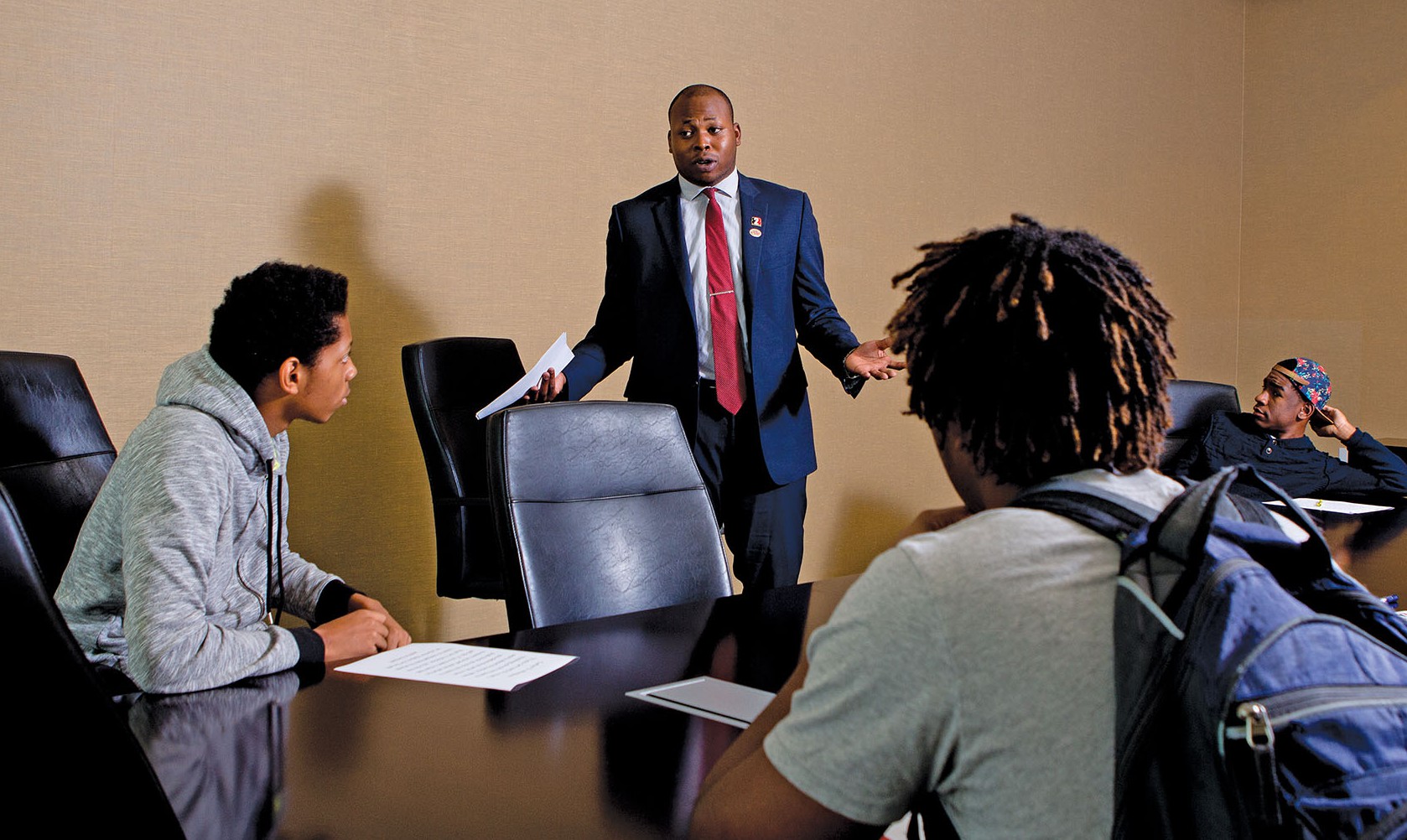 "I would see him hanging out in the gym," recalled Hershey. "I kept encouraging him to get involved, and over time he just started coming to our meetings. It didn't take him long to become a leader within the group."
Initially, Snelling was not impressed by the weekly gatherings of 10-15 black men.
"My overall reaction was I didn't like it," said Snelling who remembered listening to one alumnus of the program who returned to campus as a guest speaker. He criticized the "brothers" for not holding up the standards of the organization. "I took it as a personal shot," said Snelling.
But it was also a personal challenge for Snelling to help move the group forward.
His interest in the group was further piqued when he learned of the enrollment and retention statistics for black men at the college. Only about 4 percent of African-American males graduate, although Georgia Highlands officials point out that Brother2Brother participants are five times more likely to graduate than other black males.
Within a year of joining the organization (which has chapters at all five campuses), Snelling was elected the event coordinator for the Cartersville chapter. He later became president and worked to increase membership in the organization by 15 percent.
"We spent time creating standards about dress and appearance," said Snelling. "We talked about the importance of sitting in the front of the class, and raising our hands and asking questions."
Snelling said relationships among the young men blossomed into strong friendships during his tenure as president, and membership soared to about 120 black males. The college currently enrolls about 600 black males.
"We built brotherhood and camaraderie that African-American males need in order to survive in college," said Snelling. "We assigned an accountability partner to every brother and encouraged early-bird advising and enrolling in classes where we knew we could excel."
'A Fearless, Enduring Individual'
When Snelling graduated from Georgia Highlands in 2014 with an associate degree in criminal justice, college officials were so impressed with his development and growth that they offered him a position on campus funded through the federal Workforce Initiative and Opportunity Act. In this role, Snelling helps students find jobs by assisting with resume writing, conducting mock interviews and helping them develop networking skills.
He is also an adviser to Brother2Brother, working closely with Hershey to recruit members. In recent years, the Georgia Highlands chapters have been recognized by the national office of SAAB. He also helps out with the men's basketball team—an unpaid but welcome opportunity to stay involved with the sport he loves.
"Evan is a fearless, enduring individual who has faced a lot of adversity in life and has grown tremendously through his involvement in SAAB," said Bledsoe. "He is a person who has never given up on life. He's done whatever he thought it took to bring about greatness in himself and people around him."
Snelling is now pursuing his bachelor's degree in organizational leadership at Dalton State College. He is taking online classes while continuing to work full time at Georgia Highlands.
"I'm not going to stop after I get my bachelor's degree," Snelling vows. "I am going to keep going and earn my master's. I have a passion for giving back. … And that opportunity is available for other young brothers as well."