MIAMI—When Daniela Figueroa started at Miami Dade College, she felt utterly at sea. She had graduated from an area high school with a Cambridge Advanced International Certificate of Education Diploma, an award from an honors-level program that often allows students to forgo entry-level college courses. She had been a good student in high school, loved science, and was curious about and interested in many other things. But the size and scope of Miami Dade—the nation's largest community college, with 95,000 students—all but overwhelmed her. Had it not been for a brother attending the same college, Figueroa might have fallen badly off track. She had hoped for "a helping hand" that first year, she said, but even though she was assigned an advisor, she had to ask for help. She was considering biology as a major only because she had enjoyed it in high school, not because she had any idea of where it would get her in the long run.
"I thought the advisor had to come to me," Figueroa said. "I was not used to the freedom at all." She didn't know how to drop and add courses; nor did she know that her Cambridge certificate allowed her to opt out of freshman English. "So, I retook an English course I didn't even have to take," she said.
About eight years ago, Miami Dade reviewed all aspects of student support at its eight campuses, looking at the differences in outcomes for specific populations, from entry to graduation. Advising was one of the facets that went under the microscope. Researchers found that, even though advising was occurring on a large scale, it was more accidental than intentional. If students sought it out, they would get it. Only in certain cases was advising required, such as when a student fell into probation—often too late for the student to get back on track.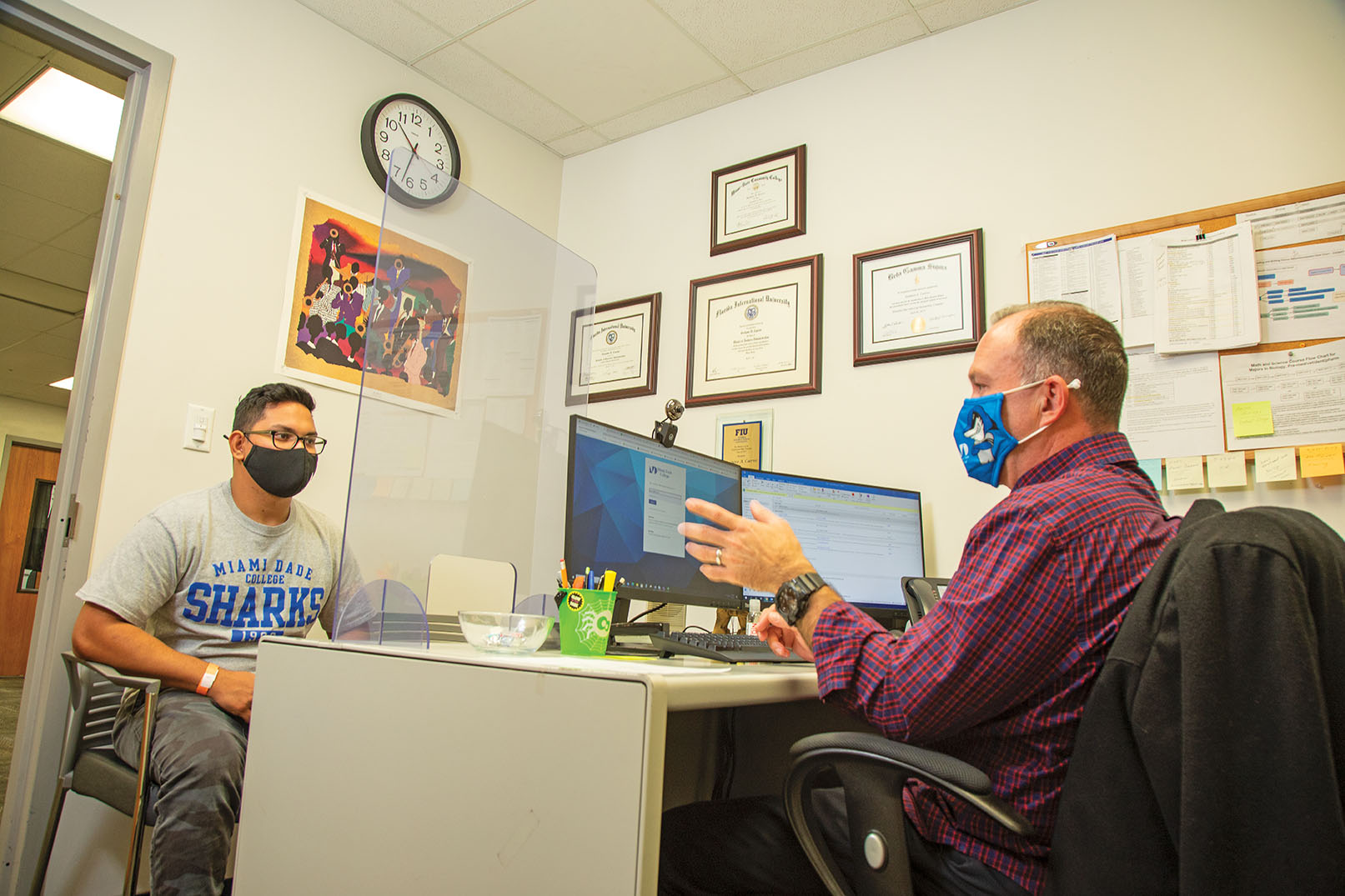 Researchers surveyed more than 900 students and convened focus groups over a period of two months. And no matter where they fell in the student population, whether honors students or English Language Learners, virtually all respondents gave the same feedback: "They wanted intervention," said Lenore Rodicio, who served Miami Dade for 18 years, most recently as executive vice president and provost. "They wanted someone to tell them what to do, and they wanted it early. They said, 'We get all caught up in our classes, and then we wake up one day and we are on academic probation.'"
The overwhelming response prompted the college to look at advising reforms as among the fastest, most effective ways to improve student success. And officials realized that, just by making small changes, they could get students back on track with better ways to relay just-in-time information. 
The three-stage approach
Rodicio, who left Miami Dade at the end of 2020 and is now a senior fellow with the Aspen Institute's College Excellence Program, looks back with pride at the strides the college made during her tenure to improve advising.
"We wanted to create something that was more intentional based on where students were in their academic journeys," Rodicio recalled. That meant the college needed to engage students as early as high school. So, they devised a system that supports students at three different stages: in high school, in their first semester, and near the end of their time at the college.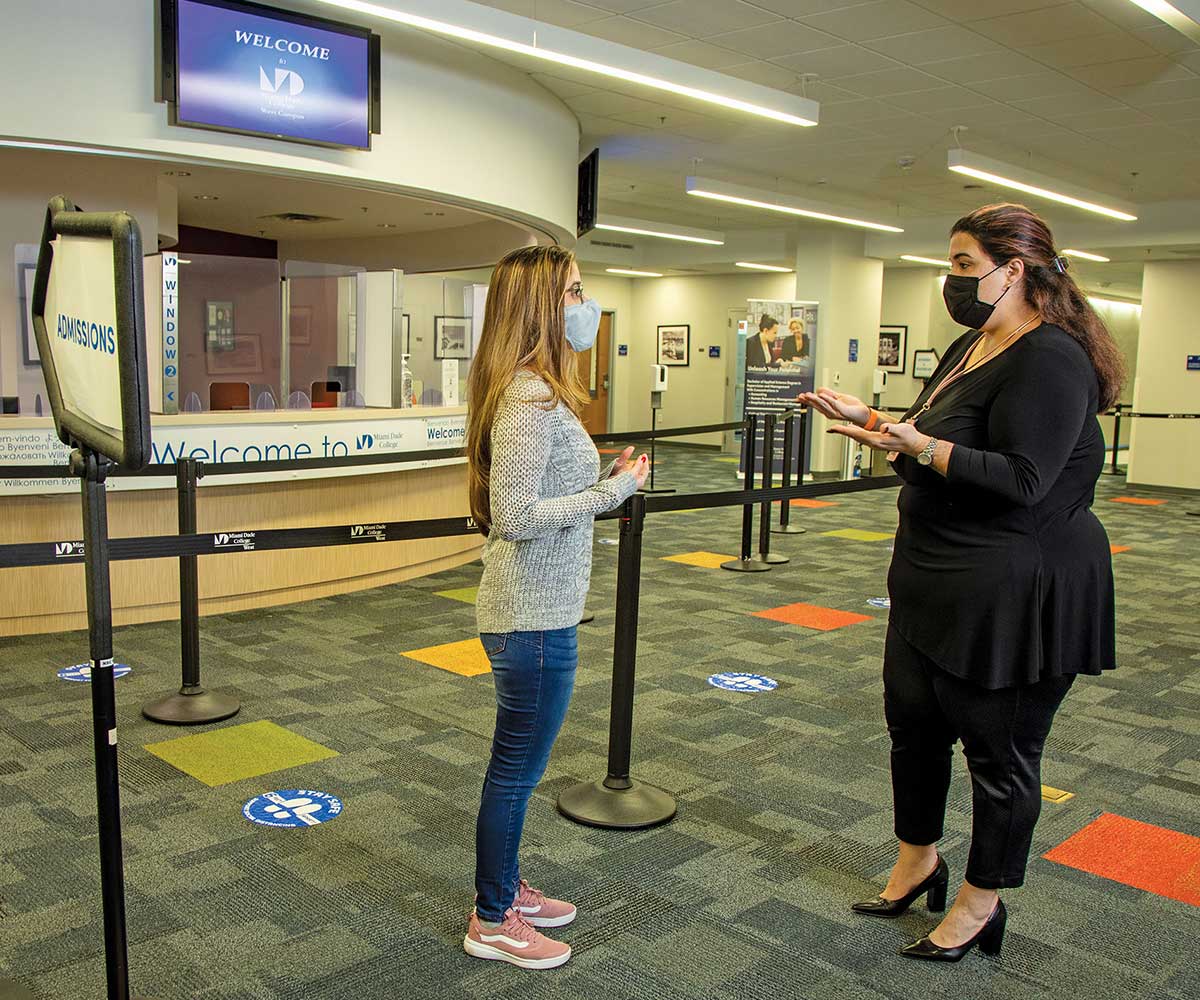 Before the changes, Miami Dade had sent recruiters to high schools, setting up the tables at college fairs and putting out the usual brochures and swag. Sometimes these efforts led to admissions, sometimes they didn't. Under the new system, the college trains these recruiters as high school/college advisors, so they now do double duty. One advisor is assigned to a caseload of high schools and high school counselors and students—mostly seniors—with whom to develop relationships. They hold informational events such as "Career March Madness" and "Financial Aid February," ensuring that every prospective Miami Dade student has an advisor to contact throughout the enrollment process. The result of the high school effort: A measurable increase in first-year applications and converting applicants to enrollees.
The second stage of Miami Dade advising is the handoff to a professional advisor at the college. This transfer occurs after students have completed an online component of their orientation. "The goal is to teach the students how to use the system, not do it for them," Rodicio explained. Also, handling some of the nuts and bolts this way frees up advisors to talk about higher-level issues. Advisors also are now becoming specialists in specific areas of academic interest. At this point, some students are ready to develop an academic map. If not, they are required to meet with an advisor to tackle that task later in the semester.
Students' biggest problems tend to occur in the first semester, said Ania Canales Toledo, a full-time advisor at Miami Dade. They are taking too many classes or the wrong classes; they want to drop or add classes; they want to change their academic plan; they're having trouble adjusting to college life. They want information about financial aid, clubs and activities and mental health services. Often, they don't understand the consequences of dropping courses—including hits to financial aid that can occur if they fail to maintain a certain number of hours. Toledo's job is to make sure students have a full picture. "So often the problem is not academics," she said. "It's just because they don't understand the system."
In addition to regularly scheduled meetings, Toledo sends countless emails and holds a two-hour daily window for walk-in visits. There are group sessions, as well. "At the end, I'll ask: 'Any more questions?' And they'll say, 'No, I'm good.' And then you get five more emails on the same subject. They still want that one-on-one."
In the third advising stage, in the second year, the responsibility for reaching out falls more to the student, and the advisor serves more as a mentor who helps the student look for transfer opportunities and jobs. This group of advisors includes faculty volunteers and department chairpersons. The goal is for the student and advisor to have at least one interaction per semester. "This is the most 'fuzzy' interaction," Rodicio said. "The others are a lot more structured." Toledo tries to send her charges just the right amount of emails at this point ("too many and they will ignore them") with information about scholarships, summer programs, and the like.
These and other processes at Miami Dade continue to evolve. The college has adopted EAB Navigate technology, a platform that gives advisors electronic tracking tools and allows them to send students text and email alerts. The idea is to free up advisors and mentors for more substantive interactions. This is important, because despite all the improvements the college has made to the advising process, its student-to-advisor ratio remains high, so far preventing advisors from adopting a classic case-management approach.
Not every faculty member makes an effective student advisor, and Miami Dade wants to ensure the best matches. To make sure only those who really want to serve do so, the college doesn't assign, advisors volunteer. They undergo regular training and attend workshops, and they're given opportunities to shadow an experienced advisor. They must keep certain advising hours and are required to log their student interactions, along with their outcomes. In performance reviews, advising is counted as part of their contribution to campus.
"At the end of the day the most important quality in an advisor, particularly given our low-income population, is empathy," Rodicio said. "These students don't drop out because they aren't doing well in their classes or because their courses are challenging; it's because life happens. They lost their job, their transportation. So, it's vital having an advisor who understands that these are human beings," she added. "Students have a lot of facets that we don't usually think about when they are just a number and a schedule sitting on a screen in front of you."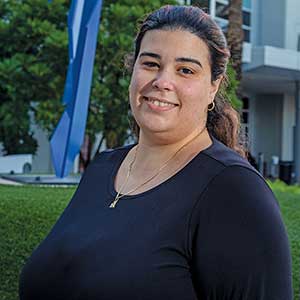 Chemistry major Patricia Felipe, 20, is not a struggling student. But as one who came to this country at age 15, she particularly appreciates that Toledo is a fellow Cuban immigrant. That means the two can occasionally slip into "Spanglish," and that Toledo can explain important differences in educational practices between Cuba and the United States.
"Ania taught me a lot of things I didn't know about," says Felipe, "like scholarships that were available and that you have to fill out the FAFSA every year." Most important, Felipe found a kindred spirit. "Ania came here when she was 19 years old, so she knew everything that was going to happen with me, because it happened to her, too."
'We WANT you to bug us'
Some educators and experts advocate what they call "intrusive advising," perhaps as a counterpoint to the type of disconnected, infrequent interactions that have traditionally defined the student-advisor relationship.
However apt the term may be, it's not one Rodicio cares for.
"I don't think advising can ever be too intrusive," she said. "We hear from students: 'We want you to bug us. We want you to tell us what to do. Don't assume we have got this figured out because we don't.'"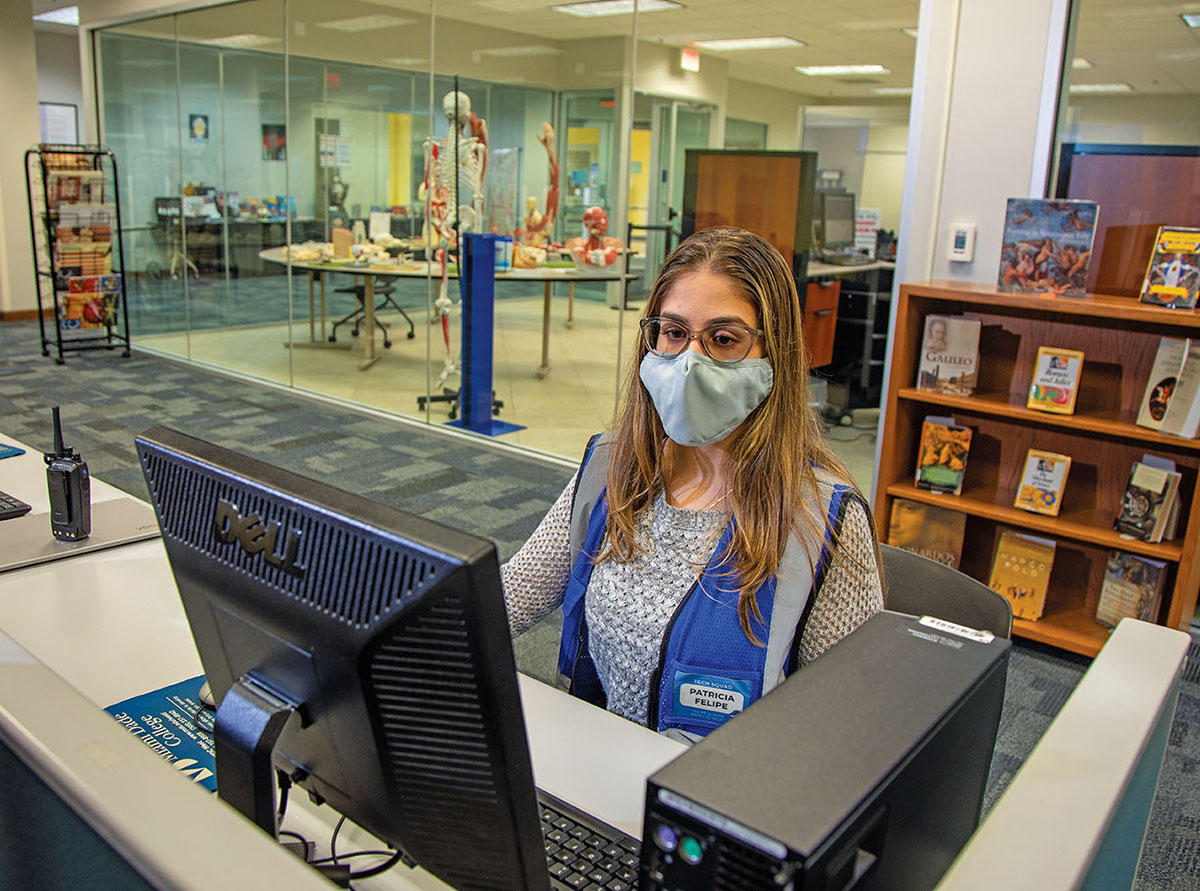 To meet students' needs, Miami Dade practices what Rodicio and others call "appreciative advising," training advisors to listen intently—not just to answer questions but to uncover students' reasons for asking them. "If they say, 'I need to drop this class; how do I do that?' You don't just say, 'Oh you go here and click this button,'" Rodicio said. "You ask: 'What is happening? Why are you not doing well? Can I help connect you with a tutor?' You want to get what we can do to keep them on track. And quite a bit of training goes into that."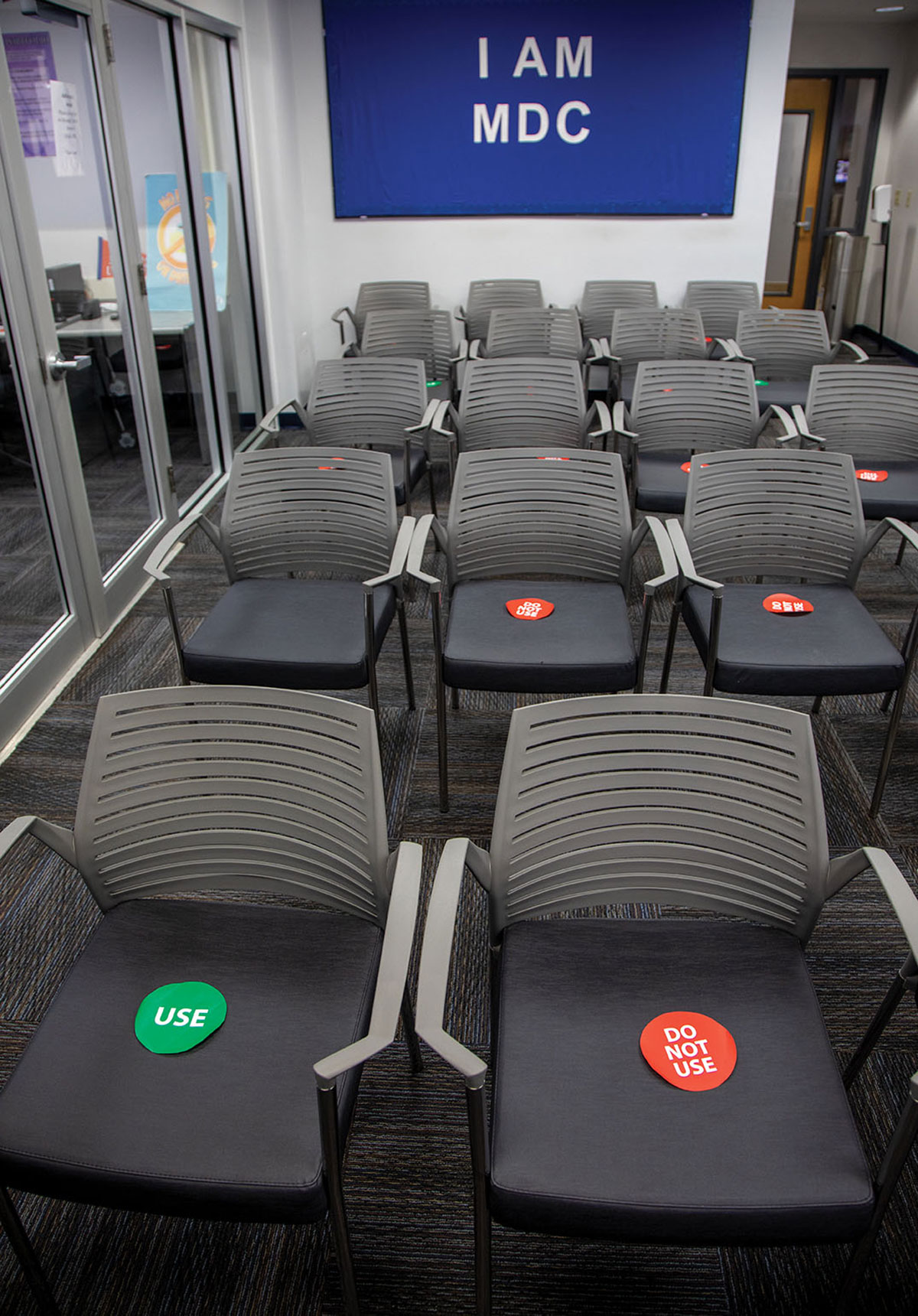 "Advising is critically important to student success," Rodicio said. "At the beginning of the pandemic, for instance, we put out college-wide emails, but it doesn't matter how detailed the instructions on a website or how many FAQs. A lot of times, students just need someone to listen to them and talk things through with. Many times, we rely on the faculty to do that, but having someone with them the entire journey is important. They need to know there is someone who cares about their progress and can serve as mentor in many ways. And we have seen some really beautiful relationships that can develop."
One such relationship bloomed between Figueroa and Toledo. The two were matched because Toledo was the biology advisor. But Figueroa was starting to question her initial choice of major and was wildly undecided about the alternatives. Once again, she found herself weighing immediate and genuine interest against long-term career prospects. She was working at the time as a teacher at an after-care center and was pondering a switch to social work. But she couldn't imagine herself in that field forever. At the same time, she was doing well in a Japanese class, and she loved language in general, as well as politics. Toledo helped Figueroa see where she was headed: international relations. That is the major she is now happily pursuing after transferring to Florida International University.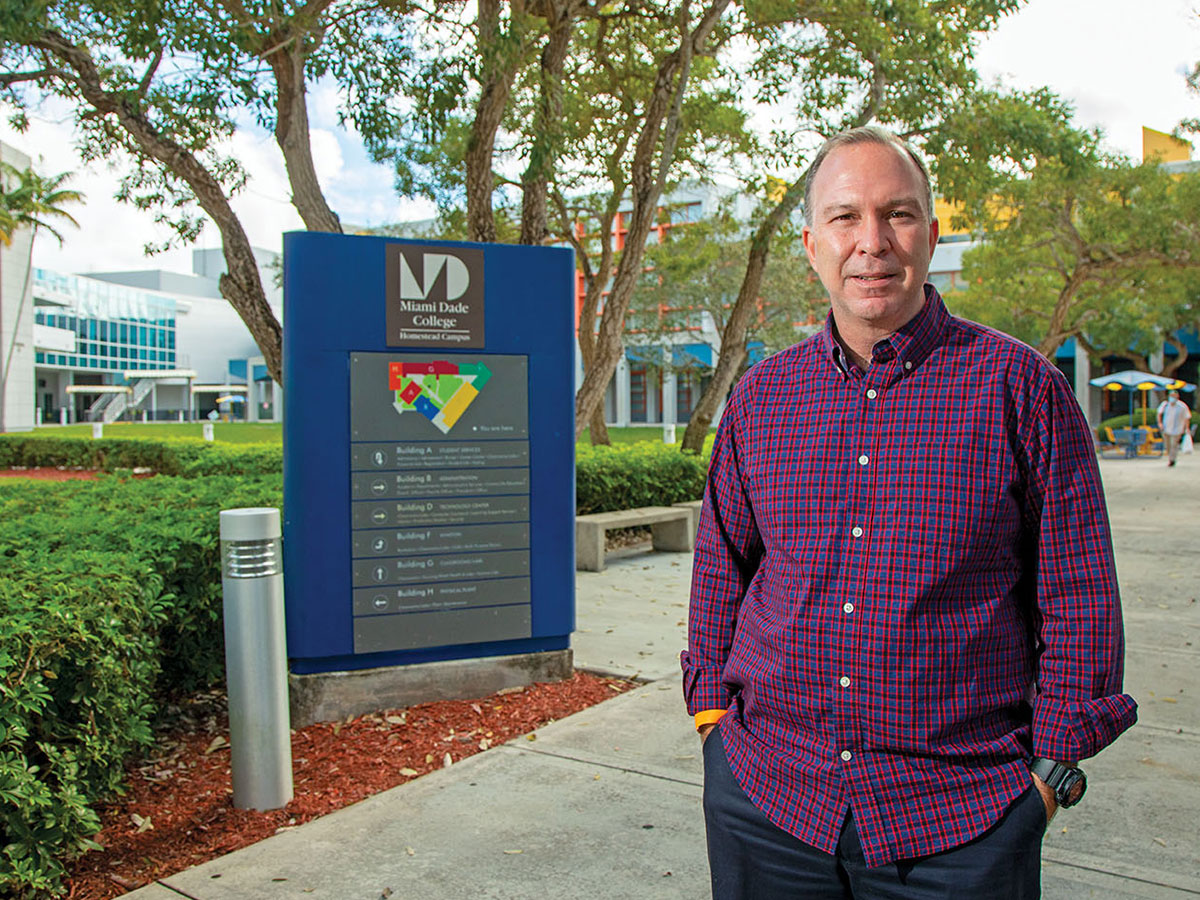 At Miami Dade, Toledo and Figueroa forged a particularly meaningful advisor-advisee bond. Toledo had originally reached out to Figueroa, and the two talked every couple of weeks at first. But as Figueroa closed in on graduation, she sought out her advisor more often. "I probably bothered her so much!" she says. "I texted her every four days or so with all kinds of random questions." Toledo always had a fast answer or knew someone who did. Figueroa also had to leave Miami Dade a semester early so she could start on time at Florida International, and the only way to do that was to test out of some courses. Figueroa said Toledo found all of the resources she needed—tutors, study guides, and the like—to do that.
The pandemic hit Figueroa and her family particularly hard. She temporarily lost her after-care job, and her single mother and sister also found themselves out of work. When Miami Dade moved all its classes online, Figueroa was concerned that she wouldn't get the advising that she now needed more than ever. She needn't have worried. Toledo was with her through it all, meeting with her online once or twice a week, helping her figure out the right combination of courses for her new major, assisting her with scholarship applications, and providing moral support. "I had been a little disappointed at first to go to a community college," Figueroa admitted, looking back on her two years at Miami Dade. "But it was totally worth it in terms of academics, preparation, and advising."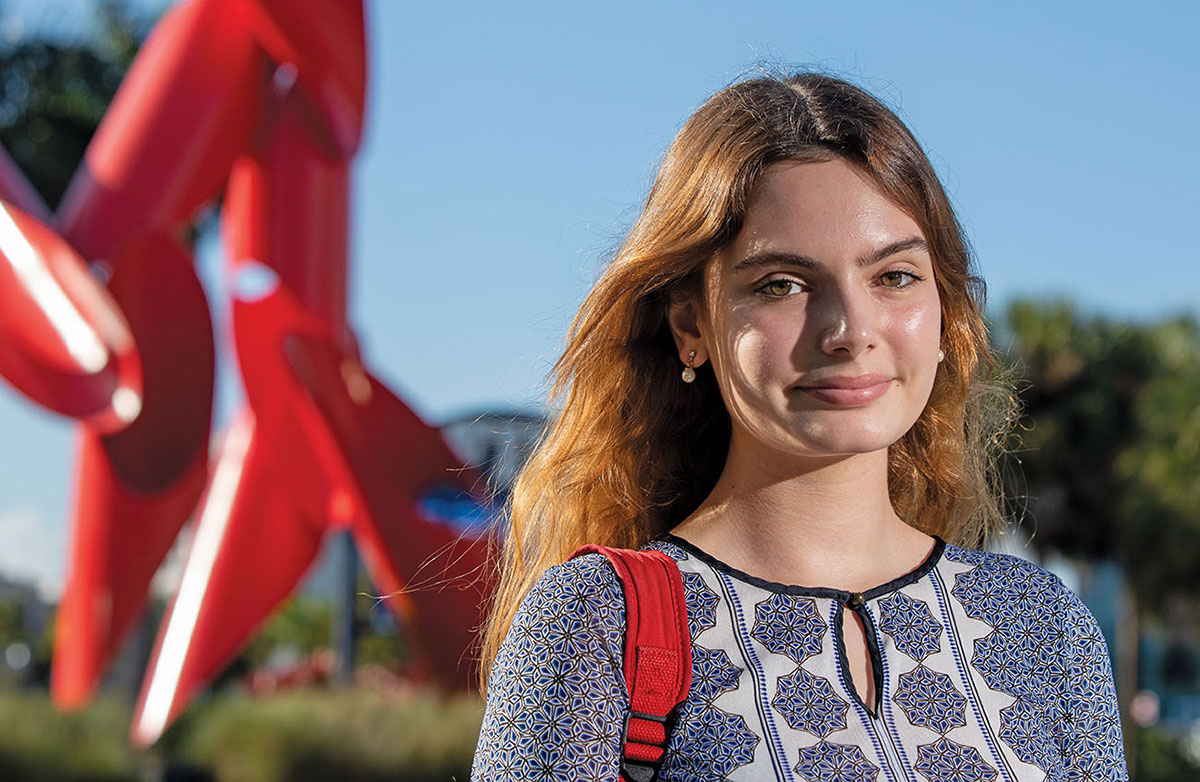 Thousands of other students appear to be benefiting from the college's efforts, as well. With 90 percent of its population students of color, 67 percent from low-income households, and about half speaking English as a second language, Miami Dade has posted some impressive outcomes. Its three-year graduation rate for first-year, full-time students, at 33 percent, is considerably higher than average. And, remarkably, the college shows virtually no difference in success rates between white students and students of color. Officials are convinced that "appreciative advising" has contributed significantly to these impressive results.