Columbus, Ind. – Marwan Wafa thought he knew what lay ahead four years ago, when he was installed as vice chancellor and dean of Indiana University Purdue University Columbus (IUPUC).
And then he found himself in a room with a veritable Who's Who of this southeast Indiana city, attending his first meeting of the Columbus Community Education Coalition (CEC) governing board.
Seated at the table were K-12 school superintendents, city officials, millionaire philanthropists, fellow higher education leaders and representatives of business interests large and small. Even the director of the Columbus Municipal Airport was on hand. Wafa, the newcomer, sat back and watched as this collection of potentially combustible egos set aside their individual agendas and worked together quickly and cooperatively. Their shared mission: fostering educational reform and improving college attainment in a region encompassing a large swath of southeastern Indiana.
In an academic career spanning three decades and a handful of Midwestern locales, Wafa had "never seen anything like it before."
Four years and scores of meetings later, Wafa now understands that the CEC measures success, not by board members' ability to play nice, but in outcomes that benefit the region's young people — students whom most board members will never even meet.
The Coalition's influence is evident all over this city. You can see it at Columbus East High School, where students once poised to drop out are now on the college track. It's demonstrated by the financial success of a newly minted IUPUC engineering graduate who, at age 23, was able to purchase his first home before earning his degree. And it's reflected in the innovative program that enables a Purdue College of Technology freshman to attend classes while drawing an annual salary of $35,000.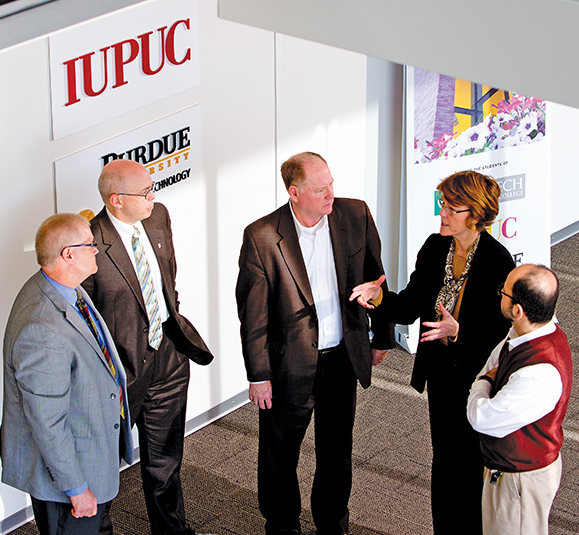 With a 16-year history of advancing education throughout the region, the Coalition is now a model of efficiency and harmony. But "it was not always like this," CEC Board Chairman Hutch Schumaker points out. He admits it took time and "a lot of hard work" for Coalition members — representing every corner of Columbus commerce and education — to forge a true partnership, one that acts collectively rather than in institutional self-interest.
"None of the things we do can be done alone," insists Schumaker, president of the local Coca-Cola Bottling Co. "It's a team sport, and we're all on the same team. We may not always agree on the plays that are called, but we all want to win." Faced with an educational conundrum, Columbus will "find a way to figure it out," agrees Mark Levett, chief executive officer of the Cummins Foundation.
John Burnett, who serves as CEO of the Coalition, is often asked why collaboration, a concept that eludes so many other communities, plays out so well in Columbus. "It's in our DNA," says Burnett, a former executive with Cummins Inc., Columbus' largest employer and a major funder of the CEC. The outside queries grew so numerous that the Coalition launched a study a few years ago to better understand why the "Columbus Way" works where similar efforts fail. The CEC issued its findings in a detailed report published by its partner, the Institute for Coalition Building, titled: Start Small. Think Big. Aim High.
Reduced to its essence, Columbus' collaborative model is best defined as a high-functioning alliance bound by a single purpose: supporting Columbus-area children from pre-kindergarten through college graduation. That comprehensive approach has certainly worked for Columbus East High School students Rico Lewis and Brooke Tames.
"I used to talk to teachers real rude," confesses Lewis, a tenth-grade lineman on the Olympians football team. The disrespect was evident on Lewis' report cards. "F's all day," he laments.
Tames' record was little better. "I hated school, hated learning," recalls the ninth-grader. "I was a troubled kid." It's telling that Lewis and Tames refer to their academic and behavioral troubles in the past tense. The fact is, the 2013-14 school year was one in which both teenagers demonstrated dramatic turnarounds in performance and attitude.
Much of the credit for the transformation goes to iGrad, an enhanced counseling program that tackles the social, academic and attitudinal problems that can cause troubled students to give up and drop out. The program, a joint venture of Ivy Tech Community College- Columbus and Bartholomew (County) Consolidated School Corp., reaches 10 percent of the students in the city's two high schools.
At East High, 44 seniors signed on in 2012, the first semester iGrad was offered. The following spring, 42 of them received their diplomas. Thirty-three then went on to college. The early promise of iGrad in Columbus inspired Cummins Inc. to launch similar programs in a British town where the company, the world's largest independent manufacturer of diesel engines, has a presence.
The iGrad program is strictly voluntary. Enrollees can leave of their own volition, though most choose to stay. The program requires students to supplement a normal class schedule with intensive personal and academic counseling. The counseling is provided by a professional staff supported by a corps of student peer and community volunteers — 162 of them at East High alone.
"We want to save them all, but the reality is we can't," says Cathy Jackson, an iGrad team leader at East High. "But every kid we do save is a kid that now has a chance." This past year, Tames and Lewis moved decisively into the "saved" category. Report cards that once reflected a steady beat of failure are now filled with A's and B's. And two teens who didn't figure to make it past tenth grade are now pondering college choices and potential majors.
The difference, Lewis said, nodding toward iGrad Coach Sara Donathen-Smith, "is having all these extra moms around. It makes me feel real good."
As with all CEC initiatives, the program that put Lewis and Tames on a new course began at a regular meeting of the group that surprised IUPUC Vice Chancellor Wafa four years ago. The CEC board meets every other month in the Columbus Learning Center, a 130,000-square-foot structure that literally bridges the three higher-ed campuses serving Columbus: IUPUC to the north, Ivy Tech-Columbus to the south, and the Purdue College of Technology to the east.
Each school in this triangle is a satellite campus. Or, as Purdue Tech Director Joseph Fuehne puts it: "We each have our holy lands." Fuehne's Mecca is West Lafayette, home of Purdue University. IUPUC is an extension of Purdue and Indiana University-Bloomington. Ivy Tech-Columbus is one of 31 campuses in the state's community college system.
The lines separating the three institutions are blurred on this tri-campus, where 10,000 students share library facilities, common areas, and classroom space. Administrative offices for all three schools — including one for each institution's leader — are even housed under the same Learning Center roof.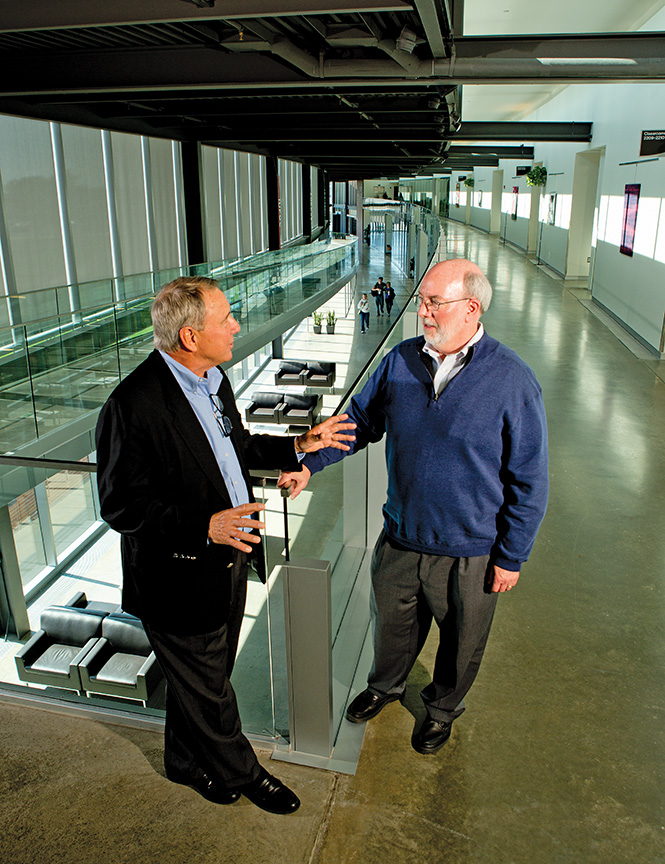 The comity is evident in the structured yet free exchange of ideas at the bimonthly meetings of the CEC board. And the communication pipeline flows in both directions: Board members representing business and commerce don't just seek to improve outcomes for students and schools; they also advertise the credentials they are seeking in employees — present and future. The educators on the board respond by tweaking curricula to deliver a workforce that is job-ready at graduation. "We can keep working backward until we get to pre-kindergarten," says Fuehne.
Whenever possible, the two-way pipeline focuses on preparing students in the STEM (science, technology, engineering and mathematics) fields — thanks largely to the Cummins influence. In addition to being the area's top employer, the Fortune 500 company makes it possible for Columbus to boast more engineers per capita than any other city in the nation: 21 for every 1,000 residents.
"You can't swing a dead cat in Columbus without hitting a mechanical engineer," quips John Quick, superintendent of Bartholomew Consolidated Schools. If that's the case, 23-year-old Cody Surenkamp would be wise to duck.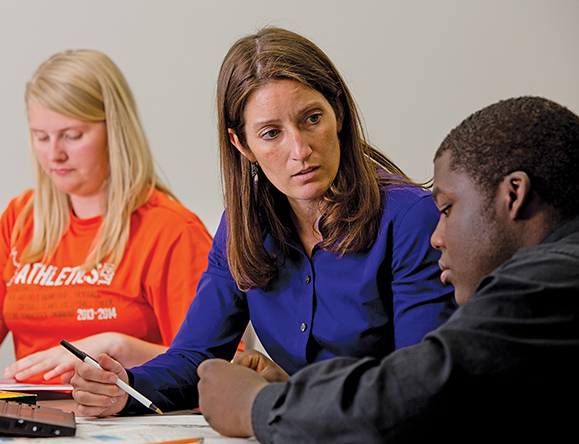 Not only did he know what he wanted to do when he grew up, Surenkamp knew precisely where he wanted to do it: at Cummins. With friends and relatives among the 7,500 Columbus-area residents drawing a Cummins paycheck, he understood that "if you go to school to be an engineer, you're a lock to get in."
Still, a nearby option for a Columbus-area kid eyeing an undergraduate degree in engineering didn't exist until IUPUC offered the major in 2011. That opportunity convinced Surenkamp to transfer from the motor sports program at the Indiana-Purdue campus in Indianapolis. IUPUC subsequently enrolled Surenkamp in a Coalition-supported school-to-work program that translated into a full-time position in Cummins' high-horsepower laboratory. A flexible IUPUC schedule, an integral part of the school-to-work initiative, allowed Surenkamp to balance the demands of work and study. "If the classes overlapped, they let me work around my work schedule," he says.
Better yet, the Cummins salary pared his college debt to $20,000. This comparatively light burden (according to the Wall Street Journal, 2014 college graduates face an average debt of $33,000), served Surenkamp well when he went shopping for his first home. At first, he worried that student debt might make him a bad risk for a mortgage. But those fears were quickly dispelled when the mortgage broker exclaimed: "$20,000? That's nothing."
April 25, the day he signed those mortgage papers, touched off a quick series of life-altering events for Surenkamp. At commencement exercises three weeks later, he and two classmates became the first students in IUPUC history to receive undergraduate degrees in mechanical engineering. Then, on June 7, Surenkamp completed his rite-of-passage trifecta when he and fiancée Emily Foust tied the knot at the Garden City Church of Christ.
As Surenkamp becomes a homeowner, college graduate, husband and in all likelihood a lifetime Cummins employee, another generation of Columbusarea kids are inching through the Coalition pipeline. Among them is another budding engineer, though this one took a roundabout route to Columbus.
Uriel Lopez and his two siblings spent their formative years following their parents to jobs in New Mexico, Chicago, Indianapolis and, finally, Mexico. In 2010, an opportunity to work in a Columbus factory brought the family to southeastern Indiana.
Through all of his travels, one thing remained constant with Uriel Lopez: He loved taking things apart and putting them back together. And the move to Indiana serendipitously matched Lopez with the perfect school: Columbus Signature Academy, a "new tech" magnet where students learn from laptops rather than books. Within days of his arrival, the 16-year-old junior had his eyes opened by an introductory engineering course. "I didn't know what engineering was, to be honest with you, until I got to high school," he says.
The Academy staff encouraged Lopez to take the next step by participating in the dual-enrollment program at Purdue Tech — college-level courses that introduced Lopez to yet another new universe.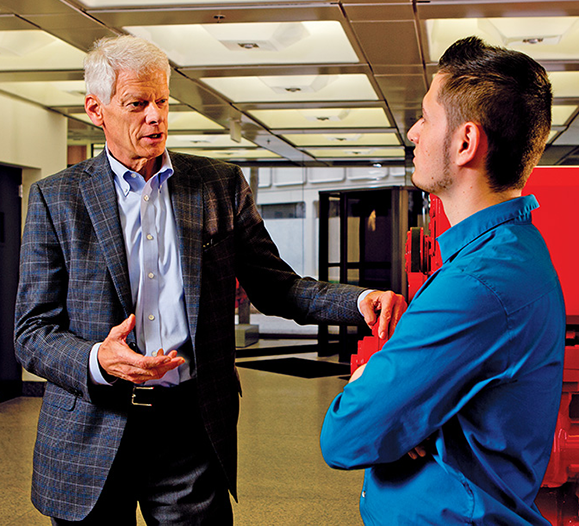 "I didn't know what a bachelor's degree was — or a master's or a doctorate. I just didn't know about degrees. I was learning along the way," he says. Lopez caught on quickly and, in 2013, he became the first in his family to attend college when he entered the Purdue Tech Mechanical Engineering Technology degree program.
His freshman year was anything but typical. Even when he wasn't in class or studying, Lopez was still learning — and earning. Working full time, he was pulling down $17 an hour — more than $35,000 annually — as an apprentice draftsman at Cummins. The company also covers $7,000 of his annual educational expenses.
Between the job and a full course load, Lopez had very little spare time during his first year in college. Still, he managed to scrape together a few hours for visits to his alma mater — to encourage Academy underclassmen to take advantage of the opportunities offered by the Community Education Coalition.
Lopez shrugs off these additions to his already demanding schedule. "I'm blessed," he says, "so I always give back."
His adopted hometown should find nothing unusual in that. After all, it's in the DNA.•