Buffalo, N.Y. – When he heard that every student in Buffalo Public Schools might soon qualify for a no-strings-attached college scholarship, Sam Radford's reaction was predictable. "No way," thought Radford, president of the school district's Parenting Coordinating Council.
The students who caught the formal announcement on a live feed into the East High School auditorium weren't buying it either.
They told us, 'OK, you're going to get free tuition,'" recalls Dennis Blakely, then an East High junior. "I thought they were joking."
Blakely, today a sophomore at Medaille College, is now a believer, as are a large majority of the residents in this Rust Belt city. As the third-poorest city in the nation, Buffalo, N.Y., has seen any number of pipe dreams come and go. It's no wonder that skepticism was rampant when the nonprofit organization Say Yes to Education insisted that college was possible for every young person in the city.
"I don't hear 'It's too good to be true' much anymore," admits David Rust, executive director of the local Say Yes effort. But that phrase has been uttered countless times since 2011, when Say Yes made Buffalo its second site for a community-wide effort to eradicate poverty through education. In the intervening years, doubt has given way, not just to hope, but to real optimism. "Say Yes has created the courage for us to meet our own challenges," says Will Keresztes, interim superintendent of Buffalo Public Schools.
Much of the credit, Buffalo residents agree, goes to Clotilde Perez-Bode Dedecker, president and CEO of the Community Foundation for Greater Buffalo — and a civic leader who refuses to take no for an answer. It was Dedecker who, in 2011, teamed up with Blythe Merrill of the John R. Oishei Foundation to nominate Buffalo when Say Yes expressed interest in supporting a district-wide scholarship program in a second city. (Syracuse was first.) Say Yes traces its roots to a 1987 pledge by Hartford, Conn., money manager George Weiss to 112 sixth graders in a Philadelphia neighborhood near his alma mater, the University of Pennsylvania. Complete high school, Weiss told the students, and I will cover the cost of your college education.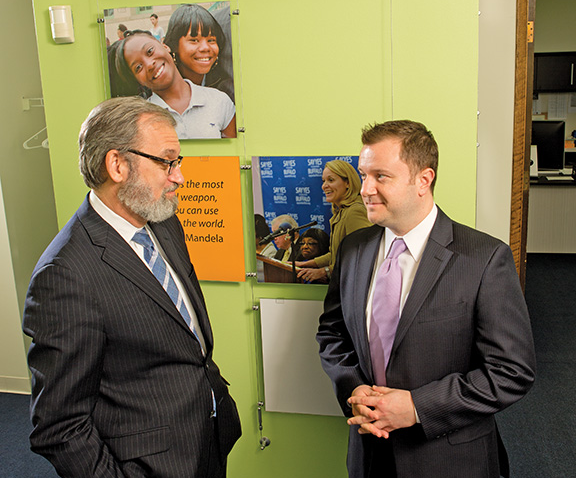 Over the next 20 years, Say Yes added neighborhood chapters in Hartford; Cambridge, Mass., and Harlem — along with a second Philadelphia program. The non-profit moved to the next level in 2008, choosing the Syracuse City School District as the site for a comprehensive program that supplements academics with "wraparound" programs to address social needs, enhanced scholastic initiatives and a promise of free college to the district's 22,000 students.
By now, Say Yes knows exactly what it needs in a city-wide partner. "We're looking for cities committed to the core elements of philanthropy, educational reform, transparency and community partnerships," says Gene Chasin, a onetime teacher, principal and superintendent who now serves as the chief operating officer of Say Yes. Dedecker was confident that Buffalo could meet the first three stipulations. In a city where "all the macro indicators were on a downward trend," she figured the business community would be open to philanthropy. She know school leaders were open to reform efforts — even eager for them, since more than half of the district's ninth-graders were ending up as dropouts rather than high school graduates. Finally, as head of an ambitious nonprofit, Dedecker knew a thing or two about transparency.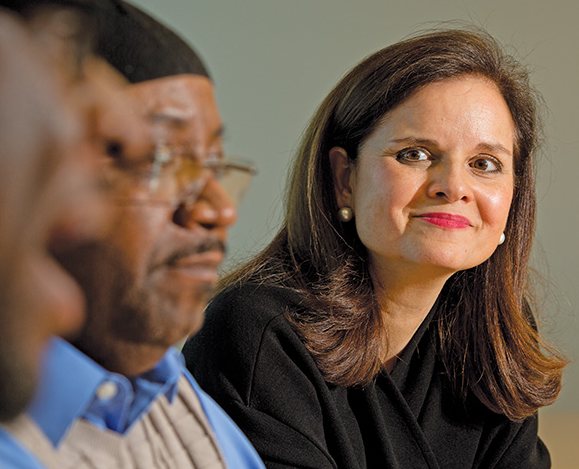 Rumore, a polarizing figure and an outspoken regular on Buffalo news channels, elicited displeasure — sometimes even contempt — in many quarters of the city. Alfonso O'Neil-White, former CEO of Buffalo Blue Cross/Blue Shield, recalls the first reaction of a fellow businessman from whom he sought financial support for the Say Yes effort: "Don't even talk to me until you get rid of that (Rumore) guy." Even Dedecker, the eternal optimist, knew that Rumore could bring the Say Yes proposal to a screeching halt. "As I was waiting to talk to him, I thought, 'This is where it all goes to hell in a handbasket.'"
Instead, to the surprise of nearly everyone, Rumore signed on — eagerly. After 30-plus years watching one attempt after another fail to reverse the decline of the public schools, Rumore was game for anything that might restore hope to Buffalo and its children. If that required regular attendance at meetings with his foes, so be it.
In Rumore's opinion, the Say Yes proposition was a great chance for Buffalo parents and students to hit the reset button on possibility — to recalibrate their measurements of success. "People here will say, 'When I was a kid, I didn't do drugs.' Or, 'I didn't get a girl pregnant.' Or, 'I didn't wind up in jail.' That was what they considered progress."
With Rumore aboard, the Say Yes calculus quickly fell into place. The flow of donations began — from corporations, local governments, individuals, foundations and academic institutions. The scholarship fund eventually totaled more than $19 million. Say Yes supplemented the local funding with a "frontloaded" commitment of $15 million. That money all went to create a system that would address, not just academics, but the broader social issues that too often prevent underserved students from learning.
Phil Rumore has become a mainstay of Say Yes operating committee meetings. He and other committee members — parents, business people, educators, philanthropists, government and labor leaders — gather every Thursday, and they all follow Dedecker's edict: "We tell them to leave whatever differences we have at the door. The focus here is on Say Yes and the kids."
"Before, it was everybody in their camp, everybody operating from their silo," recalls Sam Radford. "It would be rare if we all came together once a year before 2011. Then, all of a sudden, all the stakeholders were at the table at the same time."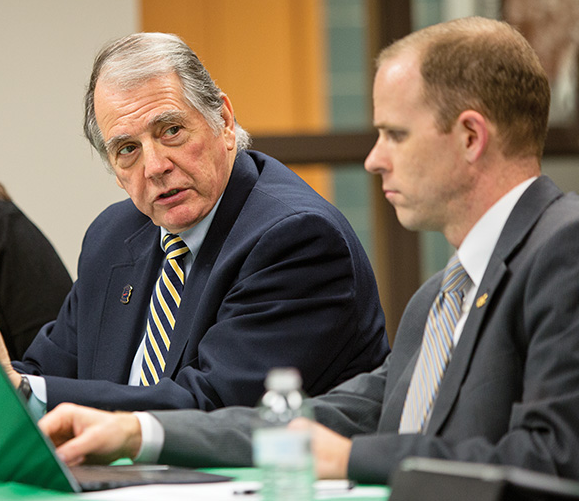 And the effort's most fervent cheerleader? Phil Rumore. "In my opinion this is the best thing that has ever happened to this district," he says.
If timing is everything, then Say Yes's entry into Buffalo couldn't have been more serendipitous. The organization arrived on the heels of a presentation from regional business and civic leaders that had just convinced New York Gov. Andrew Cuomo to award western New York a $1 billion training grant to rejuvenate its battered industrial economy.
"We were having a discussion about the (jobs) pipeline" precisely when Say Yes materialized, recalls Christina Orsi who, as a director with Empire State Development, heads up the state's economic development efforts in western New York. "We thought, 'Perfect, this is our solution.'" Since then, she says, Say Yes "has become a pillar of our overall strategic plan." Funding from Say Yes helped Empire State link Buffalo's Burgard Vocational High School with Alfred State College in a dual-enrollment program. The program awards associate degrees in auto technology and other advanced skills to Burgard graduates within a year of earning their high school diplomas.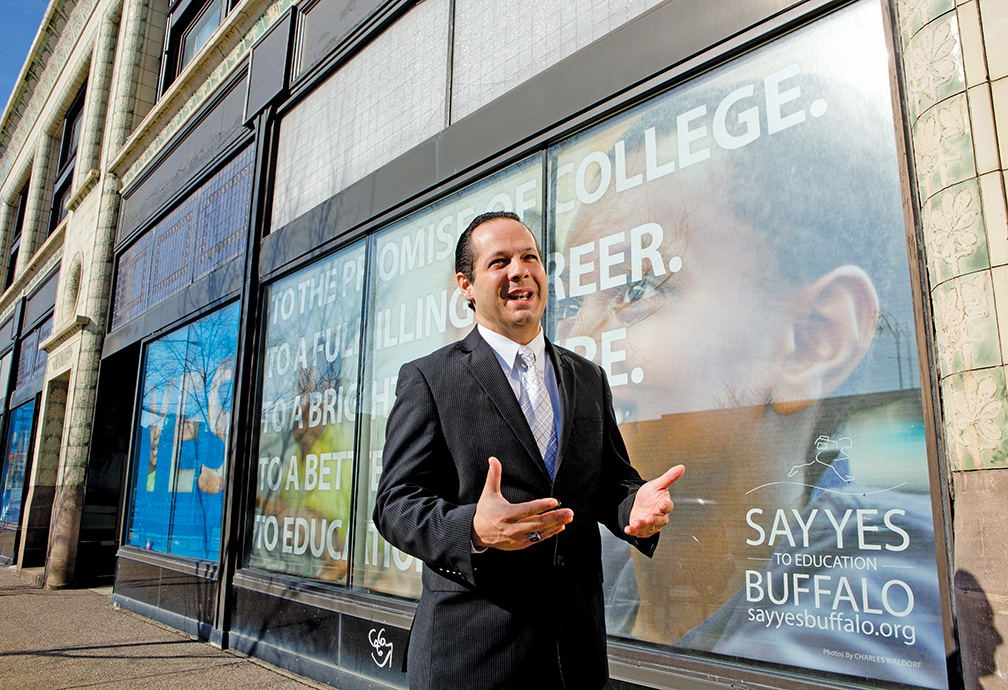 Truth be told, Greater Buffalo was overdue a break. The steel and chemical plants originally drawn to the cheap electricity generated by the falling water of Niagara Falls kept Buffalo and Erie County among the nation's top economic regions for the first half of the 20th century. The good times persisted until, buffeted by foreign competition, Bethlehem Steel Corp. began to cut production at its massive Lackawanna mills south of the city. By 1984, what was once the world's fourth-largest steel-making plant stood silent, and 6,000 good jobs were gone.
As Buffalo's industrial base shrank, so, too, did its population — going from a half million in the 1950s to the 300,000 people who now call the city home. The metropolitan area today supports 55,000 manufacturing jobs, most with chemical firms and family-owned suppliers. More than 17,000 of these positions are held by older workers on track to retire before 2020 — with few replacements in sight.
"We don't have the feeder stock coming out of high school" to fill the positions, says Deputy Erie County Executive Richard Tobe. He is equally troubled by the "big skills gap," pointing out that, in a region in which 41,000 people are looking for work, some 1,000 positions in advanced manufacturing remain unfilled because employers can't find qualified applicants. That's one reason Tobe praises Say Yes for offering scholarships to career-focused students in trade schools and community college certificate programs.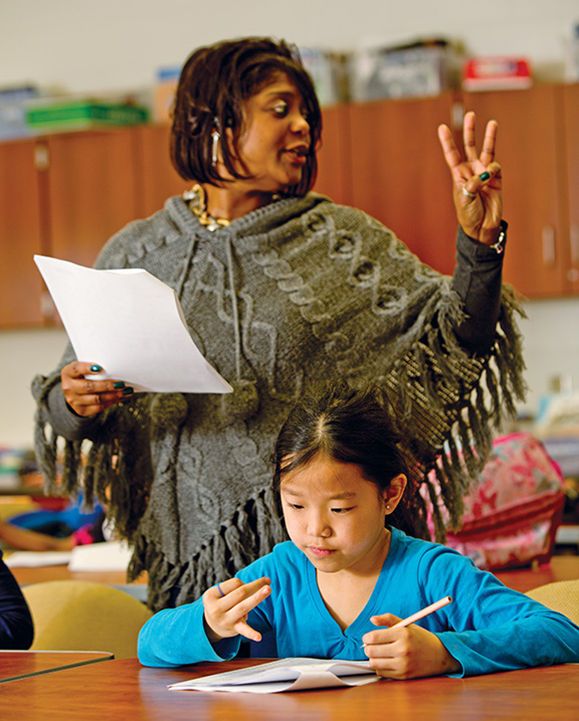 "There has been a prejudice across this city, this county and in fact across the country against blue-collar jobs," Tobe insists. "Everybody says, 'Get a degree, get a white-collar job.' Parents who were laid off by Bethlehem maybe want their kids to get a degree to avoid what happened to them. But pushing all kids to college is bad policy. It's forcing a lot of round holes into square pegs."
The three-campus Erie Community College (ECC) system, which has enrolled 350 of the first Say Yes scholarship recipients to graduate from the Buffalo Public Schools, is working aggressively to close the skills gap. And the students are responding.
For example, a Visual Communication Technology certificate course in 3D printer operation has proven so popular that ECC now offers it seven days a week. Job placement at the end of the 10-week course is 100 percent.
Say Yes supporters appreciate the program's commitment to broad-based education, beginning with Buffalo Mayor Byron Brown, who calls the effort a "seismic change that is transforming the city." When it comes to supporting public education, Brown regularly puts his — or rather, the city's — money where his mouth is. Each year the city deposits $70.3 million in the Buffalo schools' bank account, including a $500,000 allocation for Say Yes scholarships that Mayor Brown pushed through city council.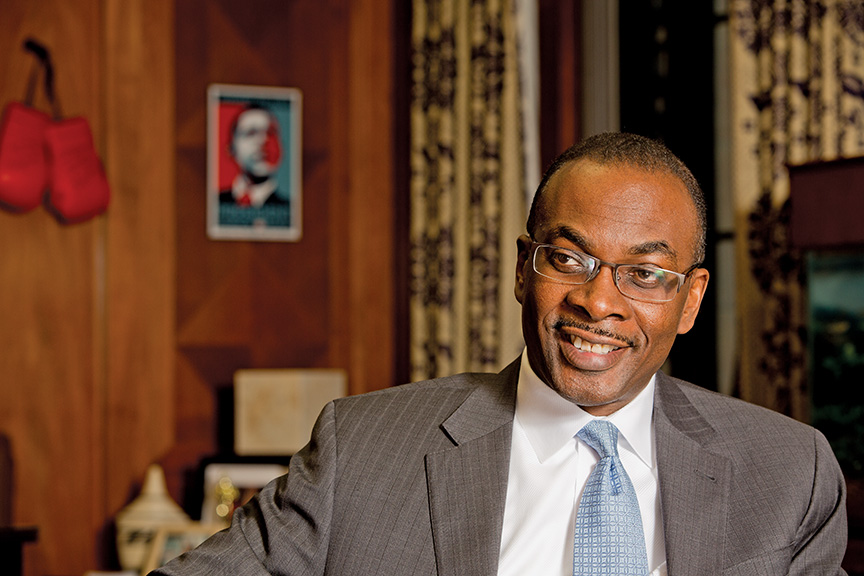 The triumvirate behind Say Yes — Executive Director Rust, COO Chasin and Community Foundation President Dedecker — are encouraged by the progress they've seen. Still, they say, much work lies ahead before Buffalo can realize the transformation cited by the mayor.
The heavy lifting began last year in elementary, middle and high schools across the city. And the bulk of it, by necessity, is directed at poverty, crime and neglect. "A lot of kids in the Buffalo schools don't have a prayer," says Jack Quinn, president of Erie Community College and a former six-term Republican member of Congress. "How are you supposed to learn times tables on Tuesday when your dad was beating the hell out of your mom on Monday night?"
Officials in Buffalo schools are well aware of the social problems that infiltrate their classrooms, and they've moved to address those problems. Years ago, the district installed a program coordinated by the United Way and Catholic Charities of Buffalo to help mitigate the educational disruptions caused by poverty and its resultant social and familial woes.
The schools followed up with in 2007 by assigning Keresztes, then an associate superintendent, to oversee social services. Whip-smart, reform-minded and unflinchingly honest, Keresztes knows the system is ill-equipped to deal with the most pressing issue facing urban districts.
"Public education is not wired to understand social learning needs," he says. "Public education knows we need better teachers, knows we need to remove failing teachers, to improve teaching, learning and retention. But public education is not wired to talk about the elephants in the room. Nor will people in power talk about them. But we can't keep waiting for county government, city government, the district and the churches to step up. We need to address the social needs of students."
For Keresztes, the arrival of Say Yes was a turning point in a personal and professional struggle to put Buffalo kids on equal footing with their more privileged peers in nonurban districts. He calls the program "an almostovernight presence that focused our online student support services like never before. It's the first time I've seen a partner that is completely serious instead of tinkering around the edges," says Keresztes.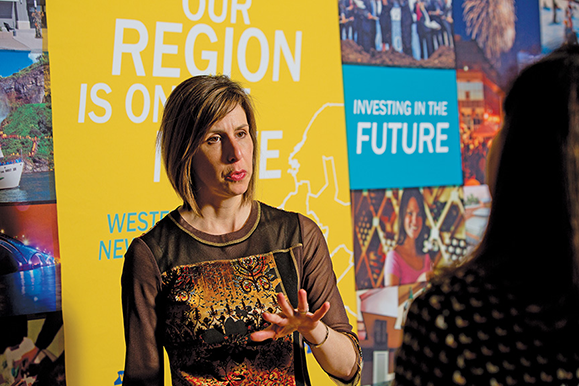 Say Yes has helped Keresztes fulfill a longtime objective: combining an array of discrete programs offering psychological counseling, family support, parent mentoring and after-school programs into a coordinated, wraparound effort. That effort is credited with, among other things, bumping the high school graduation rate from 48 percent to 54 percent in just one year. The next step is the rollout of on-site legal assistance, health and mental health clinics in schools throughout the district.
"The social services stuff that is getting taken care of — stuff that wasn't taken care of before — is giving these kids a better chance to be successful," says ECC's Quinn. To attack the impediments blocking the progress of Buffalo's kids, Say Yes and the district have enlisted foot soldiers dubbed "site facilitators." They are stationed in 55 buildings to catch and address the "stuff" that Quinn refers to — problems that used to routinely fall through the cracks: The kid whose sleep is interrupted by gunfire … the single parent juggling two jobs while her children struggle with homework … the pupil who can't focus because she's hungry. The district will soon add free services to assist parents with the legal issues that interfere with the education of their children.
Nor is the district ignoring the academic imperatives. On a Friday last fall, as the start date for the after-school program neared, Principal Geneive Jones-Johnson and her staff at Dr. George E. Blackman Elementary sent each of the school's 540 pupils home with an application form and a memo. The memo informed parents that, beginning in November, they could opt to keep their children in school an additional two hours for supplemental math and literature classes. At first, Jones-Johnson worried that she'd acted prematurely.
"Friday is normally a bad day to send things home because things tend to get misplaced over the weekend," she explains. "You never get papers back on a Monday." Well, almost never. The following Monday, students returned with 135 completed applications for the after-school academic enrichment program operated through a private-public partnership with the YMCA of Buffalo Niagara. By mid-year, fully half of the Blackman student body had enrolled in the program; it provides two days each of extra instruction in math and literature, with Fridays set aside for "fun."
The after-school initiative has proven so successful that Say Yes volunteered to pay to make it available to every Blackman student for the remainder of the year. And in February, the after-school kids showed the wisdom of that investment: In the first learning assessments since the program was introduced, every grade level demonstrated marked progress in both subject areas (save one grade level in math).
"Our mantra here is nothing happens in isolation," says Jones-Johnson. "(The after-school program) gives us the opportunity to groom children so that when we send them to middle school, where there is a huge dropout rate, they have a strong start and can handle what's ahead."
And a bit further ahead — beyond middle school — that's where the crown jewel of the Say Yes program shines brightest. "None of this works without the college scholarship piece," says Chasin. "That's the driver."
The success of Say Yes in Buffalo is not yet complete, since the high school class of 2013 represents the first group of scholarship recipients. But the program already has impressed Richard Jurasek, president of Medaille College.
"This college has always been Buffalo-centric and, as a result, has always been a fairly accurate mirror of the city demographic," says Jurasek, head of the private, 3,000-student college since 2007. "We basically teach the underclass, working-class, aspiring middle class more than ever. And we like that just fine."
More than 130 city school graduates, members of the first Say Yes commencement class, enrolled in Medaille last September — a 57 percent increase over the previous year. Of those incoming Buffalo students, only 17 percent failed to return for the second semester in January; the previous year, 23 percent of Buffaloeducated students left for good at the end of the first semester. That improvement in first- to second-semester retention — a key early indicator of college completion — leads Jurasek to proclaim that Say Yes "is the perfect marriage for us. It couldn't be better."
For a private institution such as Medaille, the marriage can be an expensive proposition. Federal grants and the Say Yes scholarship cover approximately half of the $23,000 tuition (Say Yes also subsidizes a portion of room and board for residential students). The remainder, nearly $10,000 per Say Yes student, is drawn from Medaille's endowment and other sources. So the college's investment is substantial.
But consider the return on that investment. Think about Amber Gray, who most certainly would not be studying pre-veterinary medicine at Medaille without the matching financial aid from the school and, chiefly, the Say Yes scholarship. Gray flirted with the idea of leaving Buffalo before Say Yes made it possible for her to attend Medaille, a college with a solid reputation for training future veterinarians.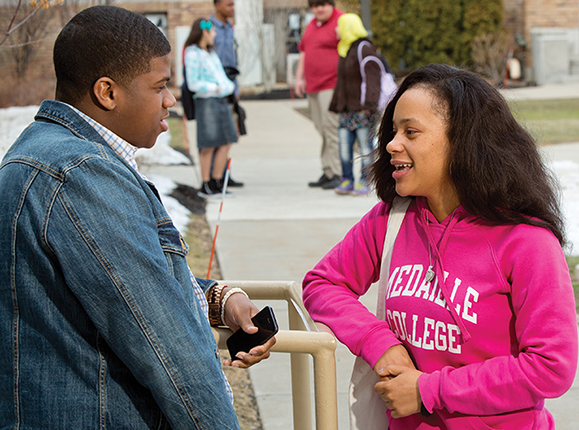 She, along with thousands of others on the Lake Erie shore, has since started to view Buffalo differently. Instead of fleeing, Gray now plans to remain in the city that put a college degree within her reach — a city that she believes will do the same for her own children at some point. Dedecker isn't surprised by Gray's story. Belief, she says, is what drives all of the work behind Say Yes. Ultimately, it's what the entire program is all about. "This is a game-changer," she says. "It is reaching into the future of this community in ways we can only imagine. It has ignited hope that we can rebuild this region on the potential of our people."•