Santa Ana, Calif. – Time will tell if Shayleene Barrera actually launched a career in science on the morning she arrived for orientation at Santa Ana College — 40 minutes south of Los Angeles. Early indicators certainly point in that direction.
By lunchtime, Shayleene had honked the horn of a UPS delivery van, listened to her heart through a stethoscope and paraded through campus to a pep rally with 1,200 fellow students. Shayleene is 5 years old.
Kids start preparing for college early in Santa Ana, a community where the commitment to learning is pervasive and public: "Education First" is posted on the city limit signs.
When Shayleene receives her undergraduate degree in 2030, she probably won't remember this first brush with the higher-ed system. But her participation in Kinder Caminata ("the path from kindergarten") surely set the stage. For 20 years, Kinder Caminata has planted the idea of a college education in the minds of thousands of underserved kindergarteners in the Santa Ana Unified School District (SAUSD). And to the 330,000 residents of Santa Ana, the program is one of many ways that this Orange County community proves that "Education First" is much more than a platitude plastered on a street sign.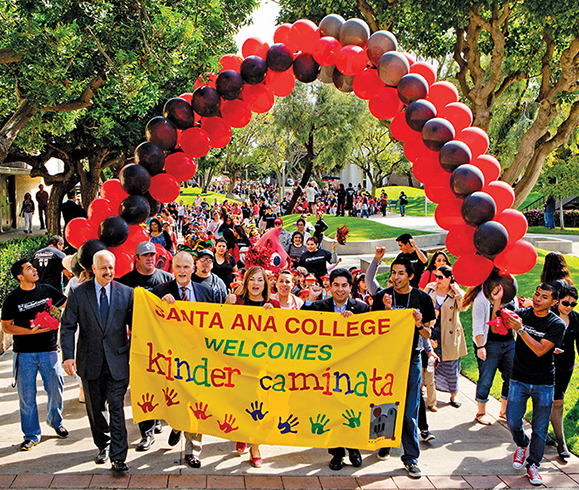 It's an enterprise that spools from kindergarten through middle school, high school, Santa Ana College and the campuses of California State University- Fullerton and the University of California-Irvine. The catalyst is the Santa Ana Partnership, a national model for collaboration that touches nearly every facet of education in an Orange County community where learning often runs head on into poverty.
In the years ahead, Shayleene stands to benefit from any number of Partnership initiatives. Perhaps it will be the early education research program that once showed an uncertain fourth-grader named Juan Alcocer that anything is possible. Or maybe a volunteer in the parent mentoring group, Padres Promotores de la Educacion, will help Shayleene and her family navigate the college admissions process. Or perhaps she'll benefit from a free college education promised by the partnership's most ambitious initiative to date: Santa Ana Adelante!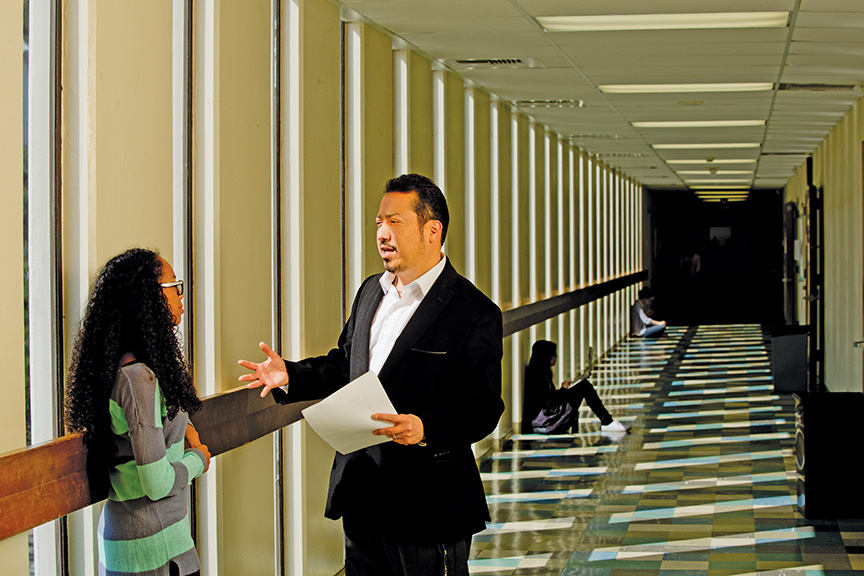 "There are certain parts of the world where you can throw a seed in the ground and it will grow. That's (the Santa Ana Partnership)," says Alexandro Jose Gradilla, assistant professor of Chicana and Chicano Studies at Cal State-Fullerton. He speaks glowingly of a comprehensive community effort, one that "taps into existing resources and makes it high-octane." The main source of that motive power is undeniable. It's the force of nature known as Sara Lundquist, the nominal leader of a movement which features thousands of integral, integrated parts.
"Anyplace else the person making the decisions would be called the director," Lundquist says. "And if you ask who leads the Partnership, people will say it's me. But if you ask for my business card, it says nothing about the Partnership. It says: 'Vice President of Student Services, Santa Ana College.' The end."
The end? Hardly.
Lundquist begins each morning with a run. But in her capacity as partnership director, she's always running. In addition to her duties at Santa Ana College, Lundquist's days are a blur of visits to one or more Santa Ana schools — not to mention consultations with faculty and staff at Cal State-Fullerton or UC-Irvine and meetings with business and civic leaders who help make this effort a true public-private partnership.
As she strolled through Kinder Caminata, Lundquist couldn't walk 10 steps without a teacher, a city official or a colleague calling her by name and stopping her for a hug and a chat.
"Sara could easily stay in the office. But the fact is, she is out there — and that makes all the difference with these programs," says Gradilla, a volunteer in the Summer Scholars Program, which eases the transfer of Santa Ana College graduates to four-year institutions. The task of coordinating efforts that stretch from kindergarten through college may appear daunting. But Lundquist is proud to note that the Partnership vision follows the same guiding principle that inspired its inception three decades ago: "It's basically the job of all four segments of public education to get the students in, to get the students through and to get students to the next level."
Cristina Flores is one of scores, if not hundreds, of young Santa Ana residents who personify the mission. Born in California, Flores moved with her family to Mexico as a child before returning to the Golden State, and Santa Ana, at age 16. "I was always passionate about learning," she says. "But I didn't understand what college was." That didn't stop Flores from what she called "going through the motions. Every time someone put an application in front of me, I'd fill it out and hope for the best." From high school, Flores went to Santa Ana College, where she continued to avail herself of Partnership initiatives. It was in one of those, the 2006 Summer Scholars Program that prepared her for transfer to UC-Irvine, that Flores met the role model who became a lifelong mentor and friend: Jeanett Castellanos, a lecturer in UC's social sciences department.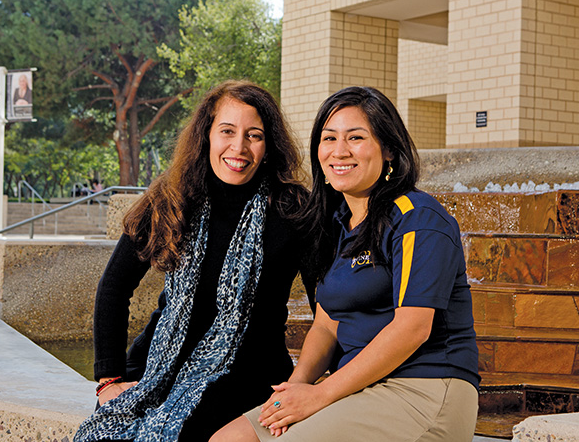 "When you look at the communities we come from, we don't have access to a lot of college professionals," says Flores, who earned a psychology degree from UC-Irvine in 2009. "In my case, my mother is a housecleaner, and my dad is a landscaper. The mentors help you with the inside game because, in order to thrive at these institutions, you have to know what goes on behind closed doors — what it means to be a professional, what it means to have a career and what it means to pursue a post-graduate degree."
Today, Flores is helping others with that inside game. As a counselor with the UC-Irvine Early Academic Outreach team, she assists students at eight Orange County high schools. Her own story serves as a powerful example to her charges — and leading by example is a central tenet of the Partnership.
For more evidence of that, visit Valley High School and meet Jennifer Harrizon, a Valley High grad, a single mother, and a counselor in the Advancement Via Individual Determination (AVID) program.
"To give something back to the place I came from is such an honor," Harrizon says. Well aware of her standing, Harrizon never hesitates to tell Valley High students: "I'm like you. I'm Mexican, I'm Latina. I started like you; I didn't know a lot about college."
Harrizon herself was aided by an extraordinary role model: the coordinator of Padres Promotores de la Educacion (Parents Promoting Education), her mother, Rosa Harrizon. The elder Harrizon, a mother of two, is the first to admit she's an unlikely candidate to oversee an educational program credited with placing thousands of Santa Ana young people in college classrooms. "I never thought I'd be involved in the community the way I am," she says.
hat insecurity comes naturally, through personal experience: Rosa Harrizon, an honor student, dropped out of a Mexican high school at the behest of an uncompromising father steeped in the belief that a young woman's first and only obligation was to her family. Harrizon saw little choice but to follow the house rules until the family relocated to California where, as an 18-year-old, she started to mend the hole in her education. A high school equivalency diploma led to community college courses and, following the births of daughters Jennifer and Emily, to entry-level academic positions as a preschool aide and pre-kindergarten teacher.
In 2000, the classroom work brought Rosa Harrizon to the attention of the Partnership as it prepared to launch a three-year pilot to bolster parent involvement. The program targeted parents who were disconnected from their kids' learning for several reasons, including the language barrier, fear of deportation, time constraints and a basic misunderstanding of the education system. Fourteen years later, largely through Harrizon's leadership, the Partnership considers parent-to-parent counseling one of its signature initiatives. In any given year, the 40 parent volunteers on Harrizon's team visit 2,000 Santa Ana homes to discuss academics, college preparation and, with it, the wall separating the school district's students from higher education.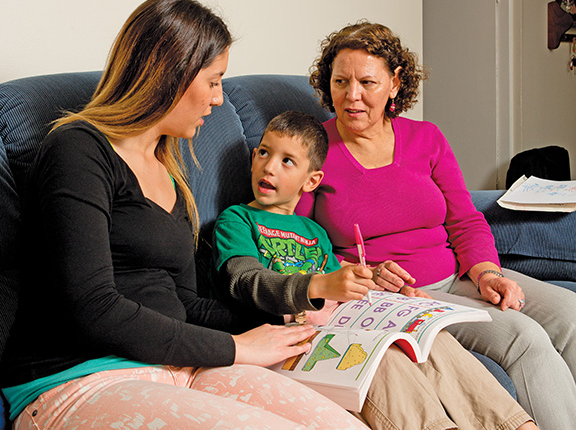 "Economics is always a major problem," says Harrizon, particularly among members of low-income, undocumented Hispanic families who assume that the cost of a college education is out of reach.
Undocumented students are, in fact, ineligible for federal financial aid such as Pell Grants. But one of the messages delivered by Padres Promotores de la Educacion volunteers is that qualified students are eligible for state funding: Cal Grants that can provide up to $12,192 in aid each year.
To Maricela Reyes, the Padres Promotores program is the reason her son, Valley High graduate Jonathan Garcia, will start an engineering program this fall at Santa Ana College. Jonathan's parents have provided unwavering support since he decided to pursue a career as an engineer. Nothing unusual about that; after all, what parent wouldn't want a child to pursue his or her dream? There, however, the college path of the Reyes/Garcia family diverged from that of most American households. Jonathan's parents and their four children migrated to Santa Ana from Mexico 12 years ago. They are not fluent in English. An even bigger complication: The family is undocumented.
Sure that her children have what it takes to succeed in college, Reyes turned to the parent partnership for guidance. That assistance led to the Cal Grants and other aid that helped Jonathan get to college. "If it wasn't for the program, Jonathan wouldn't be able to visualize his future," Reyes, now a parent volunteer herself, said through an interpreter.
As illustrated by Reyes, poverty and uncertainty make it difficult for many families to visualize the future — or even next week. That is particularly the case in Santa Ana, a community that, according to Valley High School officials, is the nation's No. 1 destination for immigrants from Central and South America. During any given month, the number of students welcomed by Valley High — 30 — is matched by the number who simply disappear. The school began the 2013-14 academic year with 2,400 students. By March, enrollment had dwindled to 2,208.
"This is a launching pad," says counselor Javier Valdez, himself the product of the Partnership's programs. "They go from here to other places in California, Texas, Phoenix. We see a kid at the beginning of the year. Three months later, they go bye-bye, and we have no idea where they've gone."
The environment demands that Valley High act quickly and decisively on behalf of promising students. The commitment is most evident in a Partnership supported, advanced placement program: Anteater Academy. The academy, named for UC-Irvine's animal mascot, occupies a separate suite of classrooms on the Valley High campus. It was launched in 2011 and has added a new class of 30 students each year since. In 2012, Adriana Herrera and Fabian Cuen were two of those students: high-potential teens who, without help, are unlikely to stay on the college track.
"We're kind of like guinea pigs," says Herrera. "We're here to show people we can do it."
Cuen was a third-grader the first time a teacher raised the possibility of college. It took time for this son of a construction worker and housekeeper to see the value in his teacher's vision. "They tell you that you have all this potential," he says. "And when you start to believe it, you begin to achieve."
Herrera's potential was also evident early, even though she came to kindergarten unable to speak English. By middle school she was earning exemplary grades in math and science. Still, wary of Valley High's reputation for fighting and teen pregnancy, Herrera initially balked when her teachers urged her to enroll in Anteater Academy. Herrera relented when she recognized that the Anteater standard of academic excellence jibed with her own — a decision reinforced by the 4.8 grade-point average that Herrera carried into the final months of her sophomore year. Her better-than-straight-A GPA — a score bolstered by her success in Advanced Placement courses — was duplicated by Cuen.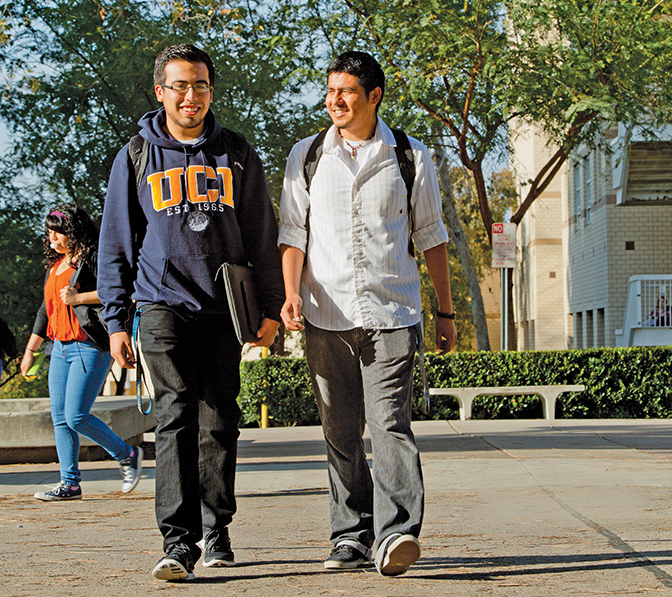 Their participation in the academy does not obligate Cuen and Herrera to attend UC-Irvine. Still, as they move toward their shared goal of pursuing engineering degrees, they may indeed take that route. If so, they will retrace the Partnership footprints left by Juan Carlos Alcocer and Rodrigo Marcos Ramirez.
Say this for Ramirez: His academic record from kindergarten through eighth grade showed remarkable consistency. "Every report card said 'in danger of failing,'" he recalls. The game-changer for the undocumented and rebellious Ramirez came in ninth grade, when he was admitted to the e-Business Academy at Santa Ana Century High School, a program that promotes learning at the confluence of commerce and technology.
A little encouragement from the instructors in that program drove home a point that teachers and family had been making all along: Ramirez had the potential to attend and succeed in college — if only he could find a way to pay for it.
Financial woes were about to push Ramirez away from college classrooms and into the workaday world when, toward the end of his senior year at Century High, word came that his family had been granted permanent residency. Free to submit the FAFSA and apply for federal grants and scholarships, Ramirez secured aid and enrolled in Santa Ana College. Two years later, he transferred to UC-Irvine, where he majored in social ecology, a hybrid of urban planning, criminal justice and psychology.
Unlike his classmate Ramirez, Alcocer didn't need the high-school-based e-Business Academy to inspire academic aspirations. "Even (in elementary school) I knew I wanted to be a doctor," Alcocer says. "I just didn't know the steps to get there."
The Santa Ana Partnership helped show him those steps, beginning with an academic research program between fourth and fifth grades. That program showed him what it would take to move upward from the ground floor. Still, despite consistent academic excellence, Alcocer feared that, as an undocumented resident, he could only go so far.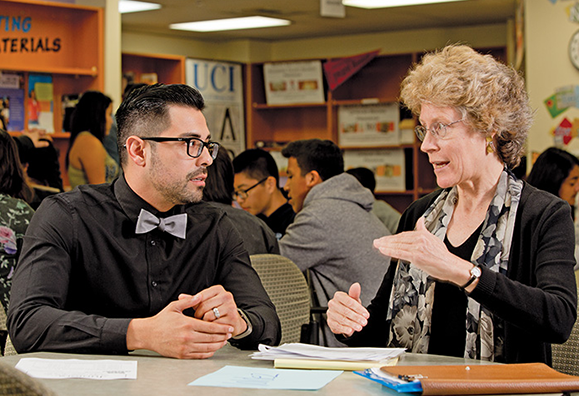 As his senior year inched closer, he and his mother shared their concerns with advisers at college workshops aligned with the Partnership. The consultations clarified that Alcocer, while ineligible for federal aid, qualified for state grants through the California Dream Act, as well as any scholarship funds he could muster.
Alcocer subsequently broke two barriers: He became the first in his family to earn a high school diploma and, by enrolling at Santa Ana College, the first to pursue a college degree. In 2013 he transferred to UC-Irvine, where he spent the second half of his junior year preparing for the Medical College Admissions Test, a prelude to a dream harbored since childhood.
"I can't believe I'm already there," Alcocer says. "Nobody in my family ever graduated from high school, but I jumped through all these obstacles and here I am; I'm now a year away from entering medical school. It's really crazy." More than three decades after its formation, the Santa Ana Partnership has helped write academic success stories in every corner of Orange County. The latest chapter opened three years ago, when the Partnership rolled out Santa Ana Adelante! The program promises a tuition-free education at Santa Ana College and transfer admission to either Cal State-Fullerton or UC-Irvine to every student in the district who meets the academic and conduct requirements spelled out in a sixth-grade College Going Pledge.
"Students are going to come up from primary to secondary with a different sense of their future," says Partnership leader Sara Lundquist, a 2011 appointee to President Obama's Advisory Commission on Educational Excellence for Hispanics. "And this is how we do it: We tell them, 'This is your chair. This is yours. It is promised to you. It is yours to sit in or give away. This is not in a special admissions program. You have to meet the academic requirements. You have to apply on time. You have to get super-good grades.' The idea is to counteract the idea that 'I can't get to the university; they don't have room for me.'"
Jennifer Harrizon didn't enjoy the luxury of free tuition when she went from Valley High to Santa Ana and on to Cal State-Fullerton. Still, she's grateful for the advantages that came her way because she grew up in a city that puts education first. "If it wasn't for (the Partnership), I wouldn't be here," the Valley High staffer says. Her path had plenty of barriers. During her final year at Santa Ana College, Harrizon learned she was pregnant. She took a semester off, placed her 6-monthold son in a Santa Ana College daycare center ("I didn't want to leave him, but I needed to get things done"), and forged ahead by earning an undergraduate degree at Cal State-Fullerton.
Son Elijah Harrizon is now 5. In September he'll begin kindergarten. And come next March, Elijah will board a bus bound for Santa Ana College and Kinder Caminata. There, he'll honk the horn on a UPS delivery van, listen to his heart through a stethoscope and take the first steps along a path traveled by his mother and countless other Santa Ana kids before him.•