Resources
World Café on Student Needs 2025+
Our team built an impressive database of hundreds of links indicating change in the six topic areas covered in the Student Needs 2025+ report (Living, Learning, Working, Playing, Connecting, Participating.)
Even though we had successfully worked as a team of 20 to this point, we decided to open up the conversation to the rest of our UH futurist community and see what insights we could draw. Thanks to the great generosity of time and ideas from 30-plus Foresight students, faculty and alumni, the Student Needs 2025 discussion in the World Café format was a success. More than 300 separate "needs" were generated and contributed a broad range of perspectives to our report.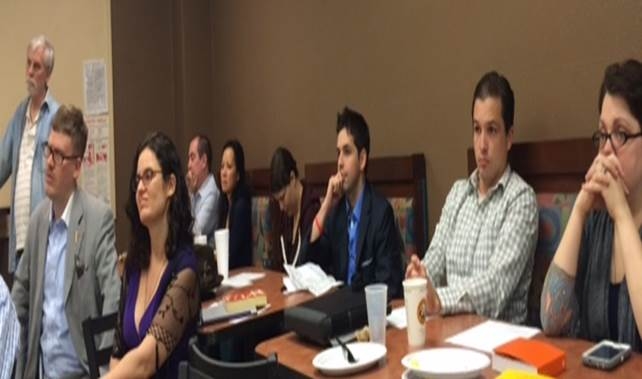 The World Café Method is a conversation style designed to facilitate large-group discussions around "questions that matter." The future of Student Needs definitely qualified. We also thought the seven design principles of World Café were a good fit for our project. The format gave us access to diverse perspectives. This is a key premise of the Student Needs project: that there is no singular type of "college student" in America, but that higher education is a life experience that touches a broad spectrum of society. Our diverse Houston Foresight community is certainly a reflection of this truth.
Furthermore, World Café promotes "the cross-pollination of ideas" by requiring participants to switch discussion groups. Each round involves sitting with a new group of people and mixing up the conversation. This really helped us see how a single "need" can be expressed by a number of perspectives and in a variety of ways. We were able to boil down the 300 plus recorded "needs" from the World Cafe into the nine Student Needs highlighted in our report. The World Café allowed the participants to respond and reflect deeply on the big question: "What will students need in 2025?" Readers are encouraged to share their own responses in the comments to this post.