Back To Looking Back to Move Forward
Looking Back to Move Forward, Part 1
How Did We Get Here: Growth of Federal Student Loans
Influenced by the Soviet Union launch of Sputnik in 1957, the first federal loan program, the National Defense Student Loan (NDSL), was created in 1958 by the National Defense Education Act emphasizing science, mathematics, and engineering fields. Supported through U.S. treasury funds, financial resources were provided to campuses to distribute to students. In an effort to combat the "War on Poverty", President Johnson's proposed national need-based scholarship simultaneously created a loan program geared towards middle-income students. The Guaranteed Student Loan, (GSL) today known as the Stafford Loan Program, was authorized through the 1965 Higher Education Act (HEA) to provide federally insured loans for middle-income students. Growth of Federal Student Loans traces the expansion of the federal student loan program throughout the years, from its origins in helping middle-income students afford a college education to an eventual rise in student loan borrowing. Read more about the film participants.
---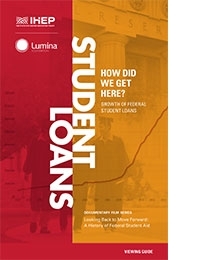 Viewing guide for part 1
Student Loans: How Did We Get Here?
What did you think about the film's reflection of student aid history?