Back To Looking Back to Move Forward
Looking Back to Move Forward, part 2
Where Financial Aid began: Partnering with Campuses and States
The federal government has historically leveraged funds for both states and colleges to expand access and opportunity to higher education. Collaboration between states, institutions, and the federal government aided in the development of campus-based aid programs. Recognizing the challenge in increasing college access, programs were designed to encourage colleges to develop their own grant, loan and work programs. Centered and distributed through three main components—the Perkins Loan, Federal Work-Study (FWS), and Federal Supplemental Educational Opportunity Grant (FSEOG) programs—campus-based federal student aid provided colleges with the flexibility to determine the amount and type of aid that students would receive within federal program guidelines. Federal allocations were also required to be matched by states and colleges to ensure federal funds were being used resourcefully and effectively. Where Financial Aid Began: Partnering with Campuses and States documents the history and development of these partnerships and the policies that shaped them—from the introduction of the original campus-based programs and state partnerships through their growth or decline over the years. Read more about the film participants.
---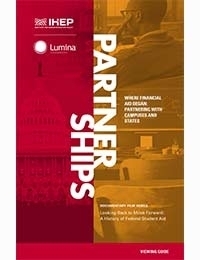 Viewing guide for part 2
Where Financial Aid Began: Partnering with Campuses and States
What did you think about the film's reflection of student aid history?