Back To Looking Back to Move Forward
Looking Back to Move Forward, Part 3
Pell Grant: Building Block of Student-Based Aid
Serving as the foundation to the Federal student aid program, the Basic Educational Opportunity Grant (BEOG), was legislatively enacted though the 1972 reauthorization of the Higher Education Act (HEA). Pioneered through the bipartisan efforts of Senator Claiborne Pell (D-RI) and Senator Jacob K. Javits (R-NY), the Pell Grant aimed to minimize the financial barriers impeding low-income students from seeking higher education opportunities. This landmark program shifted the responsibility and distribution of federal grant dollars away from institutions awarding aid to students, to the federal government awarding grants directly to students. Throughout its extensive history, increases in the maximum award levels and the creation of supplemental programs for Pell recipients have ensured college education remains accessible for all students. Pell Grant: Building Block of Student-Based Aid chronicles the history of the program from its bipartisan legislative origins through its various selected subsequent iterations. Read more about the film participants.
---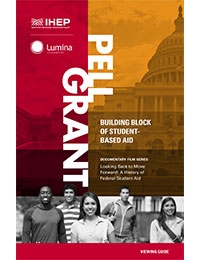 Viewing guide part 3
Building Block of Student-Based Aid
What did you think about the film's reflection of student aid history?