A Spirit of Innovation, a Time of Change
Jamie Merisotis, President and CEO, Lumina Foundation
Opening Keynote, CAEL International Conference, San Diego, CA
Thank you, Paul, for that generous introduction. It's a privilege to be introduced by my friend and colleague Paul LeBlanc, whose work at Southern New Hampshire University and with College for America very much embodies what CAEL President Pam Tate just referred to as a "tidal wave of disruption" in higher education. Lumina is honored to be working with Paul in his efforts to fundamentally rethink how higher education is delivered, and what outcomes students should be achieving from their postsecondary learning opportunities.
That theme of fundamental redesign is a useful way to frame my remarks today, and why having this opportunity to speak with you here at CAEL's International Conference is so timely and important. Indeed, I think it's safe to say that Lumina and CAEL have a long and enduring partnership that has consistently been about rethinking higher education—who should be served, how they should be served, and what they should get at the completion of the process.
CAEL's pioneering work in adult education and competency-based learning attracted attention at Lumina long before I came to the Foundation in 2008. Our work with CAEL goes back more than a decade, when we helped to support the Adult Learning-Focused Institution project. Since that first project, Lumina and CAEL have been almost constant partners.
And I'm happy to say that partnership is stronger than ever, and includes several exciting new collaborations. One is to test the feasibility of a statewide approach to prior learning assessment as a pathway to high-quality credentials. Just awarded this summer, this grant will help ensure that LearningCounts.org ― CAEL's developing and very promising online tool for assessing prior learning—is used on a statewide basis in Montana, Ohio and Texas.
Another important collaboration between CAEL and Lumina is work we are doing is to help train nearly 1,500 faculty and staff about competency-based educational practices—with a focus on assessment—and also to develop a new prototype for a competency-based transcript depicting student learning outcomes.
My colleagues at Lumina and I have long recognized that CAEL has been ― and continues to be—a national leader in competency-based education, learning assessment, and workforce education. CAEL has widely recognized expertise in these areas … areas that are increasingly critical—indeed, vital ― to this nation and its citizens. And Lumina is not the only organization that has taken notice. CAEL's expertise and its leaders' viewpoints are being increasingly sought out, as was the case this past July, when Pam testified about PLA before the House Education and Workforce Committee. She's also graciously agreed to speak later this month during a Congressional briefing that Lumina is arranging to highlight the issues facing student veterans.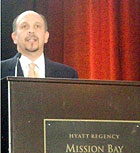 In short, CAEL is a well of knowledge that is deep, growing, and increasingly relevant—in both the higher education and workforce arenas. We need CAEL's expertise, its experience and its commitment to help harness and focus that tidal wave of innovation Pam talks about.
Now if you've heard anything about Lumina lately, you know that the Foundation has been at the forefront of the national conversation about the disruptive innovations that are shaping what higher education is and does. We've made it a priority to help with top-to-bottom redesign … working to design and build a 21st century system that meets the needs of all students. And we are convinced that the time to begin building this system is now.
Why the urgency? Why is this work so important? Why must we explore and embrace the new approaches represented at this conference and in the work of CAEL broadly? I think you know the answer. It's because traditional approaches aren't working well enough, or frankly, fast enough. Business as usual just isn't sufficient—not in this time of sweeping and significant change.
I think our colleague and friend Tony Carnevale at the Georgetown Center for Education and the Workforce captured it best when he characterized the "four horsemen of change at the gate" of higher education. Those four horsemen—the rising price and cost of higher education, the transformative use of technology, the imperative of equity and serving all Americans well, and the use of what Tony calls "measurements of learning"—are fundamentally changing the context for higher education.
Let me quickly elaborate on each of these four "change agents" battering at the higher education gate.
First is the price of higher education and the costs to fund the system. We all know that the student finance model is broken in the United States, and that dramatic improvements are needed. And we also know that even though most states are past the dark depths of a few years ago, there is little reason to believe that we'll ever get back to the historic levels of funding for higher education. Like it or not, the idea of doing more with what we have is here to stay. And, frankly, despite the challenges it creates, that results-oriented mentality isn't a bad thing. If nothing else, it prompts innovation—and I'm sure you'll agree that's a much-needed commodity. I'd venture to say that, for many of you, that innovative spirit is the fuel that drives you. It may well be what got you here this morning.
A second big change on the landscape is technological advancement. Big data, online programs, the explosion of social media … these and many other 21st century trends are transforming pedagogy and forcing huge changes in every corner of the higher-ed system—from assessment and accreditation to student recruitment and support to faculty hiring and development. Again, I needn't explain this change to you, who are often the agents of change on your campuses.
The third big change, perhaps even more obvious: College students have changed. Today's student population is huge and growing ― and those numbers need to grow even larger in coming years if we hope to keep our economic edge and ensure social cohesion. In addition to its sheer size, today's student population is also remarkably diverse, and both of those changes—size and diversity ― are transforming higher education. The equity agenda is front and center. Providing a high-quality college education is not a nice thing to do for people, it's required for social mobility and economic prosperity—for our collective well-being.
If we can't substantiate learning, we might as well hand out degrees the day students arrive.
The fourth change, however, may be the most profound. We've clearly arrived at a point where we recognize that degrees and other postsecondary credentials must represent well-defined and transparent learning outcomes. To quote Tony Carnevale again, "if we can't substantiate learning, we might as well hand out degrees the day students arrive." Or as I said a few years back, doing my best James Carville imitation: "it's the learning, stupid."
These forces for change are leading to changing expectations ― at every level and from every quarter. Employers expect better graduates. They want degree and certificate holders who are truly prepared for the demands and complexities of the modern workplace. State leaders and policymakers expect better results. They want institutions to produce more and better graduates at reasonable cost; in other words, they expect a better return on the investment of public education funds. Students and families expect a more responsive higher-education system. They want high-quality programs, delivered in a variety of modes and platforms at prices that don't force them to mortgage their future.
These new expectations present the higher-education system with a series of challenges, to be sure. But the expectations aren't unreasonable. In fact, a few months ago, we at Lumina commissioned a Gallup poll that demonstrates just how reasonable the public really is on the issues of college affordability and value. The results of that poll are public, and you can examine them in detail on Gallup's website. Today I just want to share two highlights from that survey, two findings that speak to the public's general views on higher education.
First, people are willing to pay for it. One in four respondents—26% ― said that they'd expect to pay between $10,000 and $20,000 for each year of undergraduate study, and another 18% said $5,000 to $10,000 would be a fair price. Lower-income populations, not surprisingly, suggested that somewhat lower tuitions were affordable; this underscores the notion that we must concentrate resources on those who need them most. Second, people want a good return on their investment. Forty-one percent cited "the ability to get a good job" as the most important factor when choosing a college or university—more important than an institution's cost or its graduation rate.
Taken together, these bits of data make an important point about the heightened expectations I've been talking about … and about the tide of change sweeping through the higher-ed system. Put simply, the big message is this: The expectations are valid and clear—families want higher education to be responsive, affordable and workforce-relevant. Changes in the system are sorely needed ― because our future depends on our ability to effect those changes.
The facts are inescapable: If this nation is to thrive in the global economy and continue to progress as a society, far more of our citizens need to be properly educated. This cannot be a surprise to anyone in this room today. All of you know very well that a relevant and effective education doesn't end with a high school diploma. It just can't. To attain and maintain a place in the middle class—and produce all of the economic and societal benefits such a position affords ― Americans need the skills and knowledge that can only be gained in high-quality postsecondary programs.
In a word, college is key … for all Americans. We at Lumina have taken this truth and translated it into a concrete and ambitious national goal for college attainment, one that you've surely heard by now: Goal 2025. By that year, 2025, we want 60 percent of Americans to hold a college degree, certificate or other high-quality postsecondary credential.
I won't spend time today repeating the wealth of evidence that underscores the importance of college-completion agenda. You understand the economic and social imperatives for increasing attainment, particularly among the students that some in higher-ed still label as "nontraditional" ― not just working adults, but also low-income students, first-generation students and students of color. You know that nontraditional is now the norm … and that we must better serve these 21st century students ― both to enhance social equity and to ensure economic progress.
You also know that we can't properly serve today's students—and certainly not the students of tomorrow ― without fundamental change. That's why you're here. That's why you actively pursue "innovative disruption" in higher education … because you know such change is sorely needed. The higher education system must be redesigned so that it truly serves our needs as a society.
This is what our work is focusing on at Lumina because we know that it's critical to achieving that 60 percent goal. And we recognize this goes far beyond Lumina and will take many years to accomplish.
It's important to underscore the fact that getting to that goal will require us to concentrate on the students who, for decades, have been on the wrong side of the growing attainment gap in higher education: those low-income and first-generation students, racial and ethnic minorities, immigrants and adults who are the real face of the 21st century higher education system. To close those gaps, and to meet the full range of society's burgeoning demand for talent, we need an integrated, fully linked system for developing human capital that will address all student needs.
We will also need a system that is flexible, affordable, and relentlessly focused on quality. In short, we need a student-centered system, one that ensures access to all types of students, gives those students the preparation and ongoing support they need to succeed, and enables them to earn credentials that demonstrate real and relevant learning.
How will this redesigned system actually work? Obviously, there are a lot of parts to this puzzle, and it's not yet emerged in much detail. Still, we know the basic aspects of the system the nation needs: First of all, at its core, it's a system that offers multiple, clearly marked pathways to various levels of student success ― pathways that are affordable, clear and interconnected, with no dead ends, no cul-de-sacs and plenty of on- and off-ramps.
Second, these pathways must be built on the foundation of learning, with degrees and other postsecondary credentials representing those well-defined and transparent learning outcomes I mentioned a moment ago, validated through quality assessment. And all learning should count ― no matter how, when or where it was obtained.
In the ideal scenario, then, this new system will be one in which every student knows where he or she is going, how much it will cost to get there, how much time it will take, and what to expect at journey's end—both in terms of learning outcomes and career prospects.
We don't have the luxury of commissioning long studies on how to make this system a reality. Time really is our enemy at this point, given the urgency of our national need for talent. We also know that change is never easy. Still, the payoff for making this change will be huge, so let's explore how it can happen. Let's look at two major shifts in thinking that undergird the system-redesign project: a pair of new perspectives that must drive all of the smaller changes.
For many decades, if not from the very beginning, our higher education system has been organized around institutions and measured primarily by time. Put another way, institutions have been the focal point of the system, and time ― defined by the credit hour—has been the lens we use to view it. Those long-held perspectives won't be enough to educate many more Americans. They need to shift.
CAEL saw that essential truth decades ago—as did many in this room, I am sure. But far too many in American higher education haven't yet embraced this view of a learning-based, student-centered system. It is up to us ― and all of you—to help them make that shift.
Now I'm not suggesting you try to persuade your peers that institutions are suddenly superfluous. The knowledge-development role that colleges and universities play is critical, as is their broader role of service to community and society. But the institutional focus of the system ― the idea that decisions and funding and policies should primarily respond to the needs of colleges and universities—that idea is no longer appropriate, if it ever was. It must be replaced by a focus on meeting the needs of students and, by extension, the needs of society. Just as important, the time-based method of "keeping score" in higher education will inevitably need to be abandoned. In its place must be a system that defines, fosters, measures and rewards what truly matters: student learning.
I don't think I can overstate this point when it comes to the redesigned higher-ed system: We must focus on learning outcomes as the true measure of educational quality. Not time, not institutional reputation, but genuine learning ― that is, competencies informed by the real world in which students must thrive.
This shift to a student-centered, learning-based approach is the key. It is the foundation for that overarching, fully linked system of education that runs from pre-K, through higher education, into the workforce and even beyond.
Of course, from your perspectives in higher education, this fully linked system extends beyond what you might typically consider your immediate area of responsibility. In fact, it extends in two directions ― back into the K-12 system and forward into the workforce—and that's another vital change in perspective. In an education system that is truly student-centered, your area of responsibility can't begin in Year 13 and end after grad school. Rather, you and other higher-ed leaders must share responsibility all along the pipeline—with educators at every level ― for the success of each student.
This sounds like a monumental task, I know. And I won't deny the challenges involved. I mean, all we're asking for is a redesigned system that can accommodate the lives and learning styles of every student, ensure consistent quality, and operate at a scale large enough to serve millions more students every year ― all at a reasonable, or even reduced cost.
I get it. This is tough work.
But it's not impossible. In fact, the sessions you attend and the conversations that you will have at this conference will prove it's not impossible. The work that is being highlighted here this week ― the work all of you are doing in the realm of competency-based education, learning outcomes assessment, adult degree completion, workforce-relevant programs—all of this work is necessary to complete that emerging puzzle I've been talking about.
The redesign won't happen overnight, of course. We all know that. No system as large and complex as American higher education can turn on a dime. But make no mistake, the pivot has begun. Without question, this is a time of profound change. At Lumina, we are tremendously excited about this change … and we're working actively now to find ways to accelerate it ― to capitalize on the momentum we feel and scale up the promising programs and pockets of excellence we see in so many places.
Right now, as we do our internal planning for 2014 and beyond, we're focused intently on this redesign project. We're working to develop and share a clear picture ― at least a preliminary one—of a new credentialing system. Again, the picture is not yet sharply focused, but we can see the outlines: It must be a system that defines, fosters and rewards genuine learning, wherever that learning was obtained. It must be a system that features numerous pathways … for all types of students, at every level ― pathways that are clear, straight and interconnected.
As we seek to sharpen this picture and define these various pathways, we're also working to create, refine and distribute the resources that can help build and maintain those pathways ― including tools such as CAEL's LearningCounts website and our own Degree Qualifications Profile that clarifies the learning expected for college degrees at the associate, baccalaureate, and master's level.
These tools, the programs and approaches you will discuss at this conference, and similar examples all across the nation—all are pieces of postsecondary education's newly emerging puzzle. They exemplify the spirit of innovation and the sense of urgency that are driving higher education's redesign project. Right now, admittedly, many of these efforts are in their infancy, and most are fragmented. As vital and promising as they may be, they won't reach their full potential until they grow sufficiently large and effective to merge into that fully linked, student-centered system I've talked about so much this morning.
As I said, we have a ways to go to make that redesigned system a reality. But the change has begun. My Lumina colleagues and I thank you for the energy that you bring to this work. We know that your efforts, on your own campuses, have played a vital role in getting this redesign project started, and you can be sure that we are committed to maintaining that momentum.
Let me close by talking about the momentum we see in CAEL. All of you know about CAEL's approaching 40th anniversary. Perhaps some of you here today were here 40 years ago, at the very beginning. Who could have predicted the immense technological changes, the changes in our nation's demography, the growth of new delivery systems, and indeed, new types of higher education institutions? And I know some of you here today are the young pioneers ― our new innovators. Some of you may be sitting in this room 40 years from now—ensuring that this momentum continues.
By staying mission-focused and outcomes-driven, CAEL has the power of momentum on its side. CAEL's history is also its future, and it is embodied by an enduring spirit of innovation that can truly drive change. I'm confident that this spirit, and the change that flows from it, will help spark tremendous progress in the lives of millions of Americans—and for all of us as a nation.
Thank you.