By Edgar Lopez
When my younger sister, Norma, got pregnant during the last year of her undergraduate studies, I was worried about her education and future.
Historically, student parents struggle with college because of their family obligations, childcare needs, and financial challenges—not to mention the impact on their physical and mental health, according to a case study in the Community College Review. Unfortunately, the pandemic exacerbated many educational and social inequities that impacted their degree completion.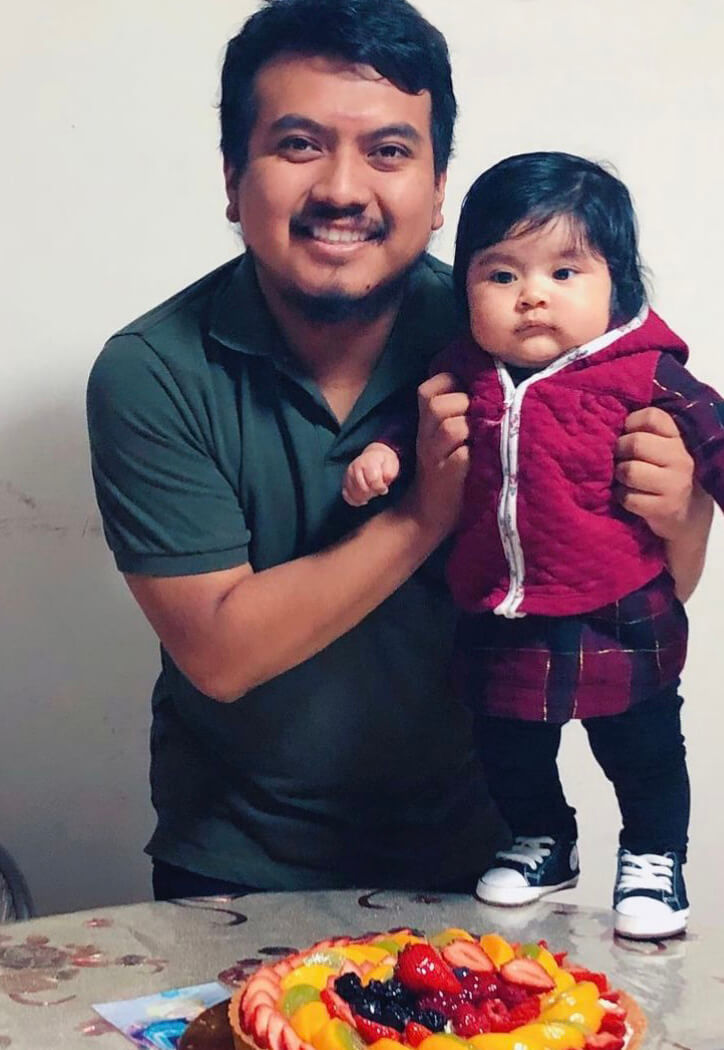 But after Norma gave birth to my niece, Valery, in July 2020, I witnessed her juggle multiple part-time jobs with her academic responsibilities at night, all while parenting a newborn. Watching her navigate higher education as a student parent made me curious about research on this often-overlooked student population. Only 37 percent of all student parents complete their degree within six years, according to the Institute for Women's Policy Research (2019). The institute shows that the number is much smaller for Black, Hispanic and Latino, and Indigenous student mothers.
I was both nervous and thrilled to find ways to support her throughout these next critical steps of her adulthood. As a first-time uncle, I often serve as caretaker for my now 2-1/2-year-old niece while my sister is at work, in class, or on Zoom meetings. While rocking my niece to sleep, I sometimes heard my sister introducing herself to her peers in her master's courses. Though exhausted, she was thrilled to share and embrace her graduate student parent role. Her daughter gave her the motivation to finish her degree. Despite the institutional barriers and circumstances, my sister completed her undergraduate studies in four and a half years in the fall of 2020. She then enrolled in a master's program in educational counseling in 2021.
I watched something incredible from her resilience that taught me a valuable and inspirational lesson. My sister used her college/graduate student parent status as an asset—not a burden—to persist through institutional obstacles. Her baby daughter fuels her education and career aspirations to extraordinary lengths, contributing to her enrollment in graduate education. In fact, institutions could learn from student parents to make changes in enrollment, retention, and degree completion efforts.
As a "student uncle," I had a small taste of the student parent experience, which has been both rewarding and life changing. I am beyond physically exhausted but emotionally fulfilled, and it helped me realize the drastic lack of support higher education institutions provide for this unique student population.
Institutional leaders can help student parents prioritize care for their child(ren) while promoting academic excellence. Here are five ways leaders and organizations can advance the work to support them:
Change institutional policy: Changing institutional policies to be more inclusive of college student parents, such as allowing children on campuses, can create a welcoming environment, increasing class attendance and participation.
Evolve with research agenda: Increasing research efforts to identify students with children and understand the services they find helpful can increase participation on campus and contribute to retention efforts.
Implement and expand campus services: Incorporate designated and sanitized spaces for student mothers to utilize for personal needs, such as breastfeeding or changing diapers. Many institutions are still discussing how to provide mothers with quality childcare resources.
(Re)evaluate academic demands: Encouraging faculty to identify and provide accommodations (e.g., supplemental support, flexible deadlines) so student parents don't feel overwhelmed and forced to choose between their academic and family responsibilities.
Offer curriculum flexibility: Providing professional development training and alternative academic roadmaps for college student parents who desire a part-time pathway instead of the traditional full-time route.