Danette Howard Joins Lumina Foundation as Vice President
Lumina Foundation is pleased to announce the appointment of Danette Howard as vice president for policy and mobilization.
Howard currently serves as Secretary of Higher Education in Maryland, leading the state's postsecondary education coordinating agency, the Maryland Higher Education Commission. As secretary she has direct authority for the state's $110 million financial aid program, oversees the approval of new academic programs and institutions seeking to operate in Maryland, and advises the governor and legislators on higher education policies and initiatives.
A nationally regarded analyst and thought leader, Howard previously served as director of research and policy analysis at the commission. She also previously served as assistant director of higher education policy at the Education Trust in Washington, D.C., and as a student affairs administrator and admissions counselor at the University of Maryland, Baltimore County.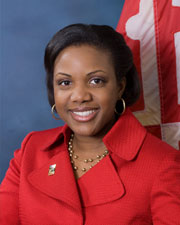 Howard earned her bachelor's degree, summa cum laude, from Howard University. She also received her master's degree from the Harvard University Graduate School of Education, and her Ph.D. in higher education policy from the University of Maryland, College Park.
As vice president, she will oversee several of Lumina's key strategies to increase Americans' attainment of high-quality postsecondary education, including the Foundation's growing national convening function. She will lead Lumina's strategic work in both state and federal policy, as well as the Foundation's efforts to mobilize and engage employers, metropolitan areas, higher education institutions and other key actors with a stake in postsecondary attainment.
"I'm thrilled to have Danette join the leadership team at Lumina Foundation," said Jamie Merisotis, Lumina's president and CEO. "She brings an extraordinary mix of talent, knowledge and leadership skills that will help take our work to a new level of success. Danette's energy and dynamic skills will be critical to our efforts to help the nation achieve Goal 2025 and ensure a more economically and socially prosperous society for all Americans."
Howard will assume her role at Lumina Foundation on April 14 and will reside in Indiana with her husband, William II, and their son, William III.
Related:
Md. Higher Ed. secretary leaving for foundation | Washington Post | Mar. 31, 2014
O'Malley names Annapolis resident acting secretary of higher education | Capital Gazette | Apr. 1, 2014
Departing Maryland Higher Education Secretary Saluted for Leadership | Diverse Issues in Higher Ed | Apr. 1, 2014