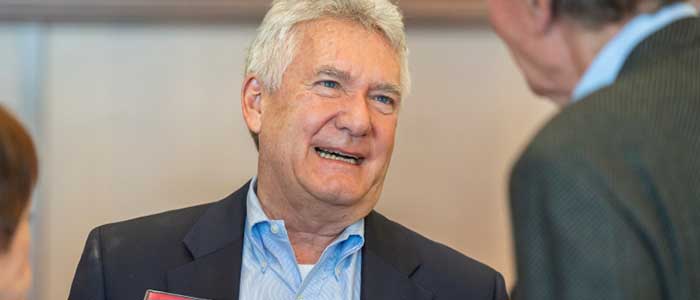 All around us, there are institutions, businesses, and individuals who are preparing people for the new world of work as automation and artificial intelligence transform society. That's one of the themes in my new book, Human Work in the Age of Smart Machines.
The new roles emerging as we embrace the work of the future include people we can describe as integrators—those who apply lessons learned in one context, often over the course of many years, to new or different fields. In this excerpt from the book, I'd like you to meet former Fort Wayne Mayor Paul Helmke and consider how his journey embodies this practice.
Teaching a new generation
Mayor Helmke has indeed come full circle. Fifty years after he began a career in public life as student body president at Indiana University, he is back at the university teaching a new generation of students the lessons he's learned as an elected official, lawyer, and issues advocate.
As professor of practice at Indiana's O'Neill School of Public and Environmental Affairs, Helmke is the founding director of the school's Civic Leaders Living-Learning Center. Started in 2013, the center now has 100 students who live together as first-year students on three floors of an IU dormitory and study together, in regular classes and in lectures by guests Helmke has known during his career.
Helmke graduated from IU in 1970 and attended law school at Yale University, where he met other aspiring public servants such as Bill Clinton and Hillary Rodham. He practiced law for several years and ran unsuccessfully for a U.S. House seat before he was elected in 1987 to the first of three terms as mayor of Fort Wayne. He served as president of the U.S. Conference of Mayors during his final term in office. In 1998, Helmke was the Republican nominee for the U.S. Senate in Indiana, losing that race to former Democratic Governor Evan Bayh.
Pivoting to advocacy
In 2006, Helmke became president of the Brady Campaign to Prevent Gun Violence, a group founded by Sarah and James Brady, President Reagan's press secretary who was wounded in an assassination attempt on the president in 1981. Helmke stayed in that high-profile job for five years, becoming one of the gun-control lobby's most quoted spokespeople.
In class, "I talk about my past experiences, and that's fun: stories from my career as mayor, stories from the Brady days. I try to tie it all in," he said.
Helmke's students come from a variety of backgrounds and interests. While about two-thirds are majors in public and environmental affairs, he also helps students with other majors. "I want them to know how to talk to people who are doing something different than they are," said Helmke. He lectures on a variety of topics, including communications law, law and public affairs, urban problems and solutions, legal history and public policy, and democratic institutions and ideals in classical and contemporary Greece.
The value of flexibility
He also regularly brings in guest lecturers such as former Indiana Congressman Lee H. Hamilton, photojournalist Andrea Bruce and former IU Athletic Director Fred Glass. Helmke said Glass's story—starting out as an intern in politics, rising to become Governor Bayh's chief of staff, later getting involved in attracting a Super Bowl to Indianapolis and then becoming athletic director at a Big Ten university –teaches a lesson he emphasizes often with his students.
"There can be a lot of chance and randomness in your career. You have to be flexible and adjust," he said. "There are various ways you can be successful and have an impact, but you have to learn to switch careers and do different things. You have to be active, network, meet new people and be ready to take advantage of opportunities."
All students in Helmke's program are required to do philanthropic projects each semester in order "to push them to do something outside their comfort zone," he said. Students have also started their own advocacy groups to promote sensible gun regulation and opportunity for women in politics.
Making a difference
Graduates of the program have gone on to law school, graduate schools, staff jobs on Capitol Hill and even the comedy scene in Chicago. Others like Macey Shambery spent her first year out of college as an AmeriCorps Vista volunteer in Indianapolis. Two other students, Shelly Salo and Jenny Rey, worked for Teach for America in Texas. IU gives an outstanding senior award, and for the last two years, the winner was one of Helmke's students. And in 2019, one of his students was IU's student body president, 50 years after Helmke held that office.
"I spent my life trying to make a difference. Here, if I can get 10 to 20 kids each year who are going to go out there and make a difference, that's very rewarding," he said. "It makes me optimistic about the future."
---
Jamie Merisotis is president and CEO of Lumina Foundation. His new book, "Human Work in the Age of Smart Machines," is available now.