Lumina Foundation Introduces New Strategic Plan Designed to Increase Education Attainment and to Strengthen Economy/Country
Leaders Highlight the Economic, Social and Equity Benefits Tied to Higher Education Attainment
INDIANAPOLIS—Lumina Foundation today released a new Strategic Plan pdf that outlines how the Foundation will work over the next four years to help the country reach its education attainment goal of having 60 percent of Americans with high-quality degrees, certificates, and other credentials by 2025. The plan includes strategies to help redesign the nation's higher education system and mobilize employers, policymakers, institutions, state and metro leaders and others to better position America for success in the knowledge economy. Lumina also announced the hiring of two new senior staff members who will play integral roles in the execution of the Foundation's 2013-2016 Strategic Plan.
Lumina's new strategic roadmap is based on specific strategies that will define the Foundation's work over the next four years. These strategies are focused on creating the 23 million additional graduates needed to achieve the 60% attainment goal, or Goal 2025.
Several of the strategies are designed to mobilize action that will foster and drive collaboration toward reaching Goal 2025. These include:
Building a Goal 2025 social movement for target audiences by creating a call to action, building partnerships among stakeholder groups and developing a common language and plan of action around the need to significantly increase attainment.
Working side by side with employers, metro areas and regions to encourage broader adoption of Goal 2025, create and strengthen the collaborative partnerships needed to increase attainment and more closely align postsecondary education with workforce and civic needs.
Mobilizing higher education institutions and systems to increase the adoption of data- and evidence-based policies, partnerships and practices that closes attainment gaps for underserved students and improve overall completion rates.
Advancing state policy for increased attainment by encouraging states to adopt formal goals and implementation plans that are specific, challenging and focused on addressing the attainment gaps for underrepresented populations.
Advancing federal policy for increased attainment by developing a federal policy agenda that includes recommendations for linking federal workforce development and higher education policy, creating new models of student financial support, and advancing stronger public information and quality-assurance mechanisms.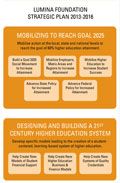 The new strategic plan also includes strategies focused on helping the nation to design and build a 21st Century higher education system. These include:
Creating new models of student financial support that make college more affordable, make costs more predictable and transparent, provide incentives to increase completion, and align federal, state and institutional policies and programs.
Creating new higher education business and finance models that significantly expand the nation's capacity to deliver affordable, high-quality education—supported by public finance and regulatory policies that create incentives for, and remove barriers to, innovation.
Creating new systems of quality credentials and credits defined by learning and competencies rather than time, clear and transparent pathways to students, high-quality learning, and alignment with workforce needs and trends.
"The national demand for talent to power our economy and support our democracy is growing rapidly," said Jamie P. Merisotis, president of Lumina Foundation. "The vast majority of that talent can only be attained in high-quality postsecondary education learning environments and will come overwhelmingly from low income, first generation, adults and students of color. Lumina Foundation will work over the next four years to help develop the talent necessary to spur economic growth, support lasting prosperity, and improve the quality of life for all Americans.
Lumina's eight strategies will be led by a highly talented team under the leadership of Merisotis and his executive team. Two of the eight strategies will be led by new additions to the Lumina team. They are:
—Julie Peller will be Lumina's strategy director for federal policy. Peller is currently deputy staff director at the U.S. House of Representatives Committee on Education and the Workforce in Washington, DC. She previously served as senior education policy advisor on the Committee. Peller received her master's in public policy from Georgetown University and earned a bachelor's degree in political science and public policy from The George Washington University.
—Zakiya Smith will be Lumina's strategy director for student financial support. Smith was most recently a senior policy advisor to President Obama on education. She also served in several policy roles at the U.S. Department of Education and was deputy director of the federal Advisory Committee on Student Financial Assistance. Smith earned her masters of education in policy and management from the Harvard University Graduate School of Education and received a bachelor's degree from Vanderbilt University in political science and secondary education.
Smith began her work with Lumina on Jan. 7 and Peller will join the Foundation on Feb. 4. Both will be based in Washington, DC.