Lumina Foundation Launches Challenge to Bridge the Gap between Education and Business
Challenge winner to receive $10,000 and one on one coaching from leaders of industry
New York—Lumina Foundation, in partnership with The Economist Group and InnoCentive, has launched a new crowdsourcing challenge which will generate solutions to closing the skills gap and increasing communication between higher education and today's workforce.
Open to the public, the Challenge seeks to create a product or service that will facilitate communication between employers and higher education in order to better teach skills that are relevant and necessary for today's workforce.
"Today's employers want to hire graduates with a broad array of knowledge and skills—not just specific content knowledge, but transferable skills like critical thinking, the ability to solve unscripted problems, and to communicate effectively," said Jamie Merisotis, Lumina's president and CEO. "Higher education and employers must work together to prepare students for real-world success."
The Economist Intelligence Unit's newly released report " Closing the skills gap: Companies and colleges collaborating for change," sponsored by Lumina Foundation, highlights the skills that employers feel are lacking in recent graduates. The study reveals that employers want graduates with strong "soft skills" such as the ability to communicate and collaborate at a high level, ranking these "soft skills" as the most important workplace skills for employees to possess when joining a company.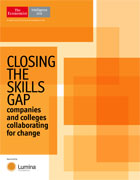 Companies and colleges collaborating for change
30 pgs. | 1M | PDF
Key findings include
Semi-finalists of the Challenge will receive coaching from both a VC and Communications expert as well as a chance to compete on the main-stage at The Economist Higher Education Forum 2014. The winner will receive a monetary prize of $10,000. Submissions for the challenge will be open from June 4—July 25, 2014. Further information on the challenge and submission guidelines can be found here.
Join the conversation and connect with attendees and speakers on Twitter via #Skillsgapchallenge