Lumina Foundation Launches Challenge to Bridge the Gap between Education and Business
Challenge winner to receive $10,000 and one on one coaching from leaders of industry
New York—Lumina Foundation, in partnership with The Economist Group and InnoCentive, has launched a new crowdsourcing challenge which will generate solutions to closing the skills gap and increasing communication between higher education and today's workforce.
Open to the public, the Challenge seeks to create a product or service that will facilitate communication between employers and higher education in order to better teach skills that are relevant and necessary for today's workforce.
"Today's employers want to hire graduates with a broad array of knowledge and skills—not just specific content knowledge, but transferable skills like critical thinking, the ability to solve unscripted problems, and to communicate effectively," said Jamie Merisotis, Lumina's president and CEO. "Higher education and employers must work together to prepare students for real-world success."
The Economist Intelligence Unit's newly released report " Closing the skills gap: Companies and colleges collaborating for change," sponsored by Lumina Foundation, highlights the skills that employers feel are lacking in recent graduates. The study reveals that employers want graduates with strong "soft skills" such as the ability to communicate and collaborate at a high level, ranking these "soft skills" as the most important workplace skills for employees to possess when joining a company.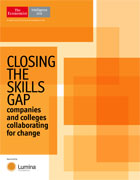 Companies and colleges collaborating for change
30 pgs. | 1M | PDF
Key findings include
Semi-finalists of the Challenge will receive coaching from both a VC and Communications expert as well as a chance to compete on the main-stage at The Economist Higher Education Forum 2014. The winner will receive a monetary prize of $10,000. Submissions for the challenge will be open from June 4—July 25, 2014. Further information on the challenge and submission guidelines can be found here.
Join the conversation and connect with attendees and speakers on Twitter via #Skillsgapchallenge
---
About Lumina
Lumina Foundation is an independent, private foundation committed to increasing the proportion of Americans with degrees, certificates and other high-quality credentials to 60 percent by 2025. Lumina's outcomes-based approach focuses on helping to design and build an equitable, accessible, responsive and accountable higher education system while fostering a national sense of urgency for action to achieve Goal 2025.
About The Economist Group
The Economist Group is the leading source of analysis on international business and world affairs. We deliver our information through a range of formats, from newspapers and magazines to conferences and electronic services. What ties us together is the objectivity of our opinion, the originality of our insight and our advocacy of economic and political freedom around the world.
About InnoCentive
InnoCentive is the global leader in crowdsourcing innovation problems to the world's smartest people who compete to provide ideas and solutions to important business, social, policy, scientific and technical challenges. Our global network of millions of problem solvers, proven challenge methodology and cloud-based innovation management platform combine to help our clients transform their economics of innovation through rapid solution delivery and the development of sustainable open innovation programs.
Follow the conversation
@Economist_innov
https://www.facebook.com/TheEconomist
Contact:
Havas PR
Kevin Maloney
+1 (646) 441-8128
Kevin.Maloney@Havasww.com